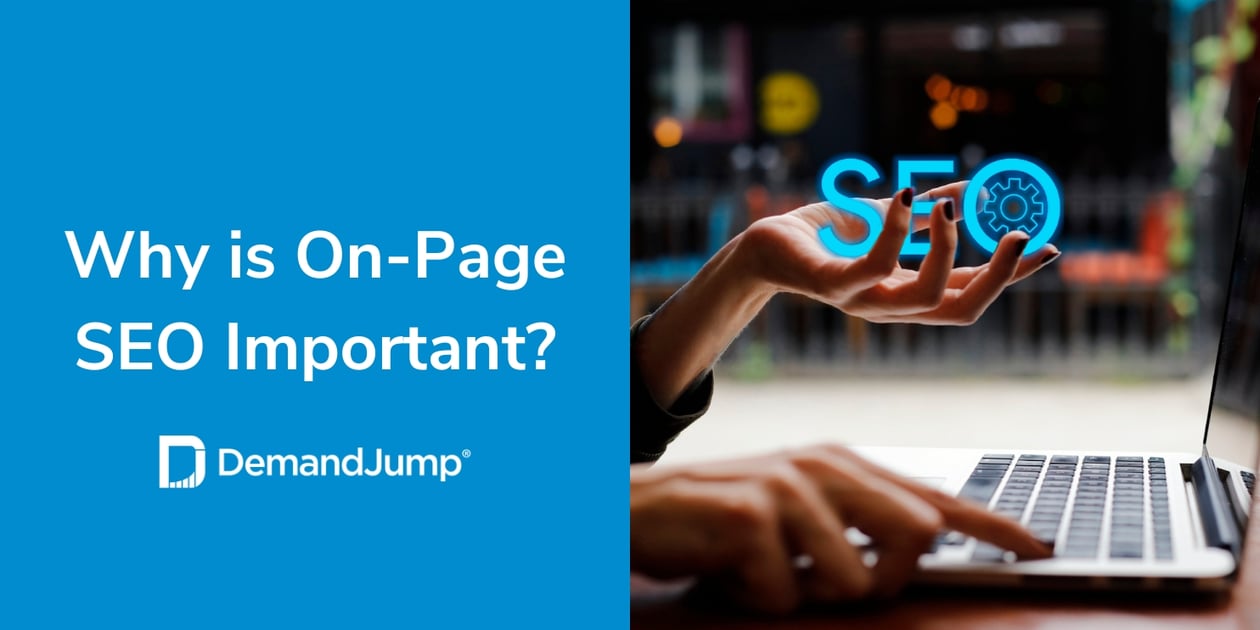 If you want your website to rank on search engines, then you need to pay attention to on-page SEO. As a crucial part of your SEO strategy, on-page SEO practices help optimize different parts of a website to ensure that your web content ranks higher and earns relevant traffic—hopefully leads—from search engines. Enhancing your on-page SEO also enables search engines to crawl your website to determine if a search query is relevant to your site. The trouble is, Google's algorithm is ever-evolving.
Google's ultimate goal is to perfectly comprehend search intent and deliver the best results—from Panda to the Helpful Content Update, Google's algorithm improvements frequently rock the marketing world. In this sea of constant change, marketers need to stay on top of on-page SEO best practices in order to beat the competition and achieve position one results.
At DemandJump, we know all about the journey to the top of search engine results pages (SERPs) and what it takes to get there. In the next few sections, we'll share some of our on-page SEO tips and tricks so you can get started on the right path. Once you get the hang of things, position one is closer than you think.
What Are Two Examples of On-Page SEO?
Now that we know what on-page SEO is and why it's important, let's take a look at some on-page SEO examples.
1. Internal Linking
As an important part of on-page SEO, internal links help Google crawl your site and determine if your website's content should rank higher. Providing Google with a clear path to follow helps crawlers quickly identify what content on your site is most important, and determine if that content is relevant to various search queries.
Here are some basic internal linking best practices to follow:
Ensure your anchor text is intuitive and place internal links on keywords when it makes sense.
Use links that are relevant to the content's topic.
Ensure all links within the text provide value to the reader and guide them to more answers.
Don't overload content with unnecessary links.
What's New With Internal Linking?
Aside from the basics, many marketers experiment with internal linking strategies. In DemandJump's case, our experimentation helped us discover something new and frankly groundbreaking—Pillar-Based Marketing (PBM). Our PBM strategy enables marketers to create highly-structured content networks on their websites to mimic search behavior related to key topics their target audiences care about. A huge part of PBM is the internal linking strategy.
There are 16 pieces of content in each PBM campaign, and all of them link together to create a Pillar Topic Network that directs traffic to your website. Every Pillar Topic Network consists of:
One Pillar page
Three Sub-Pillar pages
12 Supporting Blogs
To help you visualize, here's how they all link together: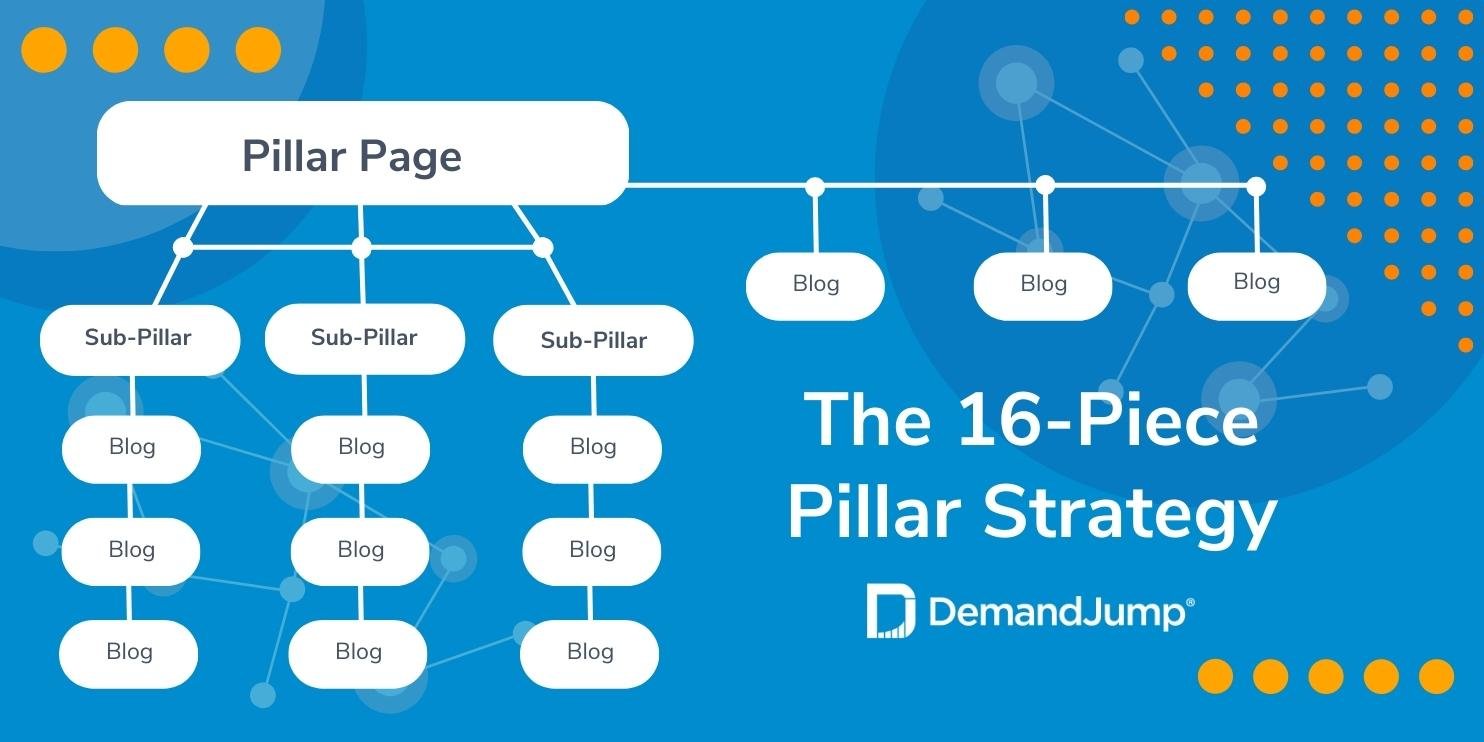 In the end, this content and linking strategy boosts your website's authority and relevance, pushing your content to the top! Don't believe us? Check out this case study.
2. Heading Tags
Heading tags, also called header tags, help separate and organize content on a webpage. There are six heading tags available, and each tag is ranked by importance. For example, H1s are used for main titles, H2s are sub-titles, and so on. For on-page SEO purposes, heading tags improve the SEO and readability of your web pages so readers and web crawlers can easily understand the purpose of your content.
It's important to note that choosing the right heading tags is a science. At DemandJump, we ensure that long tail keywords—usually in the form of questions—are used as H1s and H2s. This helps Google easily recognize the types of questions our content is answering and further supports the authority of the Pillar Network we mentioned earlier. Additionally, using long-tail keywords as heading tags helps drive more high-intent traffic to your website.
What Are the Three Components of On-Page SEO?
We could go on for days discussing the intricacies and nuances of on-page SEO. But that'd put you to sleep. Instead, let's focus on three on-page SEO techniques that make the biggest impact on your website's rankings.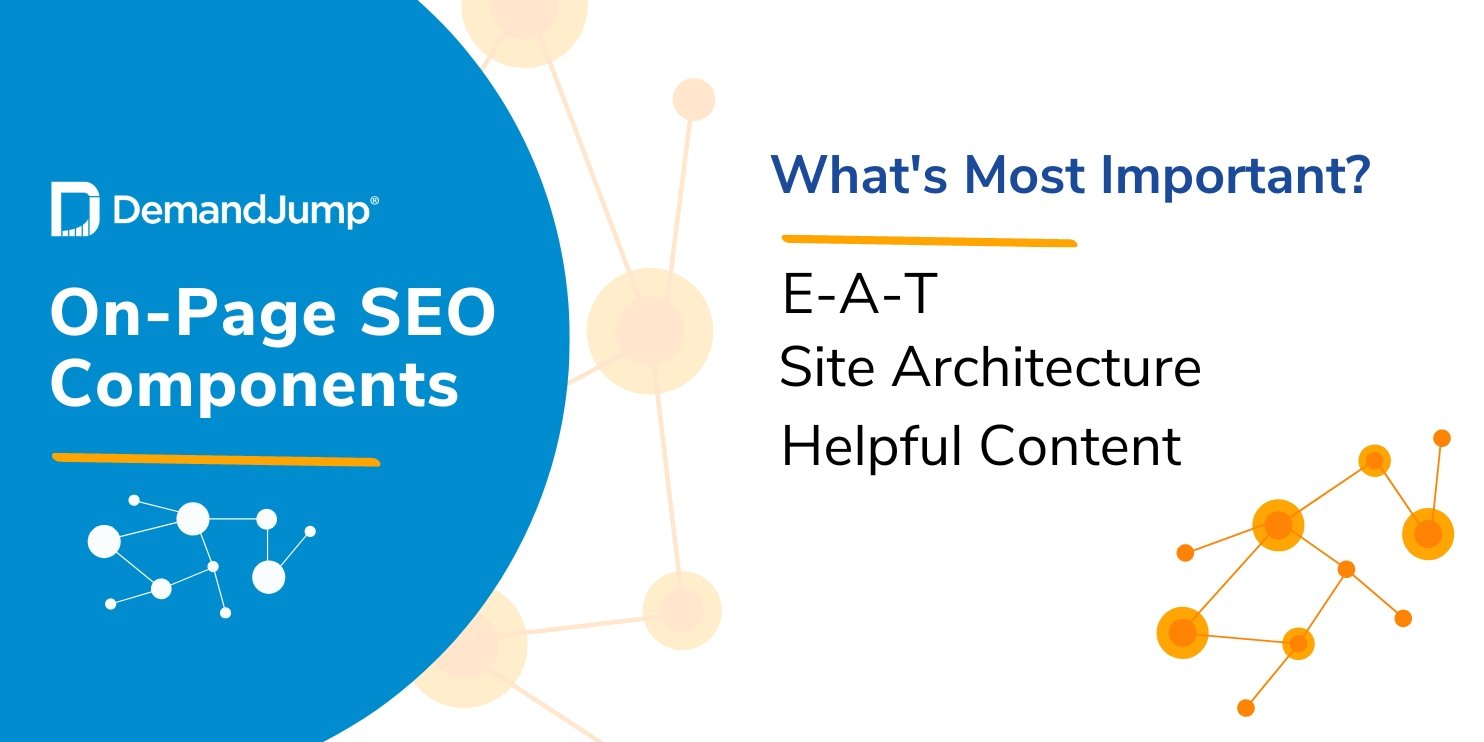 1. E-A-T
E-A-T—short for expertise, authoritativeness, and trustworthiness—is the underlying concept present throughout Google's various broad core algorithm updates. The E-A-T principle is used to instruct Google's search Quality Raters as they attempt to determine if search results are effective and high-quality. Quality Raters are employed by Google to ensure that all search results meet users' needs and align with best practices outlined in Google's Search Quality Rater Guidelines.
The results submitted by Quality Raters train Google's algorithms to identify signals that correlate with the E-A-T principle. If your on-page SEO follows E-A-T guidelines, then your website is more likely to rank higher in search engine results. So, how can you make sure your on-page SEO properly aligns with E-A-T? Here are a few things to keep in mind:
Quality content that displays your company's thought leadership and authority across various topics in your industry space will help showcase your expertise.
It's not enough to chime in on the topics everyone is talking about; your website should establish your authority in several niche areas of your industry that relate directly to your business offerings.
Do not publish or link to misleading content, or your site's trustworthiness will take a hit.
2. Site Architecture
When it comes to on-page SEO, nothing else matters if your site isn't up to snuff. If your website is slow-moving and difficult to navigate (for both humans and search engines), then you will be penalized automatically. Like all things in SEO, site architecture best practices are a bit convoluted. Here's what should be on your radar:
Pick the right topics and keywords that will help define your website's primary purpose and attract your ideal audience. Consider using a tool like DemandJump to help you out.
Carefully organize your site's structure using a Pillar Network so whoever visits your site knows exactly where to find the information they need. Consider starting with the broadest topics (AKA pillar topics) and linking all related, shorter-form content to those main pillar pages.
Pay attention to what URLs you are using and ensure keywords are included in each one.
Focus on user experience (UX) and ensure your site navigation makes sense and is visually appealing.
Generate an HTML sitemap that provides links to all of the pages on your site and includes descriptions of each page's purpose.
3. Helpful Content
Google's Helpful Content Update was released in 2022 and has already made significant changes to how marketers approach on-page SEO. According to Google, "the helpful content update aims to better reward content where visitors feel they've had a satisfying experience, while content that doesn't meet a visitor's expectations won't perform as well." But what does this mean, exactly? Really, the helpful content update mostly aligns with the concepts established in the E-A-T principle—producing consistent, truthful, and enriching content on your website will win you brownie points with Google's algorithm. Here are some best practices to follow:
Lock down your website's primary purpose and ensure your content always relates back to that purpose.
Hone in on a specific intended audience or ideal customer profile (ICP) and make content with that audience in mind.
Ensure your content demonstrates first-hand expertise and extensive knowledge.
Write content that makes the reader feel like they learned enough to achieve their goal.
Keep an eye on Google's broad core algorithm updates to monitor any changes.
What Are the Main On-Page Ranking Factors?
You'll get different answers to this question depending on who you ask. But, there are a few on-page SEO items that everyone agrees are essential. We compiled each of these points in a little on-page SEO checklist for you to use as you work to perfect your on-page SEO!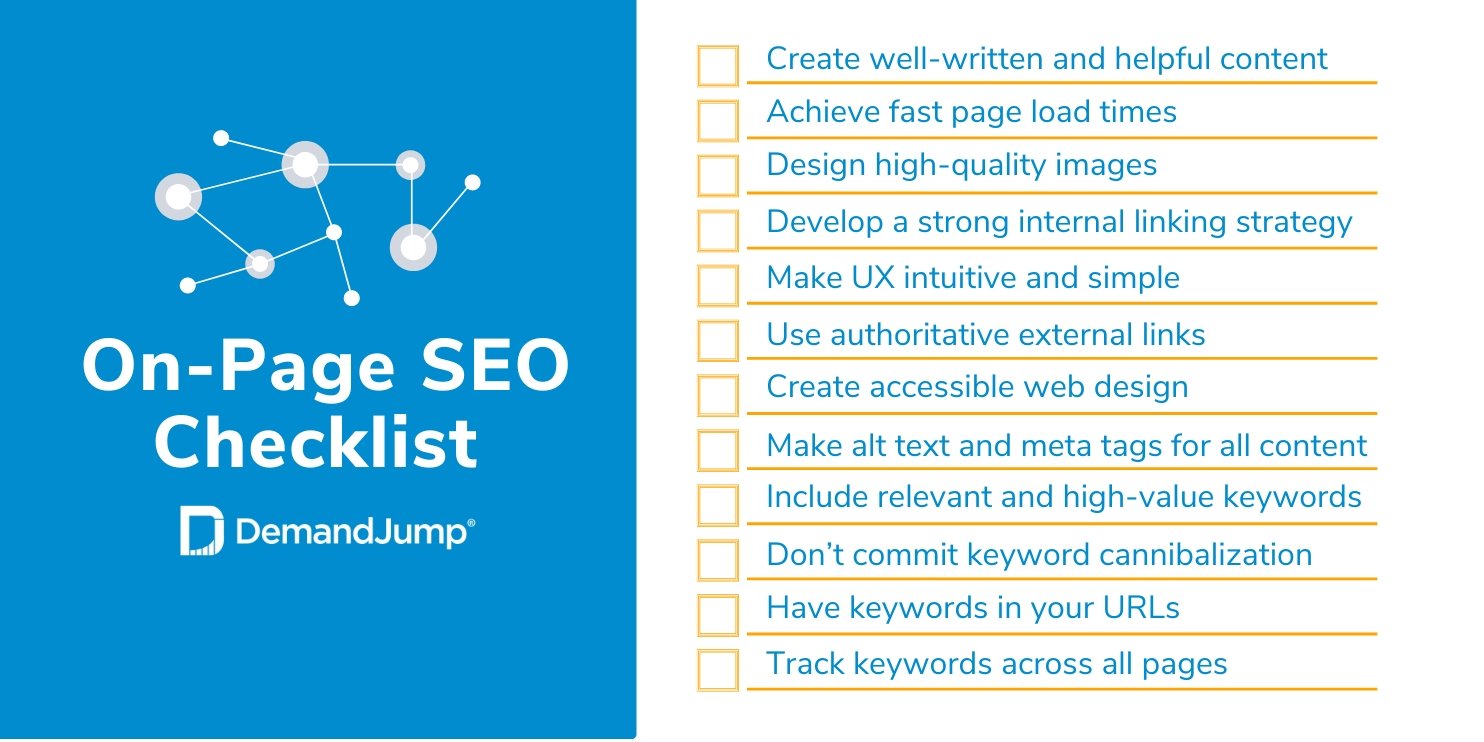 And that's it! On-page SEO in a nutshell. We hope you learned something! If you're interested in discovering more SEO best practices, explore DemandJump's vast resource library.