3 Steps to Reaching the Top of Google Search Results
January 3, 2022 •DJ Team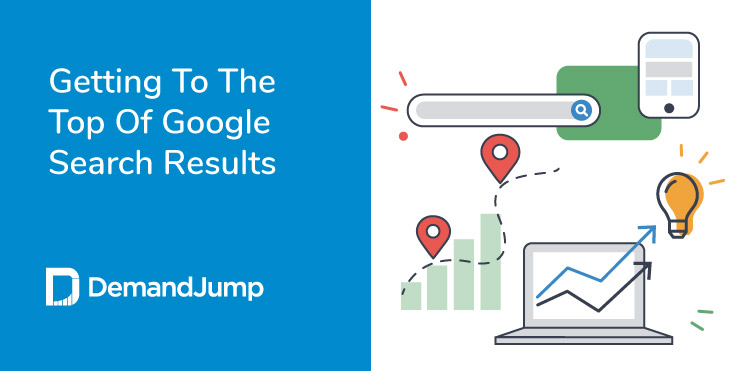 What's every site's number one goal with SEO? It's to get on the top of the Google search results. It seems like a lofty goal, but it's actually quite achievable, with the right strategy and implementation. In this post, we'll discuss some of the best practices and practical strategies for hitting your SEO goals.
Let's dive in.
Why Is Getting on Google's First Page So Important?
Getting on Google's first page for a specific keyword is the Holy Grail in the world of SEO keyword strategy. It's vitally important to show up in the first 10 search results, and data proves it. Studies show that only 0.78% of Google searchers click on a link from the second page of the search results. So the first Google search page is where all the action is.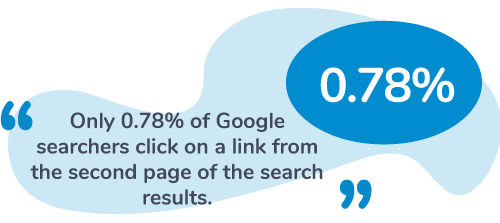 There are two really great ways to get on the first page: organically and through ads. You can bid on a particular keyword to appear in one of the two ads that show up on the first page, or you can get there for free by optimizing the various SEO elements of your content.
How to Organically Show Up in Google's Top 10 Search Results
It's important to note that SEO work isn't linear. There are always bumps in the road, algorithm changes, and new trends that affect your search rankings. The smartest way to get on the first page of Google results is to follow best practices.
Here are proven ways to do that:
Look at the top 10 results on the first page and get some ideas for titles, headers, topics, and visual elements. You can use these high-ranking site pages as inspiration to create content that would rank well.
Take a look at the ads appearing in Google search results and see how you could optimize your own ads as well as your organic pages. The ads can tell you a lot about search intent and which keywords to use.
Speaking of keywords, conduct thorough SEO keyword research and analyze your competitors to get ideas about what subjects to write about next. This could also help you see if there are any gaps in your content or if there are new opportunities to explore.
SEO takes a long time to perfect. The best way to start is by targeting long-tail keywords with lower search volumes and slowly making your way to the top of the search results. Then you can start targeting those short keywords and continue to expand the number of keywords each of your content pages ranks for.
You should also use a simple content brief to make sure each article you write is thorough and has the best chances to rank well.
Now let's talk about images.
How to Use Google's Image Search
Another hidden gem that many SEOs miss is Google's image search. Everything is connected in Google's ecosystem, so when your image ranks well, your YouTube video gets traction, or your Google My Business gets more impressions, then it could affect the organic rankings of your site content.
First, you need to figure out whether there are images on your site that already rank well on Google. The way to do that is to go to Google Search Console and click on image search. That's where you can find all the various images that rank well on your site.
Then, think of ways to optimize those images, get more backlinks to them, or share them on social media. And think of new images you could create that would be similar to the ones that already rank well.
What's great about images is that they appear at the top on Google search, and they give you more exposure. The same is true for product images if you're in the e-commerce space. So use Google Search Console to optimize your images and improve your search rankings.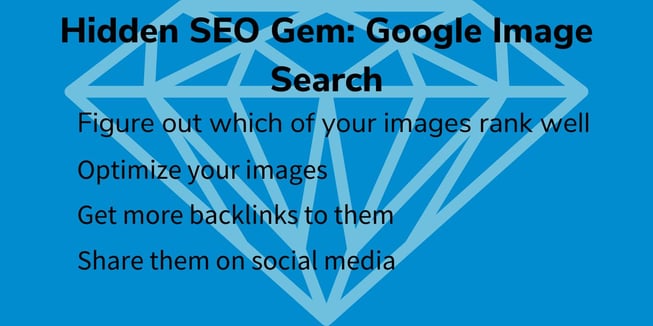 How to Rank Your E-Commerce Site on Google Search
Finally, let's talk about e-commerce.
E-commerce brands are in a unique position because they can get more visibility on Google than any other type of business. When a user searches for a specific product, they see several product listings at the top of the search results. Those are Google Shopping listings that a brand can display through the Google Merchant Center.
Those listings combined with pay-per-click and high organic search rankings can propel your brand to the next level. As long as you remain in good standing as a Google Merchant, optimize your organic pages, and target various segments of your audience based on their search intent, you will see your sales grow.
Use Best Practices and Keep Optimizing
As you can see, you can't build a strong online presence overnight. But if you follow best practices and continue optimizing, you will see a consistent uptick in traffic and leads from your search efforts.
To make things easier for you, we recommend you check out Demandjump. We've created a tool that can help show you exactly what you need to do to get on top of Google search results and guide you through the step-by-step process.
Get started creating great content today!
Get Your Free Content Marketing Strategy Report