4 Steps to Choosing the Right SEO Keywords the First Time
September 22, 2021 •DJ Team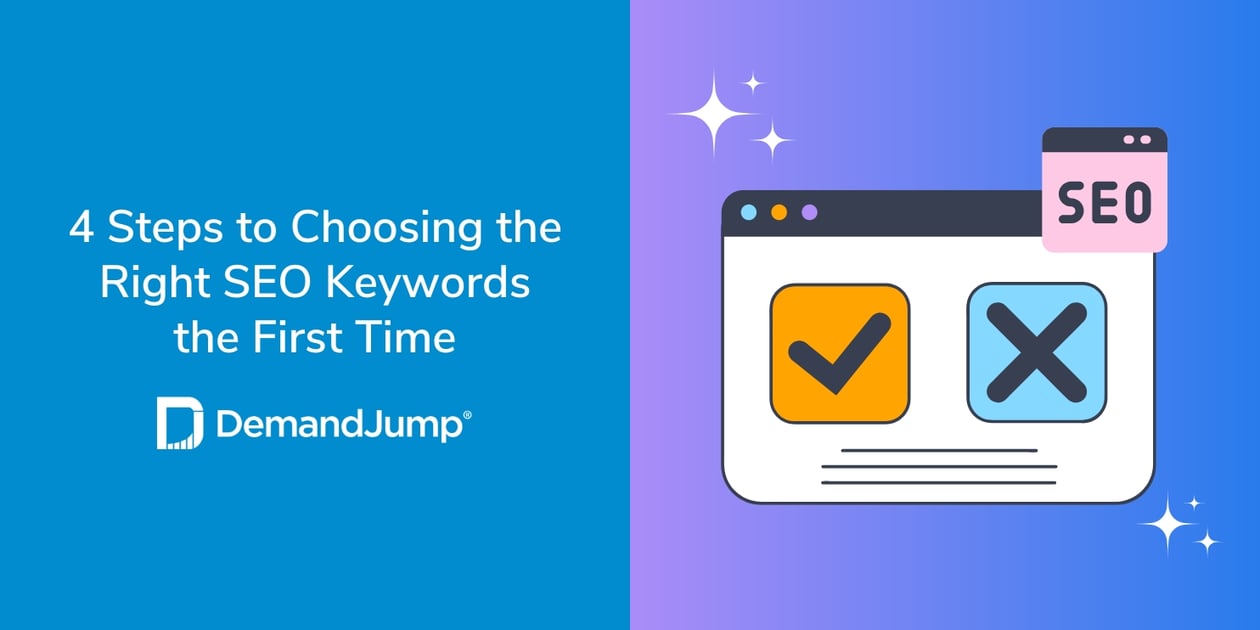 One of the most valuable actions you can take to grow your business is to learn to leverage SEO keyword research tools to build a content strategy that will drive traffic—and revenue—to your website. A well-thought-out keyword list is a critical component of SEO strategy.
Generating a list of keywords is relatively easy, especially when you consider various free tools that can help—but all keywords are not created equally. Identifying the best SEO keywords for your website content may make or break a strategy.
Don't worry, though. You're not in this alone.
In this blog, we'll offer some keyword research tips, so you'll know how to choose keywords for SEO—specifically, where you can start.
It begins with identifying high-value keywords and then prioritizing the keywords to build a content strategy.
We'll go through the keyword research process at a high level, covering a few tips for each stage of the process, so you can figure out not just which SEO keywords to use, but which to prioritize using first.
Understanding What Makes a High-Quality Keyword
We want to focus on highly relevant, low-competition keywords.
There are three types of search intent to consider matching keywords: navigational, informational, and commercial (or transactional).
Here are two keys to great SEO keywords:
A Great Keyword Matches Search Intent
When someone is searching to reach a specific web page (e.g., DemandJump), that's navigational intent.
When someone searches the web to answer a specific question (e.g., what are the best keyword tools), that's informational intent.
Commercial (or transactional intent) is involved when the searcher is looking to learn more about one or more specific products or services, compare their options, and even make a purchase (e.g., Demandjump vs google keyword planner).
A Great Keyword Is Also Defined by Relevance, Authority, and Volume
Once you understand the intent, you can begin answering the question being searched. The quality of your content here is what will differentiate and drive traffic and referrals.
There are three distinct aspects of quality to consider: relevance, authority, and volume.
Relevance: By meeting the searcher's needs, your content can rank higher for the specific keyword(s) used in the writing. Your content needs to not only answer the searcher's question but also be among the best resources to do so. In other words, you need to answer the question to drive traffic to your content—and then the content must actually answer the search criteria.
Authority: You want to position yourself as the "authority" on the selected topic(s). You can increase your authority by providing clear and helpful information, and then promoting that content through social channels and backlinking.
Volume: Being the top result for a particular query is great, but only provides very limited benefits if the query you're answering isn't really one that people are searching for. There's no real benefit to getting those clicks if a searcher still has to check out other search results for useful information.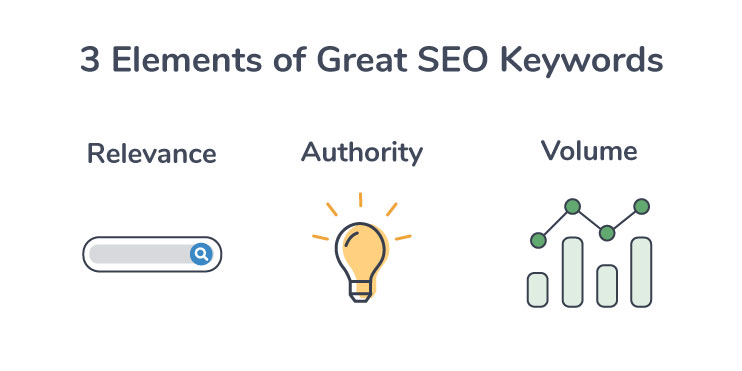 How to Do Keyword Research: 4 Step Checklist
While an entire content creation plan does not need to be thought through at this stage, having some idea of what kind of content will be competitive will certainly help in choosing the right keywords, to begin with.
If you're not sure how to do keyword research, you can start out by simply running some basic Google searches and examining competitors' content.
You'll also find that there are countless SEO keyword research tools available for SEO keyword research.
1. Use the Free, Web-Based Tools at Your Disposal to Begin Your Research
There are plenty of free tools available to get you started. Being the go-to search engine, Google has a lot of name recognition and authority—and many of its keyword planning tools can be used for free.
You can run a simple search, like "free keyword research tool" and you'll come across plenty of sites that not only offer free tools but also evaluate some of their differentiators. Here's one such article: The 21 Best Free Keyword Research Tools.
2. Set Specific Goals
What is/are the company's goal(s)? Increased web traffic, which increases revenue, is a commonly identified SEO research goal—but that alone is unspecific and doesn't really say much. Be as specific as possible when considering your goals.
For example, how fast are you needing to see results, what is the target audience or customer segment you want to reach, and what kind(s) of search intent can you accommodate?
3. Think As the Customer Thinks
You can do this rather simply, by asking questions like "If I wanted to find [product or service], what would I actually type into Google?" The more you know about what people are searching for—and how they are forming their search queries—the better equipped you are to serve up the right content.
4. Check on Your Competition
Read competitors' content and notice the words and phrases that they use, as well as the questions their content seems designed to answer. Seeing what your competitors are talking about can help you to further brainstorm additional keyword or content ideas, to further help you rank against your competition.
Prioritizing keywords to narrow the list
The best keywords to build your SEO strategy around will be those for which you can reasonably expect to compete based on the specific competition you're up against and your ability to create high-quality content (ideally, of higher quality than what's currently out there).
Consider Multiple Criteria When Selecting Keywords
You'll want to consider the volume, competition, relevance, and current rankings for keywords you are considering adding to your SEO keywords list.
Ask yourself (or your team) the following questions, and be realistic:
Regarding search volume: How much traffic can we expect, based on search engine data?
Regarding competition: Which keywords (with good search volume) can we reasonably expect to compete in our space?
Regarding relevance: Which keywords are genuinely relevant to your product or service offerings? Which keywords can we create compelling, useful content for?
Regarding current rankings: Are there any keywords we already rank for, that we could build off of the momentum of?
Turn Your Keywords Into Compelling Content
Once you have identified one or more keywords to start with, it's time to start creating an effective content that will drive traffic to your site. Here are a few final tips to get you on the right track:
See What Content Is Already Out There, and What's Not
Basically, test some of your keywords and phrases out by typing them in a search engine. See what comes up, especially for specific questions you are aiming to answer.
Look through the first page or so of search results to start getting a sense of what you'll be competing against. Experiment with different ways of phrasing your question to get a more complete picture of what's out there.
This will not only help you set reasonable expectations for your content in terms of traffic, but you may also find some specific topics or perspectives that truly make your company stand out—which you can focus your content on.
DemandJump has automated keyword research. Start with a topic or question, and DemandJump will provide you with insights into what people are searching for, the questions they're asking, and how they are forming their search inquiries.
DemandJump will help illuminate the high-value keywords that can help you improve your search ranking and stand out from your competition.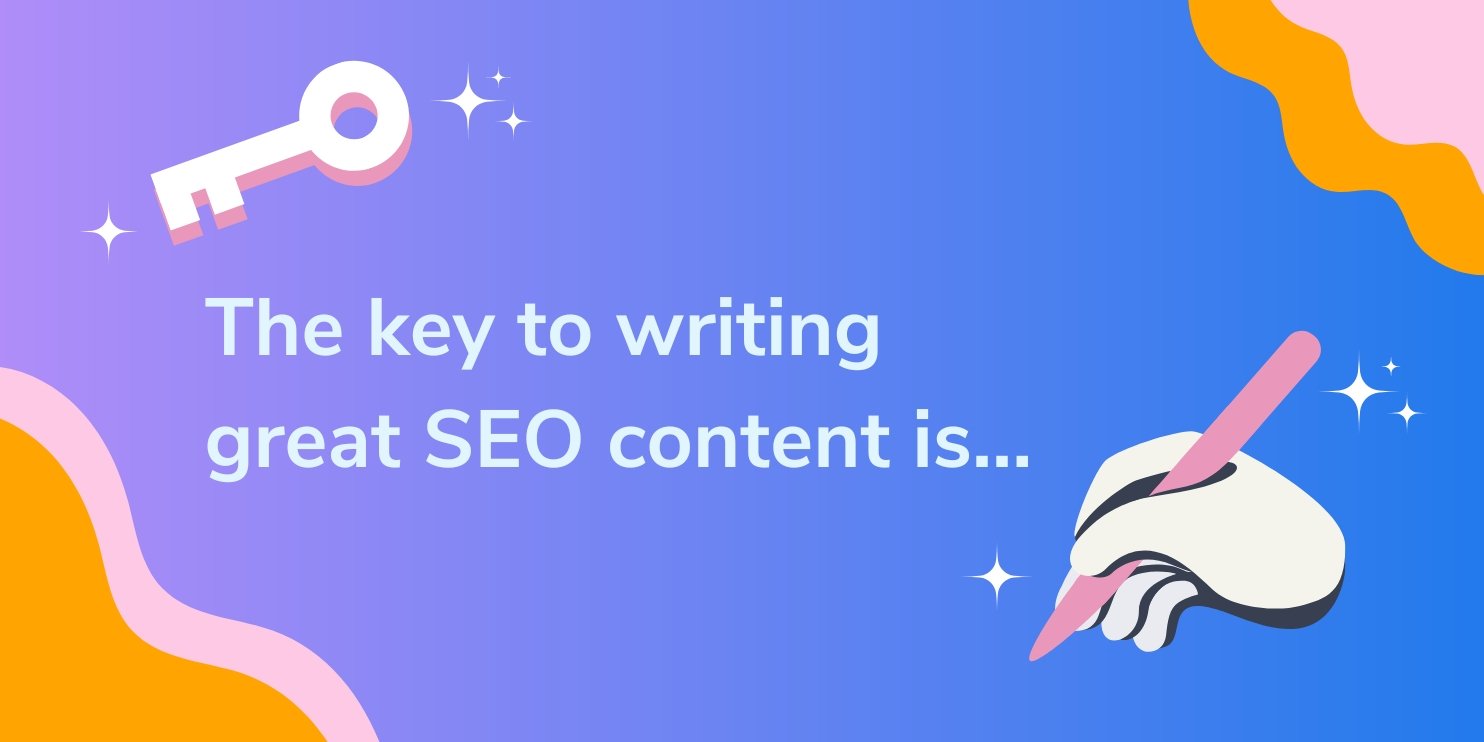 Write the Best Content You Can
Remember the importance of relevance, authority, and volume in your content. You don't want to rank for keywords and drive traffic to your site if what searchers will find there won't actually satisfy what they're looking for.
Consider the different types of searcher intent, and again, look for those openings where your company or brand can stand out.
DemandJump can generate one-click SEO content briefs that take the guesswork out of crafting quality content. Based on the main topic you provide, DemandJump will suggest questions you should make sure to answer, headers you should use to signify quality, relevant content, and more.
Use the Keywords Throughout Multiple Content Pieces
Once you start creating your content, consider using a content calendar to methodically organize your keywords, web content, links between content, and so on. Having one article that answers a relevant question is useful, but when you can answer related questions and provide a whole network of content, that leads to increased authority in the eyes of the search engine.
Try DemandJump's Tools (For Free)
Are you ready to see what DemandJump can do for you? To start finding out what your target audience cares about and how you can stack up against your competition, start using DemandJump for free today.
Get Your Free Pillar Strategy Report