7 Free Content Writing Tools For SEO
August 17, 2021 •DJ Team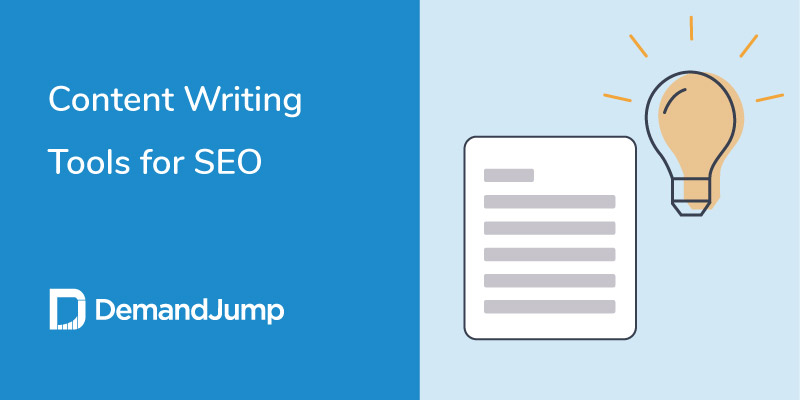 Content writing can be tricky, especially if you're trying to get your content to show up first in the search engine listings. If you're looking for tools to help you with SEO writing, we've gathered a few resources.
First, Are There Any Free SEO Tools?
Yes, there are! The internet is full of free SEO writing tools, and there are many tutorials and writing guides available.
When you're looking for SEO tools, keep in mind many of the tools have a freemium model. That is, some of the basic functionality is free, but in order to access other functions, you may have to pay a fee or subscribe.
Which Is The Best Free SEO Tool?
Well, here are some free content writing tools for SEO to get you started:
One of the most important parts of SEO writing is to use keywords in your content that are related to the topic at hand. In order for your website content to appear at the top of search engines, it needs to have the search terms that people are looking for within the content.
Google Keyword Planner can help you with your keyword research. Simply put in a keyword or keyword phrase to see the popularity of that search term over time. Google Keyword Planner can also help you research and find keywords that will get your content in front of the right audience.
DemandJump has taken the guesswork out of creating content that ranks. Input your topic or what you want to write about, and DemandJump provides a prioritized list of content to create.
The best part? They take it one step further and provide one-click SEO content briefs for anything you want to write. DemandJump not only shows you the content to create, it tells you how to create it with recommended H1s, H2s, and keywords to include. Get started today!
Part of ranking high in search engine listings is the readability of your content. Well-written content is rewarded by search engines, and tools like Hemingway Editor can help you with improving your writing.
The way this tool works is by analyzing the text that you input and checking for writing faux pas like passive voice, weak words, and run-on sentences. The goal is to make your writing clear and concise—characteristics that help your content rank well!
Duplicate content is treated poorly by search engines, so it's important to check and make sure that you didn't accidentally (or purposefully) copy any content. It's easy to accidentally copy content when you're writing about a well-known topic, or some content writers may think that there's no one checking for plagiarism on the internet.
In fact, search engines check for plagiarism. Before posting your content, running it through a tool like Plagiarism Checker can help you avoid any penalizations.
Another great writing tool is Grammarly. Polished content tends to rank higher, especially if you've got the right keywords, and Grammarly can help you improve the quality of your writing. From tools like a grammar checker to an advanced writing assistant that analyzes your writing, Grammarly is the perfect tool to refine your content before publishing it.
According to Readable, the average reader's attention span is 7 seconds. This tool will analyze the readability of your content and give you a score. This helps you to know if your writing is appropriate for your target audience or if you have missed the mark.
For example, if you're trying to write content that uses a lot of industry-specific jargon, that may not be readable for the new customers you're trying to reach. Readable helps you determine if your content is engaging and also monitors for keyword density.
Writing isn't easy, especially if you're having to write a lot of content about the same topic or group of topics. You can fall into a pattern of using the same words over and over again...which can be seen as keyword stuffing by search engines.
To avoid this problem, you can use tools like One Look to find alternative verbiage to use. It also includes a reverse dictionary—where you can type in a description and receive what word fits that description—that can help you in those brain blip moments.
Can You Do SEO Yourself?
Absolutely! It's possible for anyone to conquer SEO, especially with blog content writing tools that help. This is where DemandJump comes in. Our one-click outlines on any topic or question include the exact keywords to put in each section as well as recommended H1, H2, and H3s.
Get started creating content that ranks on the first page today!
Get Your Free Content Marketing Strategy Report