A Beginner's Guide to SEO
November 18, 2021 •DJ Team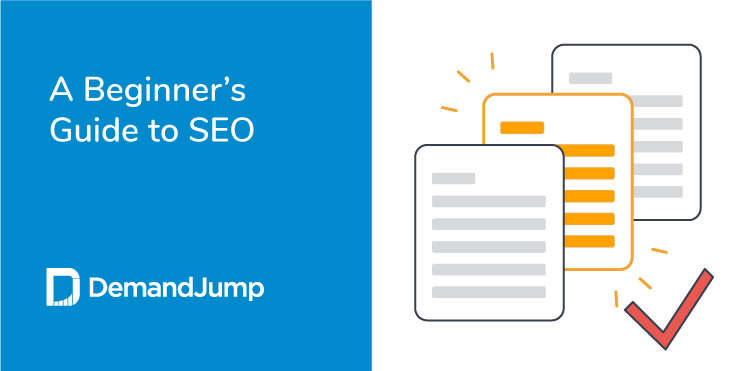 Are you tired of wasting time and resources creating content for the web only to have it buried several pages on Google Search?
It could be that you're not creating content that adheres to search engine optimization, or SEO, best practices. Heck, maybe you've never heard of SEO before. Don't worry. We're here to help.
So, how do beginners do SEO? Here's an SEO guide to get you started.
What Is SEO?
Before we dive into the details, let's first define the term. SEO is the process of improving your website or online content, so it pops up on the first results page if someone Googles a specific topic related to your business.
Now that we've defined SEO, you might be asking yourself, "How do I start learning SEO?" Implementing SEO can sound intimidating at first, but it's really three simple steps.

Step 1: Know What to Write About
Instead of guessing what you should write about, look at the data. Aligning your content strategy with your consumers' behavior is the first step toward creating successful content.
For example, if your customers often funnel through your marketing flow, you can start with how-to blogs and then brainstorm new content to create following that trend.
Step 2: Perform SEO Keyword Research
Optimizing your content to rank in Google searches requires some research. Find an online SEO keyword research tool you can trust and begin searching words and phrases people might use to find that topic online.
Some example keywords for a garden site are: how to plant an indoor herb garden, make an indoor herb garden, indoor herb garden, how to grow indoor herbs, and indoor herbs.
Step 3: Write, Post, and See Results
Once you've determined your keywords, it's time to write. Make sure to include your keywords in the title, first paragraph, URL, and meta description. Search engines like content that's easy to read.
Your content will perform better if the content includes headings, bulleted lists, outside links, and internal links. Need help creating a content template? Try DemandJump for automated SEO content briefs.
Free SEO Tools
The internet offers several free SEO tools you can use to optimize your content. Here are some of the best free SEO tools.
Keyword research tools often provide information, such as monthly search counts and competition. The higher the competition, the more difficult it is to rank in the top results for that keyword. Ideally, you're looking for a keyword that has a large monthly search count with low competition.
If you want to refine your keyword research, you'll likely need to pay a user fee. Programs, such as DemandJump, Ahrefs, and Semrush offer free trials for a limited time and paid subscriptions after that.
Search Engine Optimization Techniques
There are three main search engine optimization techniques to strive toward when looking to improve your website's performance.
On-page SEO: This type of optimization includes, you guessed it, individual content pages located on your website. Think blogs or landing pages. If you did your research, found the best keyword, and wrote a clear and concise page about it, you're one step closer to achieving on-page SEO.
Technical SEO: Search engines also look at a website's structure to determine its ranking. For example, your website's architecture, data, speed, and mobile-friendliness all play a role in where you rank in search results.
Off-page SEO: This type of optimization determines if your website is a reputable, reliable, and trustworthy source. To build your brand's reputation, you need backlinks. A helpful backlink is a link from another reputable source to your web page.

This is a small sampling of factors that go into determining how a website or page ranks. In fact, Google uses 200 ranking factors to determine where a website or page ranks when users click the "Search" button.
Want to learn more? HubSpot, an inbound marketing developer, offers this free search engine optimization course online. You'll even be SEO certified once you complete the course.
Ready, Set, Optimize Your SEO Content
Now that you have a better understanding of what SEO is, how to optimize your content using our step-by-step instructions, free tools to find the best keywords, and different ways search engines determine your ranking, it's time to optimize.
You don't have to start by tackling all 200 ranking factors. Pick a few to get the ball rolling and enlist your team to help. With time and dedication, your site will top the results page.
Need help? DemandJump offers automated keyword research and a one-click content outline generator that recommends headings and questions to answer within your content. Get started today for free!
Get Your Free Pillar Strategy Report