5-Step Guide to Conduct Keyword Research Like The SEO Pros
September 8, 2021 •DJ Team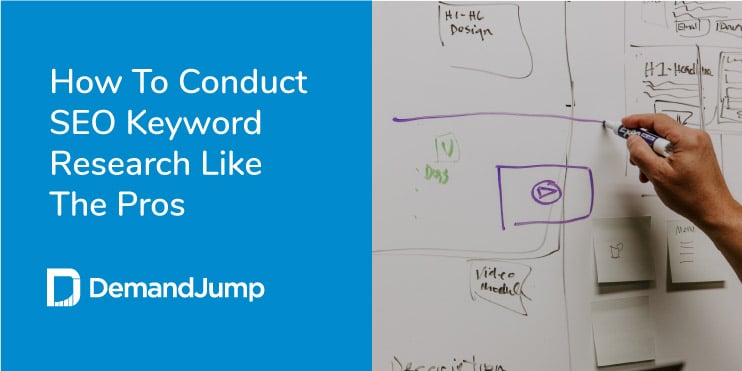 Keyword research is integral to ranking well in search engines and making sure that your content is aligned to what your target audience is searching for.
So, how do you do keyword research like the SEO pros?
Here's the secret—anyone can become a search engine optimization (SEO) pro with the right tools. There is no degree necessary to master SEO, and the field is still very young. SEO pros learn on the job, and you can too.
Keyword research is equal parts art and science. It's essential to consider the way customers search for keywords online and also dig into hard data to understand what your customers are looking for—and how to focus your content creation efforts to reflect their searches.
With time, experience, and the right tools to guide the way, you will quickly improve your list-building skills to conduct keyword research like a pro.
If your company is creating content but doesn't have an active SEO strategy, you're driving blindfolded. Learn how to integrate SEO in order to demonstrate measurable business impact through your efforts and get your content to page one search results.
How Do You Conduct Keyword Research Like the Pros?
Conducting keyword research like professionals can be time consuming and a bit confusing without the proper approach. You need to understand what customers are looking for and how SEO pros build their content around high-ranking keywords to draw an audience. But the hard work pays off once you start to see your content at the top of organic Google searches. This begs the question, "How do you conduct proper keyword research?" Here are a few steps for you to follow to get started: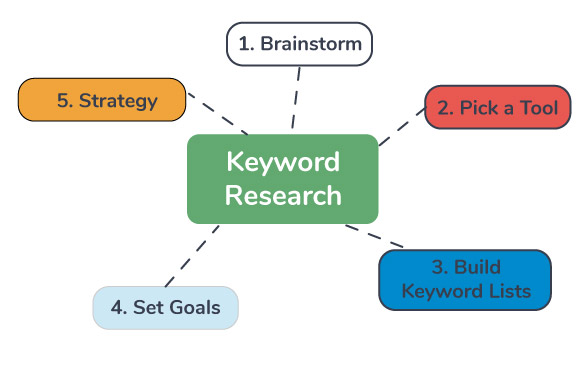 1. Brainstorm
Before you start analyzing, use your own knowledge and internal resources to brainstorm what keywords and phrases are most relevant to your company. This should include topics important to the products or services you offer that you want to be known as an authority on. Imagine a computer company writing about high-end handbags. That doesn't really make sense and would not draw the appropriate target customer!
Another way to collect keyword ideas is by talking to your sales or field team. They should be in direct contact with your customers to get ideas for questions and search terms.
Remember, the terms your customers use to search likely won't be the exact wording or industry terms that you might initially consider. But mastering SEO should include capitalizing on precise search terms to get the most traffic to your website using a general keywords list.

2. Select an SEO Keywords Tool
>SEO keyword research is drastically improved with the right tools to make sure you're pulling the exact search terms your customers are using. There are many free and subscription-based keyword generators on the market that allow you to create a basic content plan. However, some of the options are not going to provide you with the exact search terms customers are using. A robust SEO keyword research tool will ensure you get the best high-ranking keywords to increase your page rankings.
A tool like DemandJump that offers precise search volumes, watches competitive URLs, and analyzes attribution insights can help you generate the best pillar based marketing strategies for your content.
3. Build Keyword Lists
Start with an overarching keyword list that encompasses your high-ranking keywords, customer-focused topics, and your desired branding. Next, use your keyword finder to build primary lists that will speak to your customer base, a specific product or service line, or a definitive point in your marketing journey.
4. Establish Your Baseline and Set Goals
Export your lists and document your ranking position at the beginning of your campaign. Set goals that are specific, realistic, and measurable to improve your rankings. By using a tool like DemandJump, you'll be able to track your progress based on exhaustive analysis of keyword and ranking data.
5. Outline Your Strategy
Once you have your keyword lists and goals set, outline your SEO strategy with tactics that may include content creation or paid campaigns. Start with identifying 2-4 keyword groups where you want to improve your rankings. Designing a content pillar strategy will help you lay out a results-driven outline plan to succeed in your target market by structuring your content in a SEO friendly way. This means writing long-form content like pillars (3,000 words), sub-pillars (1,500 words), and shorter blog posts (750 words). Then you should be connecting them all together through hyperlinks. That way, you'll be able to answer the questions your customers are asking and tell Google you have expert information on any given topic.
How Do You Organize Keyword Research?
You should start by building a high-ranking keyword list and structuring it as follows:
Broader pillar ideas should answer focused keyword questions, creating an "ultimate guide" on your topic.
Next, build sub-topics that are supported by additional high-ranking keywords, long-tail keywords, and questions related to your secondary topic.
Finally, a blog should answer very specific questions that customers are searching for including keywords that relate to the topic as headings in the blog.
By outlining your keywords in this structure, you can prioritize your content and reach a larger audience using SEO to your advantage, since Google sees connected content as one source as a sitemap.
How Long Should Keyword Research Take for SEO?
Once you have the right tools in place, building a keyword list should create a content brief, but with a tool like DemandJump, this time is drastically reduced through auto-generated content briefs. Of course, keyword research is an ongoing process and requires constant evaluation to stay relevant and up-to-date.
You'll want to re-analyze your keywords quarterly or whenever there's a major trend swing in your industry to make sure that your lists aren't missing any big changes.
How Do You Do the Best Keyword Research?
Above all, SEO pros should be able to measure the impact of their efforts. Without analytics to show your progress, it'll be difficult to justify expenses, human capital, and your own job if you aren't showing the impact of SEO keyword research on conversions and the bottom line.
How Do I Do Content Research for SEO Writing?
You'll want to be sure you provide the most accurate and relevant information for your target audience by creating strong, keyword-based content. Content includes the actual information provided within a pillar, sub-pillar, or blog. This typically includes extensive research online from reputable sources to ensure you're not only targeting keywords, but providing factual answers to customers' search queries.
So how do you complete this research without scouring the internet for answers for hours on end? The simple answer is: focused research. By searching the keywords and questions you're attempting to answer, you'll see what information is hitting page one. You should be asking:
Are those results reliable? Make sure important information is not from a personal blog or clear advertisement.
Are they from a competitor? Is the information provided by a company you're trying to outrank for the same customer-base.
What are the sources a site uses? Do they cite a reputable study/statistics or their own thorough research? Are they citing Wikipedia or any other online collaborative websites?
Is the information common knowledge? Including clear, indisputable facts that are the same across all websites keeps information consistent and accurate.
Is the content original? Some sites pass information and content off as their own without attributing information to the original source.
This will help you assess what information audiences are receiving and give you the ability to dig a little deeper into your content topic. You should be providing reliable, factual information that doesn't mislead the customers. The ultimate goal is to be a reputable source on every topic you write about.
Automate Keyword Research With DemandJump
DemandJump helps marketers understand which actions need to be taken to deliver the best content driven by SEO. These techniques help drive pipeline conversion and grow revenue with consumer insights. DemandJump also provides automated keyword research that leads to organic traffic and page one rankings. The insight reports can be automated to run each month about the same target keyword so you get to see how your rankings have improved month-to-month. With our tools, you'll be on your way to page one of Google in no time.
Write content that ranks fast, and save time doing it - get started today.
Get Your Free Content Marketing Strategy Report