Content Marketing Statistics from 2020: A Year of Change and Learning
December 22, 2020 •DJ Team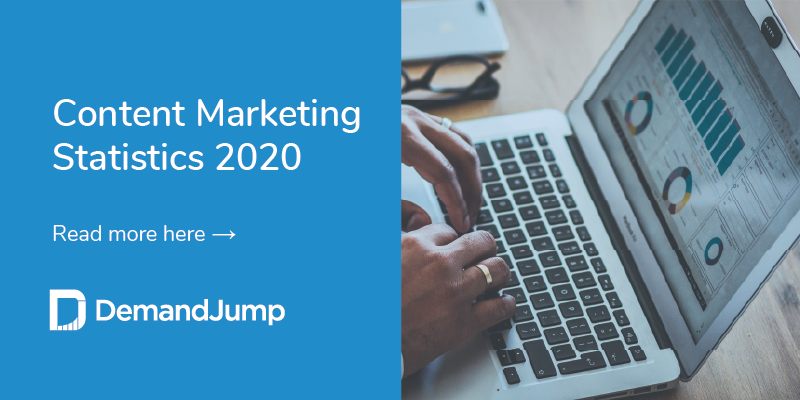 2020 was a long, strange year. The COVID-19 pandemic shut down many small businesses and forced many others to pivot quickly to work-from-home environments. Not only that, it forced most businesses to change the way they offered products and engaged with their customers. The new reality brought about shifts in marketing and other sales tactics.
But in the midst of everything that changed, content marketing proved to remain every bit as important as it has in the last several years—if not even more so.
Let's take a look at some trends and statistics we saw from the course of the year to prepare us for what we might see in 2021.
Digital Marketing Statistics from 2020
Before we get specifically into content, let's look at some more general digital marketing statistics from 2020, to get a feel for the industry overall.
49% of all emails were opened on mobile devices. (IBM)
54% of all emails were classified as spam. (Statistica)
Personalized emails got 6x higher transaction rates. (Experian Marketing)
Cold-calling as a sales strategy has only a 2.5% success rate. (Keller Research Center)
1.5 billion people worldwide are on social media. (McKinsey and Company)
55% of buyers do research via social media. (IBM)
Mobile commerce sales will make up more than half of eCommerce sales in 2021. (CBRE)
Email subject lines of 6-10 words had the highest open rate, at 21%. (Invesp)
80% of users ignore paid search results and move straight to organic rankings. (IMPACT)
Search engines (like Google) send 300% more traffic to sites than social media. (IMPACT)
Content Marketing Statistics from 2020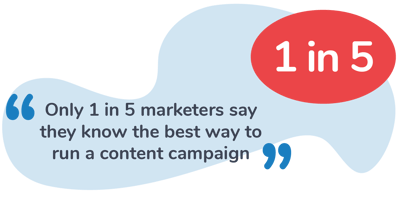 With some of the stats listed above alone, you can see how and why content marketing continues to be so important. Indeed, if your business hasn't focused on content marketing up to this point, it's a good idea to start—especially since 60% of B2C businesses are using content marketing strategies (Review42). Let's look at a few content marketing statistics from 2020 that are particularly telling.
Only 1 in 5 marketers say they know the best way to run a content campaign. (Review 42)
42% of marketers can't measure the results of their campaigns. (Review 42)
72% of marketers believe branded content is more effective than traditional advertising. (Wordstream)
61% of customers who have made a purchase did so after reading a blog post. (Content Marketing Institute)
34% of bloggers have a means to analyze the performance of a blog post. (Siege Media)
71% of B2B buyers read blog posts. (Hubspot)
95% of content used in content marketing is made for social media. (Content Marketing Institute)
Youtube is the world's second most-visited website. (Lifewire)
Content marketing costs 62% less than traditional marketing (Wordstream) yet was estimated to become a $300 billion industry in 2020. (Marketing Insider Group)
Stock photography and infographics are the most often used visual content. (Venngage)
53% of mobile users will close a website if it takes longer than 3 seconds to load. (Think with Google)
Only 66% of B2B marketers will prioritize a customer need over their own sales message in content. However, within the most successful of those B2B marketers, 88% do. (Content Marketing Institute)
Content Marketing Trends from 2020
Knowing what we know from those statistics, what were some trends that we saw in content marketing that we can expect to continue on in 2021? Here are a few that are likely to dominate the industry for a while.
Video will continue to rule. It's the top form of content marketing between both B2B and B2C marketers (Statista), and with platforms like Instagram, TikTok, and the ever-popular YouTube, video has nowhere to go but up.
Competition among content providers is going to continue growing. As more and more marketers and smaller brands start using content to market themselves, the already-crowded market is going to get even more dense. This means it will be even more important to stand out.
Mobile is going to continue its path to domination. If you aren't creating content specifically designed for mobile viewing, it's unlikely to perform well.
In addition to video, live streaming is on the rise among both consumers and businesses. Part of that, of course, is because of social distancing protocols enacted thanks to COVID-19, but its popularity is unlikely to wane once the world transitions back to the "old normal." It's easier and more cost-effective for things like conferences and makes attending something easy. While you can definitely expect people to crave in-person events, a flexible option should always exist.
Finally, cross channel marketing will become increasingly important. Cross channel marketing is all about using content across various distribution channels. Teams are already being asked to create more engaging, creative, and higher quality content, while doing it for less and less. Businesses will continue to invest in content, but efficiency will be top of mind. So sharing these pieces of content across channels, and optimizing them for each, should be a priority.
Automate Your 2021 Content Strategy
DemandJump's Instant Consumer and Competitive Insights show you where you are winning and where you are losing to your competitors around any topic. The platform will point out gaps and opportunities to take traffic share, and with one-click SEO-optimized content outlines, you'll save time in the process.
Save over 50% of your time while creating better content - that ranks!
Get Your Free Content Marketing Strategy Report