Content Marketing Strategy Template and PDF
November 25, 2020 •DJ Team
Connecting with your audience is key to developing your brand and establishing visible authenticity with potential new audiences, which grows your business. That requires content—and lots of it. The content needs to be reliable, focused, organized, and strategic. Content marketing strategy dictates a specific message and a filtered way of distributing the message across various content mediums. A template can help you control this filter to ensure you're staying organized during this process.
A template can be unique to your needs, especially in regards to your scope. The size of your marketing campaign, the amount of content needed, and how specific you want your template to be will vary depending on what goals you've set for yourself and the resources available. But elements in your template might include audience, platforms, topics, assigned writers or creators—essentially what content that needs to be completed and who is responsible for getting it done.
We can help. We will send you a free content marketing strategy template and PDF specific to your company. The pdf uncovers competitive gaps and opportunities, pointing out specific areas to focus and the exact pieces of content to create. Click here or use the form to the right to get your free report. 👉
What is a good content strategy?
Effective content strategy requires you to create a mission statement of what you intend to achieve at the end of the process, and to then imagine ways to convey and connect with your audience. Simple to say, far harder to achieve.
This requires you to research your audience. On what platforms can you reach them? What content might connect with them more? The rhetorical awareness will require imagination and creativity, research and context, and the ability to make all these moving pieces work together with a strong team.
Take the triangle shape for your strategy: it begins with you defining exactly what you're trying to achieve with your content, and then branch out into the different forms and niches that might connect that message to multiple audiences on several platforms.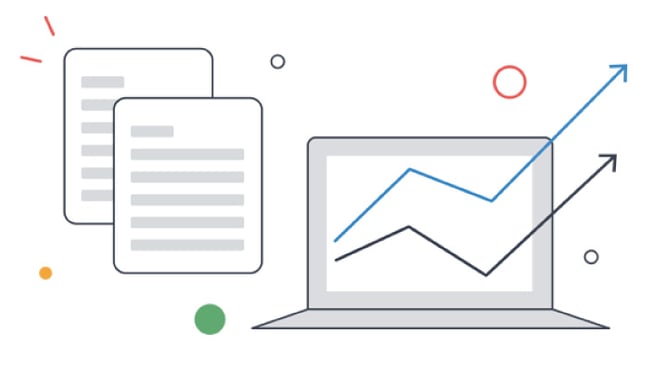 What is in a content strategy?
Take the metaphor of building a piece of build-it-yourself furniture: the first step in this process is to separate all the parts—paying attention to labels, looking at the instructions, and organizing the pieces in a way that follows what will be needed in each step of the process. The same might apply when thinking about a content marketing strategy. What tools and pieces are required for this particular strategy?
Define your content: will this be using webpages, blogs, videos, print? Will you require writers, editors? What are the pieces and what tools are available—because you'll need to have a good understanding of what you need before you're able to create a content template that organizes the moving pieces.
What is a content template?
Once you've established what your content marketing strategy looks like by defining your message, your audience, and the mediums you can work within, your next step is to create a plan for content distribution. There's a lot that goes into this, and a content template in a spreadsheet can help you plan.
A content template categorizes types of content, schedules for deploying content, what is required to create the content—such as sources, interviews, research, SEO—and all other information that might be relevant to developing content. There's a lot to unpack, and a good content template helps organize this.
We'll break down ideas of how to determine the information you might include in your content template.
Looking to create content but not sure where to start? Consumer insight data tells you exactly what keywords to use in your content. With that information, you are provided with automated content outlines (with recommended H1, H2, and keywords to include) to make certain your content will rank. It's that simple. Request your free report and you'll see just how simple it is. 👉
What are the 5 elements of a marketing plan?
Here are five elements to think about as you get started creating a template for your Content Marketing Strategy.
Timeline
Due dates are crucial for your team to determine what functions need to be executed at a set time. Include a timeline in your template to assure that tasks are being completed before they need to be published: you need to plan for unexpected delays.
Assignments
Everyone on the team needs to know their responsibilities and how they contribute to the overall plan. Early in the process, ensure that everyone knows the directive of the content strategy. This will lead to more engaging content.
Topics
Spend time brainstorming the different topics you and subject matter to explore. This is the time to get creative: different topics will resonate with different audiences.
SEO Research
Your content will be more effective when you create it to expand its SEO reach. Research what's successful already, what makes the content successful, and utilize keywords or key phrases that might expand exposure.
Platforms
In the same way you might brainstorm topics that might resonate with your audience, spend time researching the countless platforms that you could utilize to contribute content. Social media, video, print, websites, whitepapers—think about the triangle example and how you can generate content on multiple platforms to spread your reach.

If you're ready to improve on your brand's unique content marketing strategy template, look no further than the powerful insights DemandJump provides. With our intuitive platform, you can track your ideal customers' journeys through existing digital content to better understand the kind of content you need to produce to grab their attention and nudge them to a sale.
The best part? With our cross-channel analytics, you'll always know which parts of your strategy are the most effective so you can keep improving. Try it free and see just how easy it is.
Get Your Free Content Marketing Strategy Report