Content Optimization Strategy: 11 Steps To Create SEO Content
December 2, 2021 •DJ Team
"If you build it, they will come."
If that's your approach to content marketing, you'll have a hard time driving traffic to your website.
Creating high-quality content is essential for your marketing strategy. But even the best content won't drive organic search traffic until you have a content optimization strategy in place.
In this article, we'll show you how you can create SEO-optimized content that helps you attract and convert website visitors.
Let's dive in.
What Is an SEO-Optimized Content Strategy?
Search engine optimization (SEO) is the process of creating content to attract search engine traffic by targeting specific search keywords. A content optimization strategy consists of the steps and techniques to create SEO-optimized content.
Why do you need a content optimization strategy?
Because Google Search, in particular, is the most consistent, reliable, and high-quality traffic source on the internet. Research shows that 68% of all online experiences start with a search engine query.

By having a content optimization strategy in place, you can open traffic floodgates to your site and attract highly relevant visitors interested in your product or service.
How Content Optimization Works
The core idea behind content optimization is to create content around the topics and keywords your target audience is searching for so it ranks higher in Google Search. Because the higher you rank in Google's search results, the more traffic your site gets.
Research indicates that 75% of searchers never go past the first page in search results. Moreover, the top-ranking results on page 1 of a search result get more than 25% of the total clicks.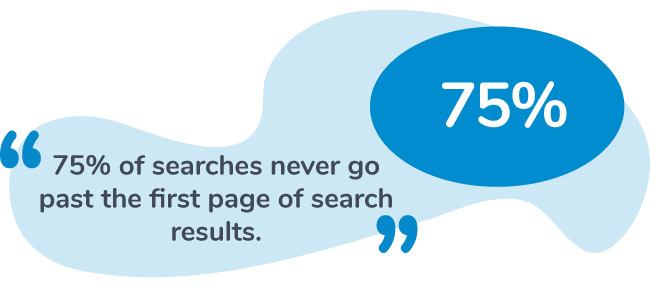 You can find relevant and high-traffic keywords using various content optimization tools. For example, if you're marketing a project management tool, you could target a keyword like "project management for startups."
You'll optimize your content around this keyword, which will help Google Search determine what your page is about.
Then, when a user searches for "project management for startups," Google will show your website among the search results, depending on how efficiently you've optimized your page.
Types of Content Optimization for SEO
To build a comprehensive content optimization strategy for SEO, you need to cover all facets of optimization.
Let's explain how.
On-Page Content Optimization
On-page content optimization includes creating high-quality content on your site based on the questions of your target audience. Once you create the content, you'll optimize it using on-page SEO techniques, which include optimizing the page title, meta description, URL, headlines, images, and body content.
Content Optimization for Backlinks
Backlinks are the second most crucial search engine ranking factor after high-quality content. Optimizing your content for backlinks means creating content using the various elements that attract backlinks.
If you don't optimize your content for backlinks, you'll struggle to persuade other websites to link to it. As a result, your content won't rank for your target keywords, since Google considers the number of backlinks to a site as a primary ranking factor.
Content Optimization for Conversions
The goal of content marketing is to attract visitors to your site and convert them into leads, subscribers, or customers. To achieve this goal, you need to optimize your content for conversions.
History shows that the longer a user stays on your site consuming your content, the more likely they are to convert into subscribers. Plus, average time on a site is also an important search ranking factor. So the more time people spend on your site, the better it is for its rankings.
This optimization type includes structuring your content for maximum consumption, using calls to action (CTAs) in your content, and leveraging different lead generation tactics.
11 Steps to Building a Content Optimization Strategy
Now that you understand the concept behind content optimization, let's dive into some of the practical strategies you can use to optimize your content for SEO.
1. Perform Keyword Research
Keyword research is the foundation of a content optimization strategy. The goal of keyword research is to find relevant and high-traffic keywords around which you can create your content.
To comprehensively cover your topic and build your site's search authority in your niche, you need to find keywords for all stages of the content marketing funnel.
TOFU (top of the funnel) stage: Find navigational and informational keywords for this stage that describe your problem and drive traffic to your site.
MOFU (middle of the funnel) stage: Find commercial keywords for this stage that target users who are exploring different products to solve their problems.
BOFU (bottom of the funnel) stage: Find transactional keywords for this stage that target users interested in buying your product.
2. Create Topic Clusters
Once you find the relevant keywords for all stages of the content funnel, you need to organize them in topical clusters.
A topical cluster is a closed group of keywords that describe the same topic from different angles. These keywords link to a common hub page (also called pillar content) that covers the core topic in complete detail.
For example, if your topic is "running shoes," the hub page could be "The Ultimate Guide to Buying Running Shoes." The keyword pages for this hub page could be:
Running shoe types
Running mistakes
Running tips
Running exercises
Running shoe problems
Creating such topical clusters allows you to build niche authority and rank higher for your target keywords.
3. Develop Content Benchmarks
Now that you know your target keywords, it's time to create your content benchmarks by analyzing your competitors. Content benchmarks help you determine your content's length, quality, type, nature, and search intent.
To develop content benchmarks, search for your target keyword and open the top 10 ranking pages in separate tabs.
Write down the following information about them.
Word count
The number of images and videos
Total internal and external links
Keyword usage in the content and headlines
Keyword variations in the content
Content type (list post, guide, tutorial, buying guide, informational, comparison, etc.)
Search intent (what does it help the user achieve?)
Use these benchmarks to guide your content creation process.
For instance, if the average word count of the top-ranking pages for your target keyword is 1,200 words, your target word count should be 2,000-2,500.
Similarly, increase the number of images, videos, and internal and external links. Use the search intent, content type, and keyword variations to guide your content writing process.
4. Optimize Page Title, URL, and Headlines
On-page SEO starts with optimizing the page title, URL, and headlines. Here's how to do it.
Title: Use your target keyword early in the title.
URL: Use a short (two- to three-word) URL with your target keyword.
Headlines: Use the target keyword and its variations in H1 (once), H2 (at least twice), and H3 tags (at least once).
5. Optimize Page Meta Description for Conversions
The role of the meta description is to convince searchers to click on your page in Google's search results. So write a persuasive description that intrigues the searchers and gets them interested in your content.
6. Optimize Image and Multimedia Content
Images, videos, and other forms of multimedia play a crucial role in making your content more engaging and keeping the readers longer on your site.
Try to use multiple images, screenshots, and at least one relevant video when creating content. Optimize your images and screenshots by using your target keyword as the alt text.
7. Optimize the Content Body
Start your content with an engaging and persuasive introduction paragraph that keeps the readers interested in your content. To optimize your content, use your target keyword at least once in the first 100-150 words to indicate your topic early.
Also, use your target keyword and its variations naturally throughout the content. You can find your keyword's variations in the related search section of Google Search.
Use your target keyword at least once in the concluding 100-200 words as well. Don't worry about keyword density or other such outdated concepts.
Write your content for the readers but ensure it uses the relevant keywords so the search algorithm can identify it.
8. Use "People Also Ask" to Drive More Traffic
Google's search results include a "People also ask" section for most keywords.
It lists the most popular questions of your audience about your topic and provides you with great insights on what your readers want to learn. Explore this section for your target keyword and use four to five relevant questions as H2 or H3 headlines in your content.
9. Incorporate Internal and External Linking
Internal links to the other relevant pages of your site play an important role in transferring search authority and helping your site rank higher. Use at least three to four relevant internal links on every page. Also, link to any reliable external sources to back your claims and make your content more credible.
10. Format Your Content for Maximum Consumption
Content formatting is vital to ensure your readers consume your content. Here's how you should structure your pages.
Write in a conversational tone.
Use short, one- to two-line paragraphs.
Distribute your content using headings and subheadings.
Use images, screenshots, and visuals.
Use bullet lists where needed.
Use bolding, italics, and underlines to highlight important text.
11. Add Calls to Action to Drive Conversions
Use CTA buttons after the introduction, in the middle of your content, and at the end of the page to convert your readers into subscribers and leads. Also, use pop-ups, sliders, and other lead generation techniques to increase conversions.
SEO Content Optimization Tools
Content optimization tools help you understand search demand, find relevant keywords, communicate with search engines, and optimize your content faster.
Here are some tools you can use for more efficient content optimization.
Are You Ready to Build a Content Optimization Strategy?
As you've seen in this article, creating a content optimization strategy isn't rocket science. However, it requires a deep understanding of your audience's needs and keyword research techniques. You must also create high-quality content that answers your audience's questions more comprehensively than your competitors.
Get started today with DemandJump!
Get Your Free Pillar Strategy Report