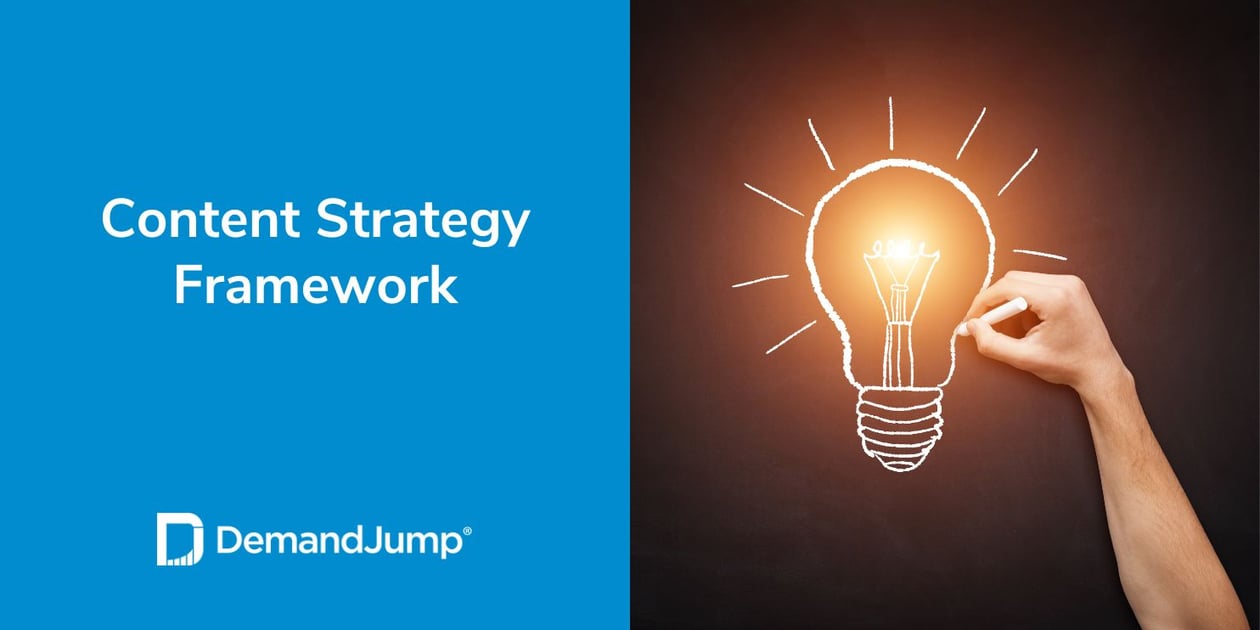 Content strategies are an important part of reaching audiences online. You have to have the special sauce of valuable content and SEO juice to rank higher on Google, but what's the right mixture? In this blog, DemandJump will explore website content strategies and an example of a strategy that actually works: Pillar-Based Marketing. But more on that in a bit! Let's start with the big picture.
What Is Content Marketing Strategy?
A content marketing strategy is an approach to content creation that focuses on driving organic traffic to your website from a specific audience. These strategies are mission critical for companies looking to boost brand awareness and gain marketing qualified leads. The Content Marketing Institute states that a content marketing strategy helps you determine why you're creating content, who that content is for, and how you can answer their questions.
With that in mind, the main goal of a content strategy plan is to create a blueprint. This blueprint gives you the ability to expand your reach to ideal audiences by producing and sharing content online. This will lead to more visibility and customer engagement. Other benefits of a content marketing strategy in digital marketing include increased traffic and conversions, boosting authority, and creating helpful content that readers enjoy.

A content marketing plan should explain your most important business and customer needs, as well as how your content initiatives will fulfill them. The overall plan includes business plans, content maps, and your brand story. Each element of a content marketing strategy should address different needs and pain points that your company can focus on within the content you're producing.
You should also develop a content strategy in addition to your content plan. Content strategies are steps that a company develops by putting content at the forefront of reaching wide audiences. Within a business-to-business (B2B) content strategy framework, you can build your online presence while providing your audience with content that actually answers their questions. This type of digital content strategy will rank you higher on search engine result pages (SERPs) and you'll see more leads!
What Is the Purpose of a Content Strategy?
The purpose of a content strategy is simple: produce valuable content and reach a wider audience. Once you create the content and publish it on your website, you will see an increase in your SERPs rankings and organic traffic. That means more authority on your topic, which means more eyes on your content. A solid content strategy will increase your leads and conversions, so you can continue to grow your business!

How to Build an Effective Content Strategy
Since content strategies are about creating high-value content, it's important to use a blueprint that actually works. That's why DemandJump has introduced Pillar-Based Marketing (PBM) as a solution. Using PBM, you can structure your content in a way that shows search engines you know your stuff. If Google sees how valuable your content is, more customers will see your site in their search results.
So, how does PBM work? PBM is a content marketing strategy framework that connects all of your content into an authoritative and comprehensive body of work. It all starts with Pillar pages, gets more focused with Sub-Pillars, and becomes very specific with Supporting Blogs. Let's break it down:
Pillar: The largest piece of content in the PBM strategy. It should be 3,000 words and contain 20 high-value keywords and phrases. A Pillar is the most comprehensive piece of content in a PBM plan, and it should introduce the general topic of your content strategy.
Sub-Pillar: The second largest piece of content in the PBM strategy. It should be 2,000 words and contain 15 high-value keywords and phrases. A Sub-Pillar is more specific than a Pillar, but not quite as detailed as a Supporting Blog.
Supporting Blogs: The shortest piece of content in the PBM strategy. They should be 750 words and contain 7-8 high-value keywords and phrases. A Supporting Blog is the most specific piece of content that focuses on a single question.
What does PBM look like in practice? Imagine an online store called Hockey Plus that sells hockey equipment. They want to reach more people to increase their sales during the off-season. Hockey Plus decides to create their own PBM strategy using Pillars, Sub-Pillars, and Supporting Blogs, but they're unsure where to start. That's where DemandJump comes in! Hockey Plus uses DemandJump to gain insights, find top keywords, and develop a Pillar strategy.
For example, Hockey Plus wrote their Pillar on "hockey equipment." If that seems a little broad, that's okay. Remember, the Pillar is the piece of content that is the "ultimate guide" to hockey equipment. It's meant to give an overview of what hockey equipment is, how it's useful, and why it's important.
One of their Sub-Pillars is about "safety of hockey equipment." This narrows down the topic to be more specific and allows Hockey Plus to focus on the important safety aspects of the equipment.
Finally, one of their Supporting Blogs answers a very narrow question, "What are the safety requirements of hockey helmets?" Hockey Plus wants to ensure their audience understands how their helmets can keep them or their children safe during practice or a game.
DemandJump's podcast, Page One Or Bust!, goes into elaborate detail on how to make the most of Pillar-Based Marketing best practices. Check out this clip below to learn more. For the full episode, follow this link.
It's Time to Rise and Shine!
If you'd like to build a similar strategy, DemandJump can help create your own Pillar based on our data-driven insights. We have seen great success with our customers, who have increased their SERPs rankings, leads, and conversions! You can try DemandJump for free to see just how powerful of a tool it can be in creating your own PBM strategy.
Get Your Free Pillar Strategy Report