Critical strategies for new mattress retailers to drive huge revenue
November 1, 2016 •Egan Montgomery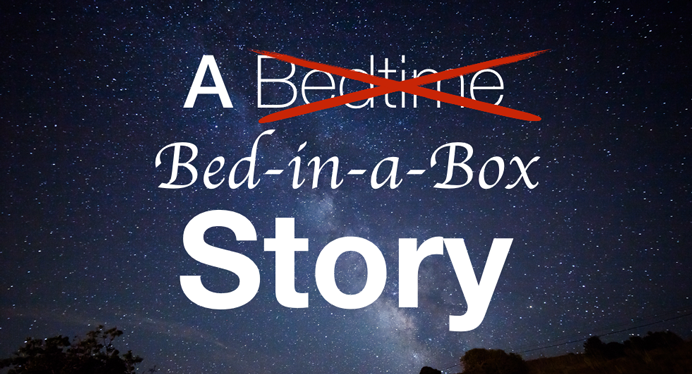 Bed-in-a-Box retailers have quickly risen to prominence in the mattress industry, threatening more traditional mattress retailers that fail to acknowledge the customer demand for this type of purchase experience.
Companies like Casper, Tuft and Needle, and Helix Sleep are disrupting the industry by operating within a strictly eCommerce sales model. By cutting out most of the costs associated with brick and mortar locations, these companies are able to offer equal or superior quality mattresses, often at a lower price point than traditional competitors.
Of course, with this opportunity proving to be worth billions, not millions, competition is increasingly fierce after just a few years.
Casper and Leesa have emerged as frontrunners in terms of traffic and revenue, but Tuft and Needle, Loom and Leaf by Saatva, and Helix Sleep have all surged forward in recent quarters.
Apparently, people are liking the products...
boss: why are you late?
me: do you have a @casper?
boss: no
me: you won't understand

— corey (@coreykindberg) October 5, 2016
I used to be weirded out by those people who fall in love with objects. But since I got my @HelixSleep mattress, I get it.

— Tim, a reader (@HeartyLaff) August 12, 2016
Yes, this is #promotional, but my old mattress is forreal garbage compared to @cocoonbysealy. I made it a dunce cap. pic.twitter.com/BRvk9I53PT

— claire geist (@ClaireGeist) May 26, 2016
Free home delivery, low prices, and high-quality products are all contributing to the popularity and growing market for bed-in-a-box mattresses.
As the market continues to grow, so too will the competition. And in such a young industry, it's still anyone's game.
We utilized the Traffic Cloud® Platform to dig deeper into this burgeoning category. We analyzed 10 competitors using the DemandJump solution, including Helix Sleep, Leesa, Loom and Leaf, Tuft and Needle, Purple, and Casper.
The Traffic Cloud® Platform enabled us to see exactly where each of these companies should focus their online marketing efforts to drive the greatest traffic, conversions, and revenue.
Here are a few of our favorite insights.
Leverage Content and SEO to Optimize Organic Search Impact
Hundreds of thousands of people are finding bed-in-a-box companies each month via organic search. Tuft and Needle, Helix Sleep, and Purple have all shown strong growth in organic search traffic. Helix Sleep, in particular, generated a 430% increase in Google organic search traffic between February and September of 2016.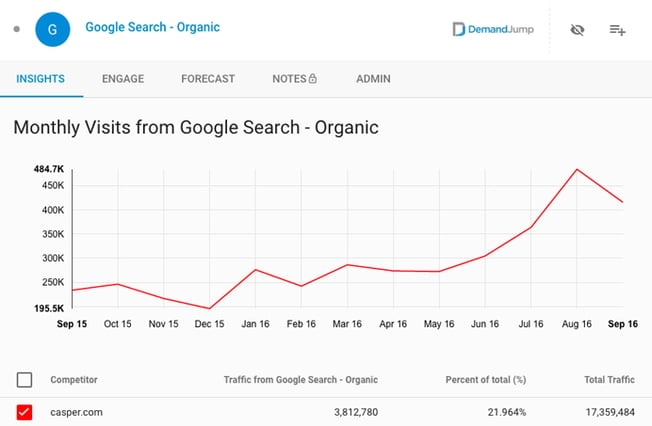 Source: DemandJump
Casper is doing even better, increasing their earned search traffic to more than 400K visitors in both August and September from Google organic search alone.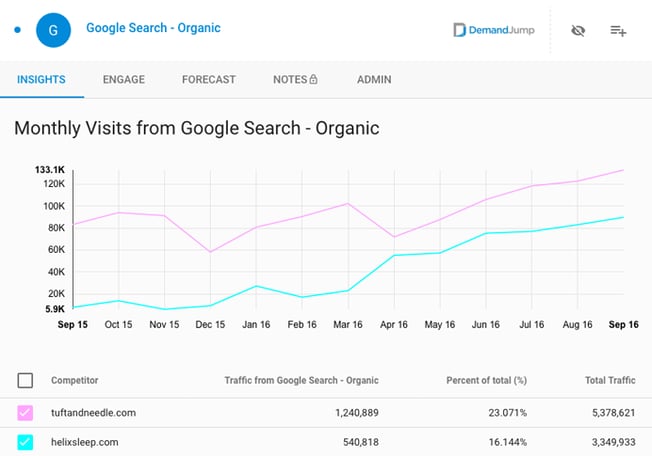 Source: DemandJump
Only Casper is producing compelling content on a regular basis. Not surprisingly, they are the clear front-runners when it comes to organic traffic by a degree of over 30%.
Newcomer Purple quickly recognized the upside of engaging content, posting strong organic search growth through most of 2016.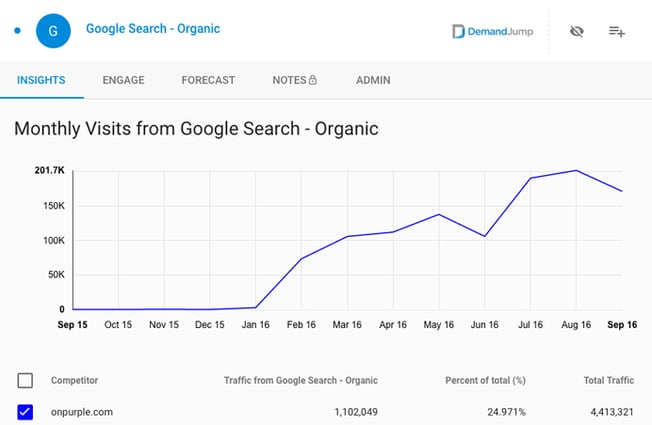 Source: DemandJump
Other competitors in the space are lacking a clear content marketing strategy, likely resulting in the relatively low traffic they are generating from organic search. Both bed-in-a-box competitors and traditional mattress brands should be following Casper and Purple's lead by experimenting with content. That's right... good content will benefit in-store competitors since we know many big box purchase decisions are made in part from research conducted online.
In addition, the AIM Platform was able to identify specific search terms that are driving the most traffic based on actual customer behavior (not just bidding wars).
We identified a high demand for information on sleep, and this was further supported by these charts from Google Trends.
There's certainly an audience for sleep-related content. Mattress companies can leverage this customer curiosity to drive huge revenue returns.
Implement Aggressive Email Capture Strategies to Remarket and Nurture Leads
Email has proven to be a huge channel for bed-in-a-box companies. Casper, Leesa, Tuft and Needle, Lull, and Helix Sleep are all driving massive amounts of traffic and revenue from email.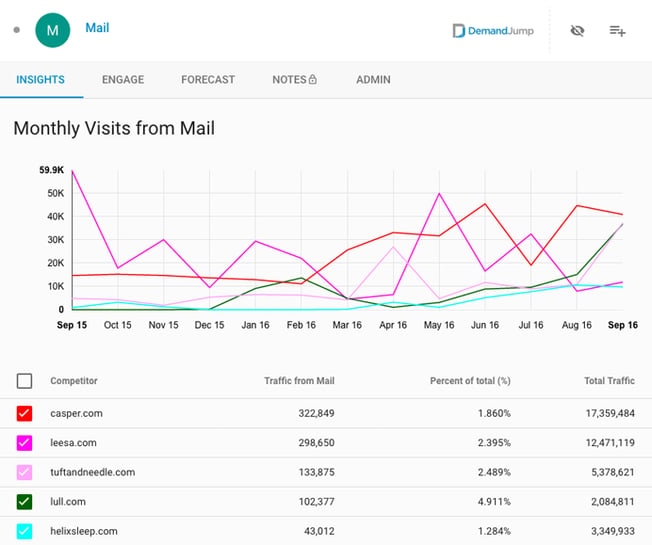 Source: DemandJump
A hugely important metric to call out here is the percent of total traffic driven by email. While Casper and Helix Sleep are earning 1.9% and 1.3% of their total annual traffic from email, Leesa (2.4%), Tuft and Needle (2.5%), and Lull (4.9%) are all crushing this major source of revenue generation.
If individual company values from Internet Retailers Top 1000 eCommerce Sites are correct, DemandJump estimates the bed-in-a-box industry's average cart size to be between $800 and $1000, with the average conversion rate between .9% and 1.6% online.
Assuming even these lowest estimates for a company like Leesa, their 300K visitors from email are worth well over $2M in annual revenue.
Retailers across all categories recognize that email is one of the most cost effective marketing channels, so it would definitely be a good idea for these companies to leverage artificial intelligence insights in their online marketing strategy to capture as many relevant email addresses as possible.
With the email addresses in hand, marketers can build out workflows and drip campaigns to market to the right customer, with the right content, at the right time.
Utilize Native Advertising, Syndicated Content, and Reviews/Affiliates to Drive Traffic
Many marketers are placing big bets on native to optimize their advertising spend. Predictive technology from DemandJump has uncovered large opportunities for bed-in-a-box retailers to ride this trend wave on blog and news websites.
CoolMaterial.com and TheSweetHome.com drive a significant amount of visitors to Casper and Leesa, and TheSweetHome.com, in particular, is quickly rising as a crucial traffic source in this industry.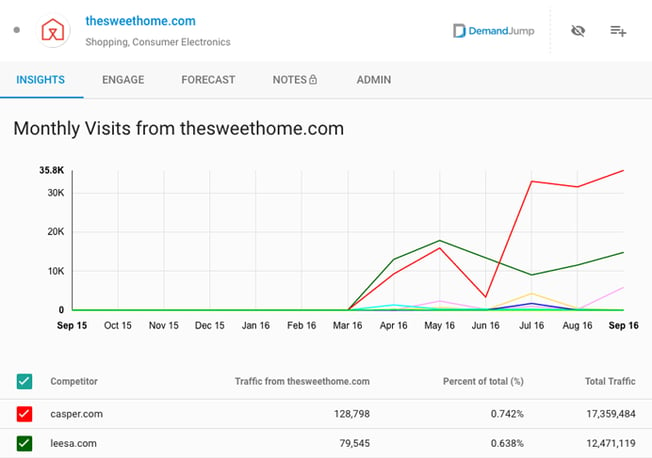 Source: DemandJump
Forbes, Huffington Post, and even Barstool Sports have also shown promise as powerful partners for savvy bed-in-a-box marketers. Native ads and reviews will be crucial for these retailers because the idea of buying a mattress without trying it first is still new for many consumers.
They are looking for validation that purchasing this mattress is the right choice specifically for them.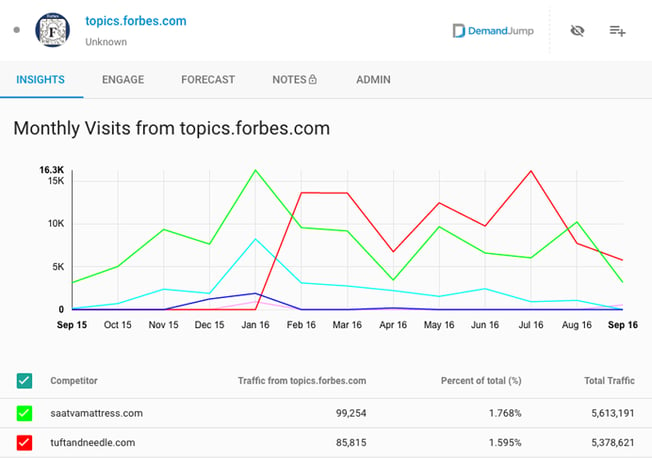 Source: DemandJump
Mattress review websites such as Sleepopolis.com are clearly a great option for consumers looking for this reassurance. Thus they present an ideal marketing opportunity for reviews and affiliate link placement.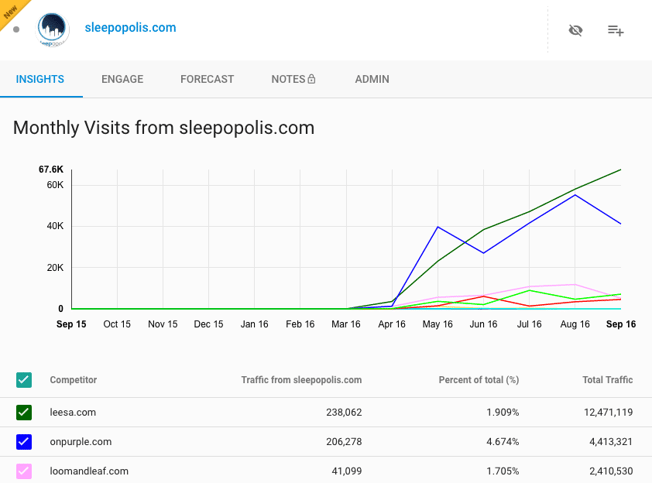 Source: DemandJump
The point is, while many companies like Purple, Casper, and Helix Sleep are offering 100-day at home try-on (which helps combat the initial barrier to entry), a positive review from a trusted content or media source goes a long way towards driving conversions.
Let's be real... nobody wants to go through the hassle of returning a mattress.
Native content (or any type of syndicated content) will pay out big for bed-in-a-box brands.
Conclusion and Key Takeaways
The bed-in-a-box retail market is quickly expanding. Though many of these companies are still in their relative infancy, consumers have proven themselves ready and willing to buy.
Casper, Leesa, Helix Sleep, Purple, and more, are beginning to find their footing. But that means competition is heating up, and at this point, it's still anyone's game.
DemandJump's AIM Platform identified hundreds, if not thousands, of traffic and revenue opportunities in this space. Here's a quick recap.
1.) Leverage Content and SEO to Optimize Organic Search Impact
Organic search is already driving millions of annual visitors to bed-in-a-box websites. And this number is only trending upwards. It will become critically important to have websites updated and optimized for search.
DemandJump also predicts huge opportunities in original content. Sleep science and tips are not only a sexy topic for consumers but also a useful one. A well-crafted strategy could drive exponential return on investment.
2.) Implement Aggressive Email Capture Strategies to Remarket and Nurture Leads
Email is another channel driving heaps of customers in this vertical. At its relatively low cost compared to other channels, and high return on investment, DemandJump advises bed-in-a-box retailers to press the gas hard on email.
Grow subscriber lists through content and newsletter subscriptions, and market (don't spam) strategically. Inform potential customers of new promotions, product updates, and fresh content.
Encourage existing customers to share their experience with friends, and leverage email to upsell the variety of product extensions such as blankets, sheets, pillowcases, cushions, and duvets.
3.) Utilize Native Advertising on News and Blog Websites to Drive Traffic
Native is all the rage right now, but DemandJump predicts this option will be critically valuable in an industry where consumers still don't fully know what to expect.
It's not easy pulling the purchase trigger on such an important and personal item as a mattress, without ever trying it out. Building trust and interest through 3rd party sources will help push customers past any hesitation, and right into their new mattresses.
And if you can get a credible source to publish something for free, that's all the better.
This is an exciting and blossoming new market. Competition is going to be fierce. Only the strong (and informed) will survive. Artificial Intelligence Marketing from DemandJump can help navigate the complicated digital world. Think of it as your marketing GPS.
If you'd like to learn more about these opportunities and hundreds like it, for bed-in-a-box retailers or for your own business, contact us today for a custom live demo.