How Do I Optimize My Content?
December 10, 2021 •DJ Team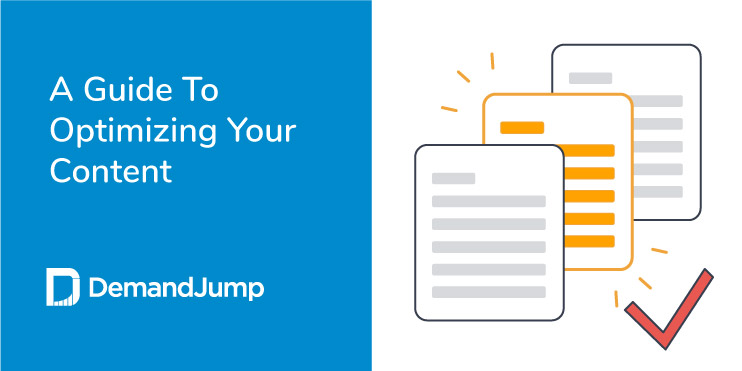 Have you ever created a great piece of content that got zero traction? It's frustrating! You might have forgotten one critical step in the content marketing playbook: optimization.
If you fail to optimize appropriately, then your content will never reach your audience, regardless of how well-written or designed it might be. But don't panic! We've put together this handy article to help guide you through the content optimization process. Without further ado, let's get started!
What is Content Optimization?
First, let's break down the basics. In general terms, content optimization is the series of steps you need to take to ensure that your content reaches your target audience.
Content optimization includes things like:
Planning for search engine optimization (SEO)
Creating unique images
Producing high-quality copy
Strategizing backlinking
What is SEO Content Optimization?
Put lightly, SEO content optimization is...a big deal. SEO or search engine optimization is the technical process of making sure your content and website are easy to find in search engines. The higher your SEO ranking is, the more people your content will reach.
If you want to learn more about the ins and outs of SEO optimization and discover some free SEO optimization tools check out our beginner's guide to SEO!
There are a few different parts involved in SEO, but on-page SEO is what you need to focus on for content optimization. In simple terms, on-page SEO is the art of optimizing web page content for search engines and users.
Here are a few examples of on-page SEO content:
Landing pages
Product pages
Press releases
Infographics
Videos
Blogs
Now, it's important to note that these pages are not SEO optimized on their own. You need to optimize each page by using keywords and other SEO best practices. We'll discuss this more in the next section of this article.
Why is Content Optimization Important?
When done right, content optimization will make your content stand out from the crowd of your competitors and convert visitors to leads or customers. It also means that all the time, money, and energy you and your employees spend on creating content is actually worth it. Without optimizing, the majority of content goes unseen.
Optimized content has profound effects on your marketing results, increasing your organic traffic and reducing your overall cost per lead as well. It can also help to make you the authority on your subject matter.
So, optimizing your content is clearly important, but does it seem like a lot to accomplish? You're right; it is. But not to worry, we'll break this process down a bit further.
How Do I Optimize 2022 Content?
There are a handful of ways you can optimize all of the content you are generating in 2022. Let's take a look at how to optimize text and images.
Optimizing Text
Want your content to go viral? You gotta optimize. Optimizing your text is especially important for landing pages since they're full of additional information about other pieces of content and aspects of your business.
So, how do you optimize your website copy? First, you have to identify your audience's interests and create compelling content based on those topics. After that's done—which will take a while—you'll need to optimize things like keywords, meta tags, title tags, and URLs. Let's learn a bit more about each of these below.
Meta tags: Meta tags are displayed on search engine results pages (SERPs) and describe the body of the text. These tags are designed to grab the audience's attention. Meta tags are incredibly brief and should be no longer than 120 characters for mobile optimization.
Keywords: Your goal is to choose the best keywords to drive your audience from search engines to your page. Keyword research is a critical part of the search engine optimization (SEO) process. You choose your keywords based on search volume, commercial intent, and competition for ranking.
Title tags: Your title tag is extremely important when optimizing your text since it tells the SERPs and the audience exactly what your text is about in a few short words.
URLs: Creating a short and easy-to-understand URL is critical for both your audience and SERPs. You should also add a few keywords to give search engines more information about your text or other content.
Optimizing Images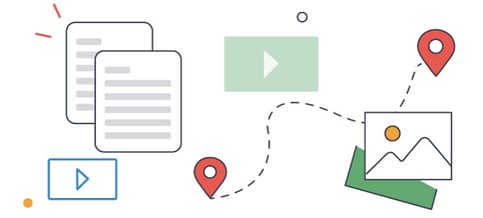 Yes, images need to be optimized too! People are constantly searching for images, so you need to ensure your visual content is optimized and easy for searchers to discover. Your goal is to get the search engine to recognize that your images are relevant to a particular search topic. Here's what you need to optimize your images:
File names: Choosing the correct file name allows SERPs to understand how your image relates to the other content on your webpage.
Image tags: These phrases appear when a user hovers over an image. Image tags help your audience understand the context behind your image. These image tags should also contain relevant keywords.
File size: If you use either too many images or if your images are too large, then your website will take forever to load, which makes it less user-friendly, and also causes you to rank lower in search engines.
Alt tags: Alt tags describe an image when it cannot be displayed on your page or viewed by the user. Choosing descriptive and straightforward keywords will help you create the best alt tags.
Ready to Optimize Your Content?
We hope this article answered all of your burning questions about optimizing your content. It's important to remember that content optimization is a learning process. Take things step by step, make sure your team is ready to go, and learn from your mistakes.
Luckily, DemandJump has automated much of the content optimization process. Simply type in the topic or title and DemandJump provides an automated SEO content brief to assist in content optimization.
Get started optimizing your content today with DemandJump!
Get Your Free Pillar Strategy Report