How Do You Choose Content Pillars?
June 14, 2021 •DJ Team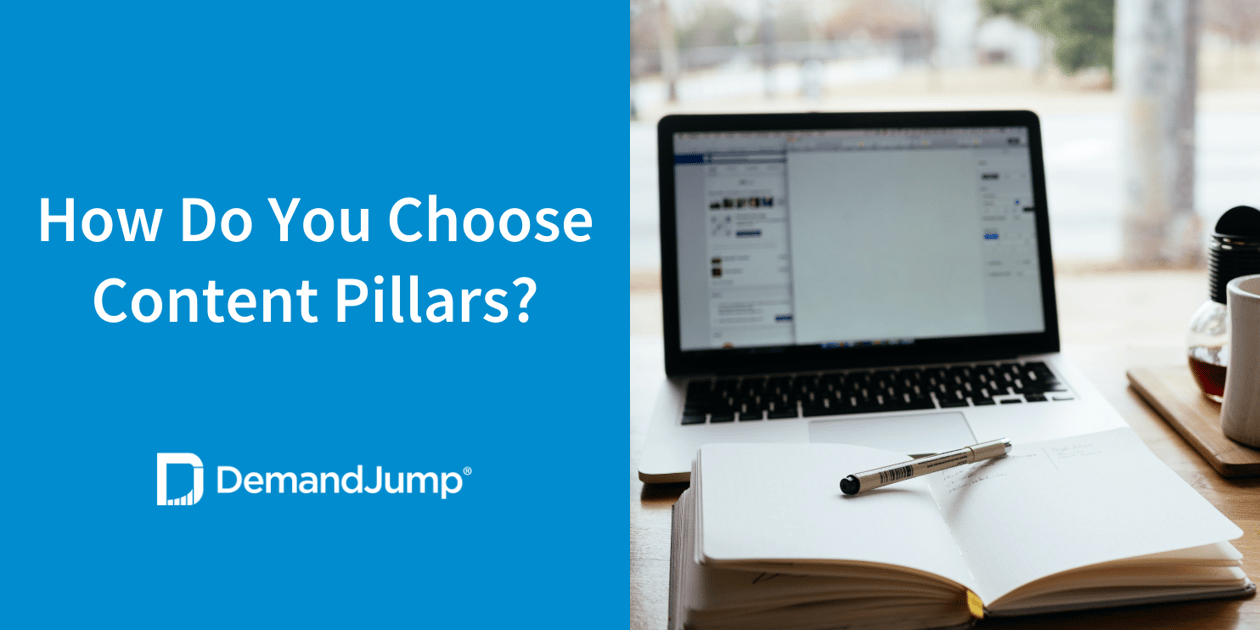 Modern content marketers are discovering the power of the content pillar strategy in achieving page-one search rankings. The idea behind pillar-based marketing (PBM) is the creation of a compelling, interconnected content ecosystem built on a foundation of SEO keyword research. Embracing the PBM content strategy serves as an effective way to increase website traffic and improve conversion rates.
In this blog, we're going to help answer the question "How do you choose content pillars?" First, though, it's worth reviewing the most important SEO concepts, so you can better understand what makes pillar-based marketing strategies so effective and empowering.
What Are the Most Important Concepts in SEO?
Before you can create an effective pillar content strategy, you'll need an understanding of the questions your prospective customers are asking and the pain points they're experiencing. From there, you can develop content that will answer those questions and address those pain points. This ultimately establishes your brand as the authority on your pillar topic. The main considerations of SEO research are audience, creation, authority, promotion, and insight. Here's how each connects to a content pillar strategy:
Audience: What are the core concepts and topics that your target audience(s) routinely look for online? These could be your specific product or service offerings, or pain points in the customer journey. Identify 3-5 ideas based on audience behavior and the company's goals for growth.
Creation: Creating a content pillar piece means introducing the important key concepts in a general, yet informative way, in around 3,000 words. This structure allows for sub-pillars that are around 2,000 words to get more specific about customer concerns and questions. Then supplemental blogs, videos, and lead generation content to zero in even further.
Authority: The experience of a full content pillar for your target audiences is achieved through a specific interlinking structure, which builds your site's authority in search engines' eyes. Your main content pillar might live as a page in the site map or on the blog but should not link out to any other internal content, except for perhaps the contact page. A sidebar on this main pillar can show readers options for more specific content like sub-pillars. Each of these sub-pillars should only link to the main pillar. Then when you create shorter blogs around 750 words or other content, those pieces link to the relevant sub-pillar. In this way, the user always has a new suggestion for more information to explore, driving them to whatever insights they need to make a buying decision.
Promotion: As many of a content pillar's articles as possible should be created and published at the same time to force search engines to take notice of your work. One of the best ways to kickstart the SEO results you're looking for after publishing a large batch of pillar content is to drive targeted traffic to it so search engines can watch users interact with it. Consider social media posting, email newsletters, and search ads as more passive ways the content can be shared. Putting the content in the hands of your sales team may also empower them to use it with more targeted appeals based on the leads they have in the pipeline.
Insight: Once your first content pillar is done, it's important to monitor how the content performs over time and adapt to how your audiences are using it. If you have a sub-pillar that is very popular, but none of the shorter blogs are getting much attention, that might not be an issue. But if you have a sub-pillar that isn't driving the traffic you expected, it may mean you need to create a few more supporting blogs that link up to it. On the other hand, one very popular piece of short content might inspire a totally new and unexpected idea for a content pillar all its own.
Just like any other content marketing strategy, content pillar creation requires iteration—adapting to audience behaviors in real-time. But as long as you have chosen a rich topic for the main content pillar, the supporting blogs offer the opportunity to cover the narrower, more specific topics that emerge.

What Should My Content Pillars Be?
In short, the ideal topic for a content pillar and larger PBM strategy is one that:
Addresses a specific pain point or question that's being asked by your prospective customers.
Aligns well with your brand's mission, products/services, or competitive advantages.
How to Come Up with Content Pillars
To come up with the best content pillar topic, you'll first need to perform some keyword research. The goal of your research is to determine the exact types of questions your prospective customers are asking.
DemandJump's platform automates the crucial step of SEO keyword research, helping companies to know what content their audience wants or needs. This empowers marketing teams to hit the ground running, knowing they have a foundation of up-to-date keyword research and other analytics on their side.
Once you've determined what broad topic your pillar strategy is going to center around, you can start mapping out and creating your content. In most cases it makes sense to begin by writing the main content pillar itself—3,000 or so words that cover the broad topic — but that's not set in stone. What's important is that the pillar provides sound information and demonstrates your credibility and authority.
Then, you can plot out the sub-topics that will make up the rest of your PBM strategy. While you can generate these topics on your own—using Google, for example, and paying close attention to the "People Also Ask" topics—a dedicated PBM platform like DemandJump removes the guesswork around what your SEO pillar strategy should be. Once you have your content pillar topic selected, DemandJump provides easy-to-use tools that map out topics and sub-topics in a highly visual and interactive way.
For each individual blog or pillar, DemandJump provides one-click Content Briefs that uncover the exact questions your prospective customers are asking so your content strategy can be a home run. These provide fodder for the creation of shorter sub-pillars (1,500 to 2,000 words) and hyper-specific, 700-word blogs.

Develop the Best Types of Content Pillars with DemandJump
Choosing the best types of content pillars to create for your business requires a lot of thought, but it doesn't have to require a lot of keyword research. DemandJump serves clients every day in not only creating these strategies, but monitoring how the work is improving search performance in real-time. You can get started with DemandJump by asking for an automated analysis of your entire website, or by typing in the keywords you already know to get a keyword-rich content outline in seconds.
Learn more about how we used our own platform to choose our content pillars and achieve 91 first-page search rankings in just 5 months. Better yet, click the "Try It Free" button on our website to run your own Insights Report today!
Get Your Free Pillar Strategy Report