How Do You Choose Content Pillars?
June 14, 2021 •DJ Team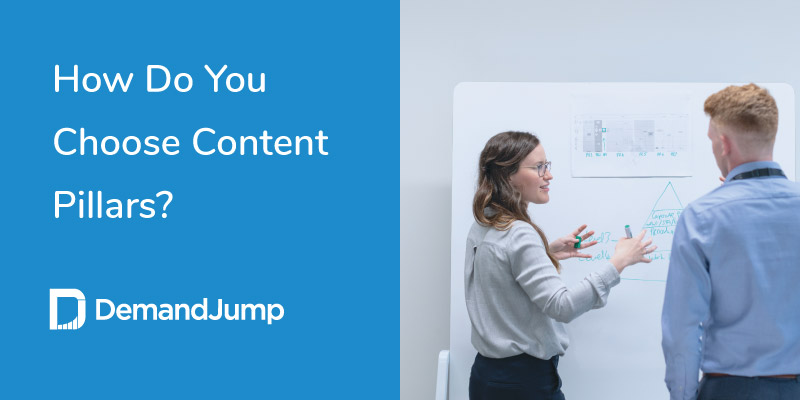 Choosing content pillar titles and topics is a process based on research. While your internal stakeholders and subject matter experts are guaranteed to have insights and instincts that inform the creation of these pieces, for the content pillar strategy to work, it must be grounded in objective research and understanding of the customer journey.
How do you choose content pillars? By determining the broad topics that are the foundation of your brand propositions and customer journey, then researching the language your audiences use to learn more about those topics online. Let's review one way this process of discovery can manifest, and tools that make it easier to achieve.
What Are the Pillars of Good Content?
The pillars of good content are audience, creation, experience, promotion, and insight. Here's how each connects to a content pillar strategy:
Audience:
What are the core concepts and topics that your target audience(s) routinely look for online and bring up as a concern? These could be your specific product or service offerings or pain points in the customer journey. Identify 3-5 ideas based on audience behavior and the company's goals for growth.
Creation:
Creating a content pillar means introducing the important key concepts in a general, yet informative way, in around 3,000 words. This structure allows for sub-pillars that are around 2,000 words to get more specific about customer concerns and questions, and then for supplemental blogs, videos, and lead generation content to get even more granular and appealing.
Experience:
The experience of a content pillar for your target audiences is achieved through a specific interlinking structure. Your main content pillar might live as a page in the site map or on the blog but should not link out to any other internal content, except for perhaps the contact page. A sidebar on this main pillar can show readers options for more specific content like sub-pillars. Each of these sub-pillars should only link to the main pillar. Then when you create shorter blogs around 750 words or other content, those pieces link to the relevant sub-pillar. In this way, the user always has a new suggestion for more information to explore, driving them to whatever insights they need to make a buying decision.
Promotion:
As many of the content pillar's articles as possible should be created and published at the same time to force search engines to take notice of your work. One of the best ways to kickstart the SEO results you're looking for after publishing a large batch of pillar content is to drive targeted traffic to it so search engines can watch users interact with it. Consider social media posting, email newsletters, and search ads as more passive ways to share content. Putting the content in the hands of your sales team may also empower them to use it with more targeted appeals based on the leads they have in the pipeline.
Insight:
Once your first content pillar is done, it's important to monitor how the content performs over time and adapt to how your audiences are using it. If you have a sub-pillar that is very popular, but none of the shorter blogs are getting much attention, that might not be an issue. But if you have a sub-pillar that isn't driving the traffic you expected, it may mean you need to create a few more supporting blogs that link up to it. On the other hand, one very popular piece of short content might inspire a totally new and unexpected idea for a content pillar all its own.
Just like any other content marketing strategy, pillar page content creation requires iteration and reacting to audience behaviors in real-time. But as long as you have chosen a rich topic for the main content pillar, a lot of the adaptation will be in the supporting pieces.
What Should My Content Pillars Be?
Your content pillars should be themed in alignment with high-value, short-tail keywords. Here's what that means, and why it's the right approach:
Content Pillar Title is a High-Value Keyword: Determining high-value keywords starts with defining what are the page-one rankings you are trying to win. But it's also important to make sure your keyword aligns with how audiences are searching for the topic. Using an SEO keyword tool can show you what search terms are related to your theme, as well as which ones are winning the highest bids from your competitors. Wherever people are spending money to win at search, it's safe to assume there is value in creating an organic strategy to win search for that term without spending money.
Content Pillar Title is a Short-Tail Keyword: A short-tail keyword is one to three words long. It might seem a little unnatural to post a blog or page with just a one or two-word title, but resist the urge to expand. Using just the phrase you are trying to win will serve you over time as the page builds authority and attracts attention. You should also still keep track of three-five word phrases for sub-pillars, and the questions or long phrases your audiences are using to inform your supporting blogs.
Choose the Best Types of Content Pillars with DemandJump
Choosing the best types of content pillars to create for your business requires a lot of thought, but it doesn't have to require a lot of keyword research. DemandJump not only helps by automating your content strategy and keyword research, but it monitors and reports on the progress you make in search rankings and competitive market share. Automate the strategy and keyword research and get your team back to doing what they do best instead of wasting valuable time guessing what content to create.
Learn more about how we used our own platform to choose our content pillars and achieve 91 first-page search rankings in just 5 months.
Or just try Demandjump for yourself FOR FREE and see just how easy it can be.
Get Your Free Content Marketing Strategy Report