How Do You Create a Topic Cluster?
June 10, 2021 •DJ Team
Don't you love landing on a page that explains everything about a topic you're interested in? It covers so much ground and is organized so clearly that you spend hours reading it. Well, it turns out Google loves it too.
Pages that rank high on search engine results are in-depth and high-quality pages. Google rewards pages that provide the most relevant, useful, and comprehensive content to users.
When it comes to search engine optimization, it's not about keyword density anymore. The new strategy is creating topic clusters, which are also known as the SEO Pillar.
What are Topic Clusters?
A topic cluster is a collection of related content hyperlinked and organized into a group covering a broad topic. It can be any topic you want to rank for in search engine results.
It has three components: the pillar page, content clusters, and hyperlinks. The pillar page is a single page about a specific topic. Content clusters are web pages or blog posts within the site related to the pillar page. Hyperlinks connect to the pillar page of these content clusters, and vice versa. This video from HubSpot is a good visual representation of topic clusters.
One of many good topic clusters examples is 'branding', in the case of Olive & Company. Marketing consultant Olive & Company created a pillar page on The Definitive Guide to Branding. At over 5,000 words, it's an in-depth blog. It's organized into sections. The content is rich with definitions, statistics, quotes, tips, examples, images, and charts. Spread throughout are links to relevant blog posts within the site. And at the end is a list of additional resources. propping up this 'branding' pillar are groups of blogs and other website pages related to the topic of 'branding'.
What are Pillar Pages?
Pillar pages educate readers. The more useful and comprehensive your pillar pages are, the longer your visitors stay. You provide them a great user experience, which helps build trust and confidence in your brand.
These pages aren't necessarily intended to convert visitors into customers on their first visit, which is what landing pages are for. Instead, they are a powerful SEO strategy to increase traffic and an effective content strategy to establish authority. This is because they are the kind of pages that other websites would link to, boosting your search ranking.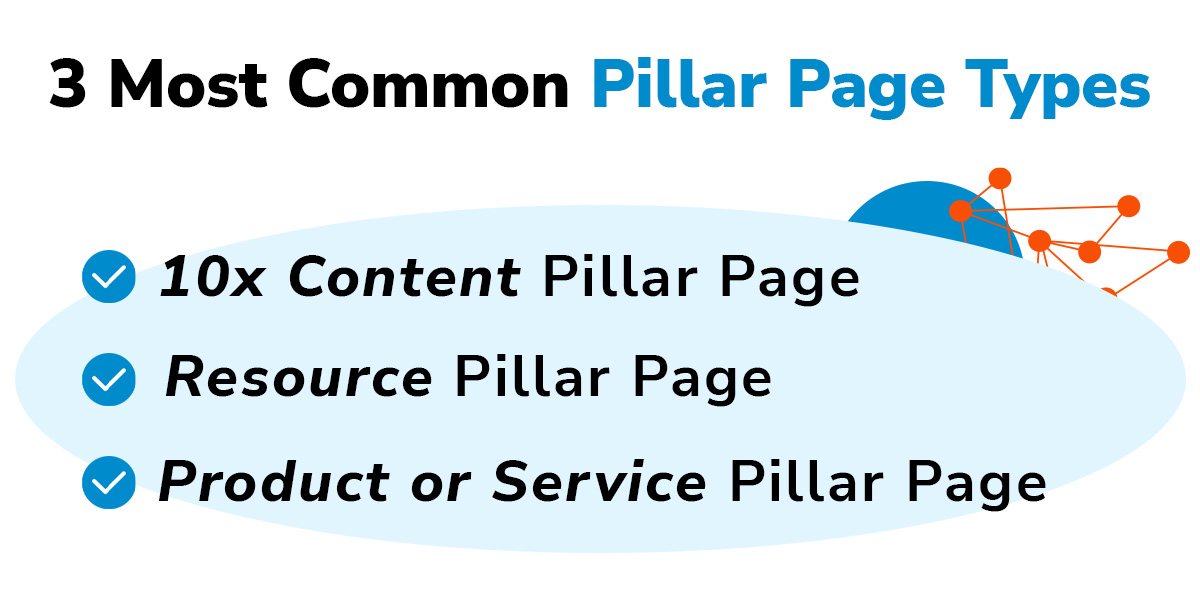 There are different kinds of pillar pages you can create. According to the Content Marketing Institute, these are the three most common pillar page types: 10x content pillar page, resource pillar page, and product or service pillar page. A 10x content pillar page is a comprehensive educational guide featuring your own content. A resource pillar page serves as a go-to reference with various useful links—both internal and external. A product or service pillar page is an in-depth explanation of your product or service.
How many pillar pages should you have? It depends on the number of topics you want to rank for. Of course, it also depends on the resources you already have. If your site is established with hundreds of existing pages and posts, it's easier to organize topic clusters and create pillar pages for numerous topics. Otherwise, build them slowly over time.
Pillar Content Strategy
Pillar pages play a huge part in your SEO and content marketing strategy. This means you need to be thoughtful and methodical when it comes to creating pillar pages. Here are some things to consider:
Choose the Right Topics
Carefully consider which topic clusters to build your pillar pages on. These are some guidelines to help you determine good topics:
Relevant to your brand. They should relate to the product or service you're selling.
Relevant to your customers. They match the keywords that people search for.
Solve a pain point. They offer solutions to problems your potential customers encounter.
Answer a question thoroughly. They provide useful and comprehensive information that establishes your expertise on the subject.
Brainstorm Subtopics
In building your authority, having a lot of relevant subtopics supporting your main topic is crucial. Here are ways to cover as much ground as possible:
Look for long-tail keywords. These give you a clearer idea of specific user intent.
Consider your buyer persona. This provides insights into what your target audience wants to know about.
Conduct customer research. Customer reviews, client surveys, and feedback from your customer support team can reveal pain points.
Use social listening tools. These tell you what people care for and complain about. You can also find out what questions they want answers to.
Organize Your Content Clusters
You may already have a ton of existing content. Organize and match it to your chosen topic clusters.
Do a content audit. Make an inventory of web pages, blog posts, e-books, case studies, whitepapers, and other content you already have.
Create content clusters. Group these pieces together by topic or theme, and then map them to your topic clusters.
Fill in any gap. If there are subtopics you haven't written about, create new blog posts for this purpose.
Find duplicates. Duplicate content can hurt your ranking and confuse your readers. Delete or merge as necessary.
Create Your Pillar Pages
As the centerpiece of your content strategy, make sure you follow these suggestions when creating your pillar pages:
Write high-quality content. This means long-form content that's well researched, well written, and well presented.
Use compelling images. Photos, illustrations, charts, diagrams, and even GIFs not only break up the text visually but also engage readers.
Structure the flow. The best pillar pages flow naturally and logically from beginning to end. Use a table of contents and subheadings to guide your readers.
Include additional resources. Aside from your blog posts, you may have other useful content like e-books, case studies, or online tools.
Link Everything
Hyperlinks within your topic cluster are crucial as they signal to Google that you have a lot of related content on a topic. So, what do you need to link?
Link to your content clusters. Your pillar page should link to your subtopics as found in your shorter blog posts and other content.
Link back to your pillar page. In turn, make sure your content clusters link back to the pillar page they are supporting.
Link content clusters. When it makes sense, link certain pages or posts to one another.
Link to external sources. Link to other websites, books, research studies, or whitepapers that you referred to or quoted.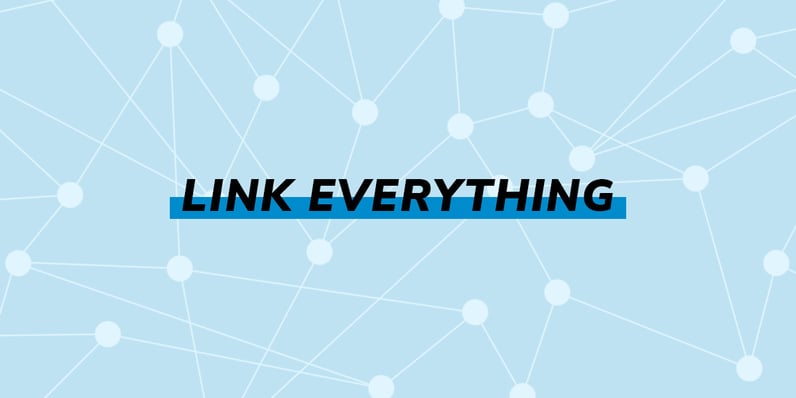 Create Pillar Pages and Topic Cluster Content With DemandJump
Automate the content strategy and keyword research with DemandJump. Our content insights help identify what that pillar topic should be and then provides a prioritized list of the blogs you need to write. Oh, and with one-click automated SEO content outlines, creating and publishing the content is fast and easy.
It really is that easy. Get started today - for free!
Get Your Free Content Marketing Strategy Report