How Does Mobile Attribution Work?
November 4, 2020 •DJ Team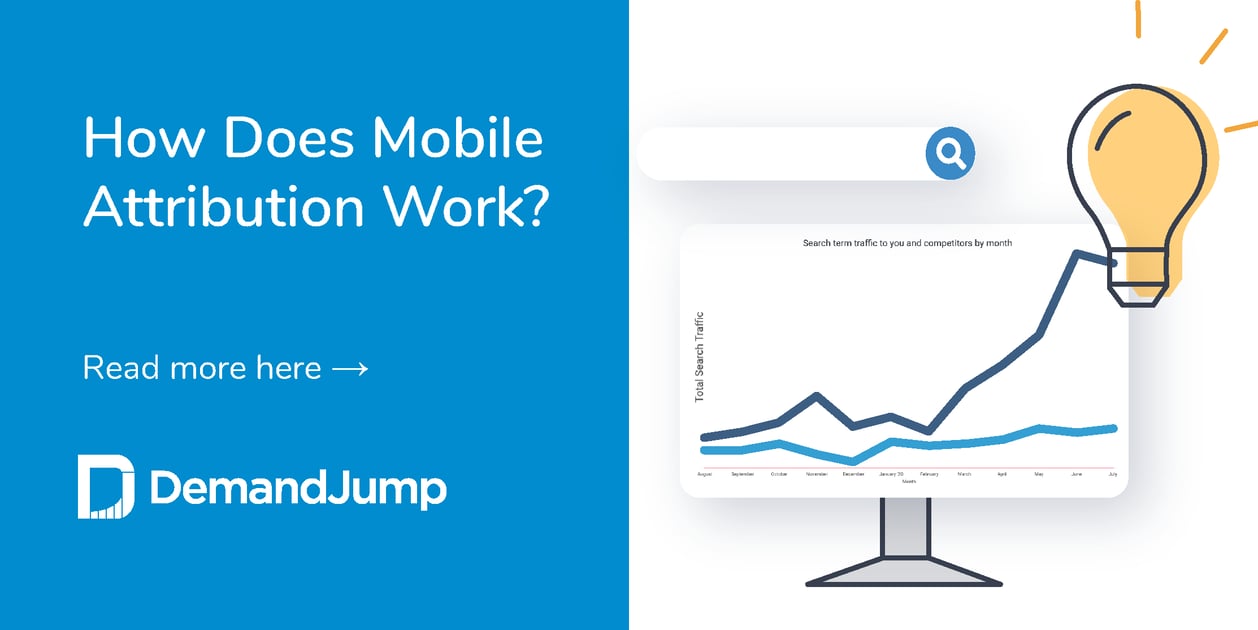 Mobile devices have surpassed every other device, including television, as the primary medium where Americans spend their time and attention. Apps account for 90% of the time users are spending online using smartphones and tablets. From social media platforms to games, media streaming, and apps that enable work, it seems like whatever a mobile user needs, there's an app to provide it.
For advertisers and marketers, this means mobile, in-app advertising is essential to create a fully functional marketing funnel. But how to measure marketing attribution through mobile is very different from a digital attribution model that works with a web browser. Let's explore how mobile attribution works and the mobile attribution tool that will help you make the most of a mobile marketing strategy.
What Is Mobile Attribution?
The process of mobile attribution begins when one of your mobile ads triggers a customer to make a purchase or fill out a form with contact information. At that point, you want to know what ads or content triggered the user to make that purchase decision. As we have described in a previous post about attribution measurement, there are many models of single- or multi-touch attribution that can be applied.
With mobile attribution specifically, a multi-touch attribution model is even more recommended than with other digital marketing. This is because mobile users may see lots of different in-app advertisements, even across multiple apps, before they decide to follow the call to action. Most mobile attribution providers even create an attribution window, meaning ads or videos the user watched outside a certain timeframe will be excluded from the analysis.
Mobile Attribution vs Web Attribution
With web browser marketing analytics, elements like cookies and pixel tags track users to figure out their journey. But mobile apps function completely differently.
With mobile advertising, the hosting app tracks users with a user ID. This may be unique to the app itself, or could be something like a Google Play account, Facebook login, or Apple ID. The user's interactions with future advertisements are all tracked by user ID. Each event is saved and transmitted to marketers to analyze the success of their campaigns on a user-by-user basis.
Consumer data protections and data sharing are a concern across digital marketing, but the higher likelihood for fraud on mobile apps means mobile marketers can be especially limited in access to data. This doesn't just protect the consumer, but also marketers. In 2019 it was estimated that digital advertisers lost around $42 billion through ad fraud across mobile, online, and in-app channels. This is a 21% increase from 2018.
This high volume of fraud means data sharing between digital platforms is becoming more limited. While each "walled garden" of an app or website is better-defended, this also makes multi-touch mobile attribution harder to pull off. This led the Mobile Marketing Association to release a comprehensive list of safe data-sharing policies in May 2019. These best practices include guidelines like:
Prioritize working with app publishers that allow you to merge data and extract insights from within the app.
Make sure the data tagging practices of any mobile attribution tools you rely on are approved by major platforms.
Create an ad server with unrestricted IDs.
Combine findings from many sources into one "uber-model" to get an eagle-eye view of media impact.
These strategies allow mobile advertisers to develop a multi-touch attribution model that provides the insights they need while also respecting privacy concerns.
Evaluating Mobile Attribution Platforms
The overall value of mobile attribution is helping you understand exactly how users come to install your app, make a purchase from your brand, or contact your sales team. There are several features that are important to evaluate in a mobile attribution platform:
Are mobile and non-mobile interactions distinguished?
Is cost and campaign data aggregated between different mobile apps?
Does the platform allow for audience segmentation and granular insights?
Can you track the performance indicators that are essential to your business?
Rather than aggregate data yourself from across many channels, you can rely on a mobile attribution platform that makes insights available on-demand.
Understand Mobile Audiences to Enhance Interactions and Improve ROI
Mobile marketing touchpoints are some of the most common in the industry today, but the ever-changing and increasingly regulated nature of mobile content makes tracking a challenge. DemandJump's built-in multi-touch attribution platform collects data from mobile audiences and shows you the efficiency of each ad in real-time. This means inefficient ads can be cut and the successful ads can be prioritized. Sign up for a free trial with DemandJump today and explore the many features that will solve your unique marketing challenges.
Get Your Free Pillar Strategy Report