How Effective is Content Marketing?
December 29, 2020 •DJ Team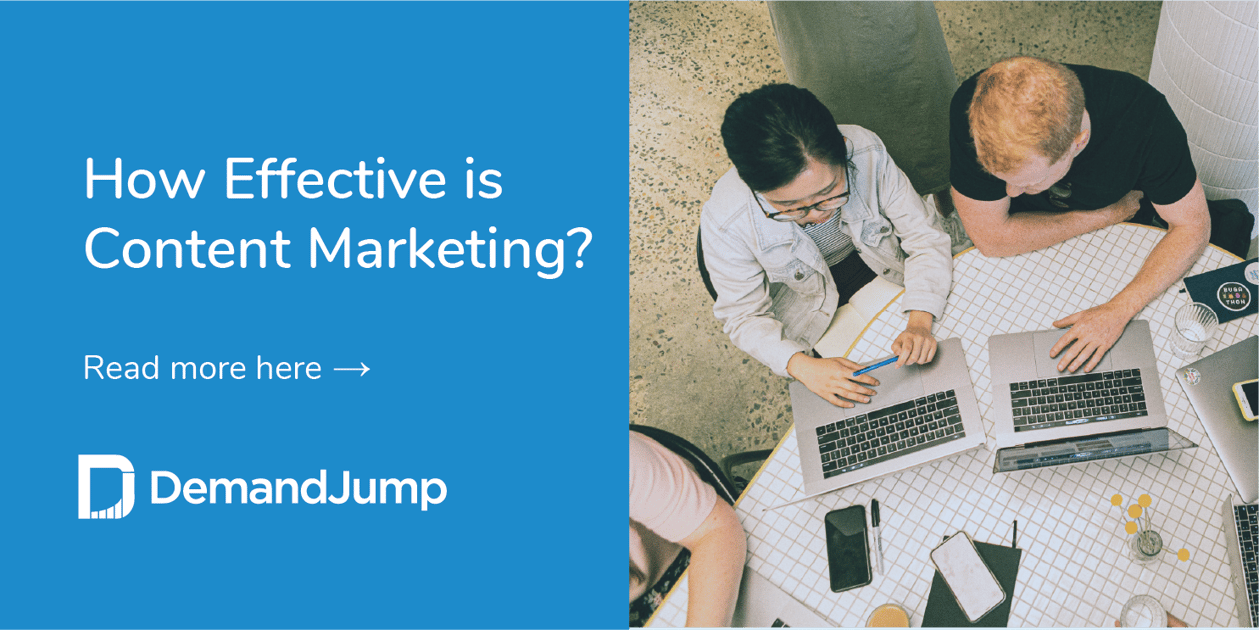 When looking at marketing techniques, it's easy to get swept up in all the buzz around content marketing. The real question is if the touted benefits of content marketing live up to all the hype. If you're going to spend time developing and executing a content marketing strategy, you want to make sure that you're not wasting your valuable time and effort.
Let's take a look at some content marketing statistics that tell a compelling story about the true effectiveness of content marketing.
Does content marketing actually work?
In today's digital world, it's easy to feel like people just ignore everything that comes across their computer screen. However, content marketing statistics show that 47% of buyers are viewing 3-5 pieces of content before engaging with a sales representative. People do an astonishing amount of research before purchase, thanks to the power of the internet at their fingertips, and great content can help them along every stage of their buying journey.
Creating a content marketing framework for customers who are at different points of their purchasing decision helps establish trust and loyalty to your brand. Not only does content marketing work, but it also blows traditional marketing techniques out of the water when it comes to cost and effectiveness.
Digital marketing vs traditional marketing statistics
The content marketing statistics are clear, and while you can pick out tons of different data, a major statistic is this: content marketing costs 62% less than traditional marketing and generates more than three times as many leads. That has been proved over and over again and is, quite frankly, a staggering statistic. You can cut your expenses by over half, while still increasing your leads and reach!
How effective is content marketing statistics?
If that wasn't enough to convince you, surveys also show that when comparing companies that utilize content marketing versus companies that don't, the conversion rates are nearly six times higher for the content marketing adopters. Not only are conversion rates higher, but the content companies are also seeing around 30% higher growth rates than those who are not using content marketing. While the initial investment in changing your method of marketing, and the time it takes to build up a following can be costly, in the long run the rewards are more than worth it. Patience and consistency are key to seeing your own content marketing campaigns take off and be successful.
Why is content marketing successful?
Did you know that over 200 million people use ad blockers on their internet browsers? Traditional paid advertising is, quite literally, being filtered out and ignored, meaning that your money is being wasted and the ads you pay for aren't even being seen once. It now takes up to 10 times of being reminded for a customer to make a purchasing decision - how can you get those views if your paid ads are being blocked out? Well, content marketing is the answer.
Content marketing statistics show that this style of marketing is successful because you are providing value that customers want to see - and will go out of their way to find, once they become dedicated fans. Content marketing gives you the ability to customize your consumers' experiences and keep them coming back for sales, education, and engagement with your brand.

Why is content marketing booming?
Because it works! Content marketing done right is a win-win for business and customers. You give them information they want and in return, they are more likely to trust you and give you their money. Not to mention the fact that you can bring in more eyeballs and reduce your ad spend significantly. In fact, with DemandJump, you could potentially increase your monthly search traffic by 14,450 visitors and save $867,000 annually on paid search ads that would be required to generate the same traffic.
How do you measure the effectiveness of content marketing?
Once you've started your content marketing campaign, next comes actually making sure that your content marketing statistics are trending the right way. But what do you look at to make sure that content marketing is working for you? A few key metrics to look at are:
Clicks, views, and time spent on your website
Comments, shares, and likes
New subscribers and followers
Inbound links (other companies and influencers linking to your content)
Conversions
You'll want to establish a baseline in order to measure the growth - look back at historical data to see how your old marketing techniques performed and then compare it to your new data points. Don't forget that content marketing can take some time initially to take off and don't get discouraged if it isn't an instant success. Content marketing is all about building loyalty and trust with your followers, and that takes time.
How to maximize the effectiveness of your content marketing
If wading through data and compiling content marketing statistics doesn't sound particularly fun, you may want to use a tool that will make it fun! DemandJump can help. With easy, intuitive tools, DemandJump puts all the data right in front of you so you can take the guesswork out of measuring the effectiveness of your content marketing. With marketing attribution tools and cross channel analytics, you can see your customer's entire path to purchase and know exactly what content pieces created that conversion! DemandJump has a full suite of integrations, and can plug right into your CRM to help you maximize your ROI with content marketing.
Try it for free and see how DemandJump can help you with your content marketing.
Get Your Free Content Marketing Strategy Report