How to Create an SEO Content Checklist: 4 Easy Steps
August 10, 2023 •Allison Lemasters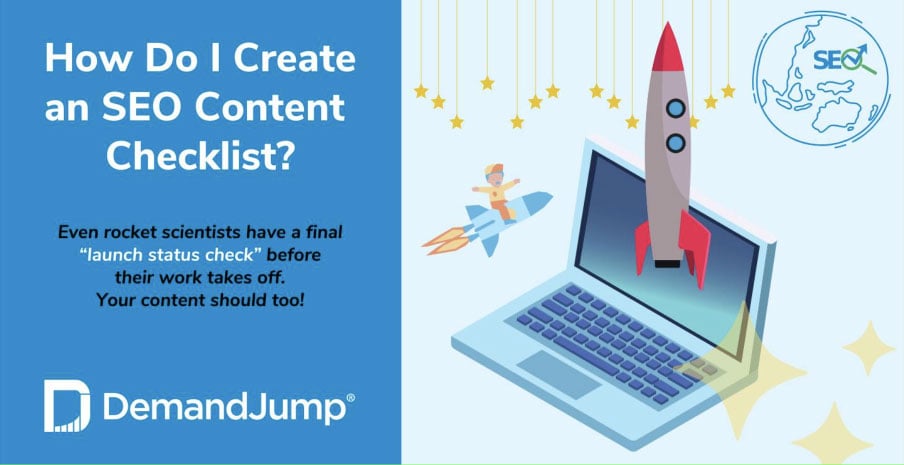 Making content for the internet isn't always easy. Actually, it rarely is. There's a lot to keep track of: search trends, SEO practices, a digital landscape that's constantly in flux—the list goes on.
Sure, it helps to have a plan, and maybe a great SEO content tool or two at your disposal, but with how frequently things change it may feel impossible to know when your content is "ready for takeoff," so to speak.
So, How Do I Create an SEO Content Checklist?
Here's the good news: just because creating good content isn't easy doesn't mean it always has to be complicated. At DemandJump, we use and provide the best resources to keep our clients on top of their audience's search results. And today, we'd like to provide you, dear reader, with a strategy for creating an SEO content checklist—something you can review as you finally press "Publish."
Even rocket scientists have a "launch status check" before their work takes off—and so should your content. Whether you need an SEO checklist for a new website, blog, or even social media post, there's something in here for you. Let's dive into what that checklist should entail and what it could look like for your brand!
What Is an SEO Checklist?
An SEO checklist is the final pre-boarding check before your content takes flight. When your content is ready to publish—and even after it's published—you should review your SEO checklist to make sure you've done your due diligence with SEO practices.
Not only that, but if you keep up-to-date on SEO practices, you can also use this list as an SEO maintenance checklist to periodically audit published content.
Why is this important? Well, for starters, internet content doesn't make page one just because it's good. It also has to get traffic—and using the proper SEO techniques makes this much easier. On top of that (and this is where most brands drop the ball), the best practices for SEO are always changing, so keeping an updated list of what's needed keeps you from being trapped in the ways of old.
Too many brands fall victim to changing times. Instead of getting to page one, they get stuck being haunted by the "Ghost of SEO Past." What worked for content in 2022 may not work in 2023, and the methods of 1999 will definitely not work now.
For more great SEO content nuggets subscribe to Page One or Bust! wherever you listen to podcasts.
What Is SEO, Explained for Beginners?
Search engine optimization (or SEO), is the practice of making your web page more friendly to search engines. The hope is that by making your pages easy to navigate for search engines, they will reference your content more, and by extension, you'll reach your target audience. SEO is a simple concept in theory, but it's definitely not easy—partly because there are four different dimensions of SEO you have to consider.
What Are the 4 Ingredients for SEO?
SEO can generally be broken down into four types, each with its own focus:
On-Page | Everything on the webpage that affects SEO, such as keywords, images, or metadata.
Off-Page | All possible routes to reach your website through other places, such as press releases or content from other sources that reference your brand.
Technical | Anything related to how the website works, such as load time or mobile-friendliness.
Local | Elements that boost location-based presence, such as a

Google My Business

page.
Any SEO checklist worth its salt will review all of these in some capacity. This is particularly important to note because a lot of the time, brands will hyperfocus on one type of SEO—namely, on-page SEO through keywords.
Of course, having keywords is important, but what good is getting people to your page if it loads slowly (poor technical SEO), no one corroborates your content (poor off-page SEO), or people can't find any customer reviews about you (poor local SEO)?
All four types of SEO work together to create your strategy, and no one piece is powerful enough to stand on its own. Also, even SEO techniques like keyword usage require a plan; too many keywords will get you punished, and the wrong keywords will get you nowhere.
Tools like DemandJump's Consumer Insights platform can help you do accurate keyword research, and strategies like Pillar-Based Marketing use those keywords to their maximum potential.

How To Create an SEO-Friendly Website: The Complete Checklist
Look no further; your SEO checklist template is right here! Use the checklist below as a starting point for creating your final run-through of any piece of content. Keep in mind that some of these things may require outside help, and it's always a good idea to consult experts in content creation—may we suggest DemandJump?
1. On-Page SEO
Is my content original, helpful, and engaging for readers?
Does the content use keywords connected to what my audience is currently searching for?
Does the content have good metadata (image alt text, meta titles and tags, etc.)?
Is this content speaking the

language of my target audience

?
2. Off-Page SEO
Are there ways for people who are not actively searching for this content to find it?
Does this content have a presence on other websites and platforms besides my own?
Are any collaborators, customers, or associates referencing this content?
Have I published information about this content on other websites, channels, and/or platforms?
3. Technical SEO
Is my content optimized for mobile devices?
Have I indexed this content on Google, or at least submitted it for indexing?
Does the web page have bugs or issues with loading properly?
How fast does the content load? Does it ever crash when loading?
Is the content organized so it can be easily read by both people and

search engine crawlers

?
4. Local SEO
Is my

Google My Business

page up to date?
Is all our basic information updated and consistent? (Business hours, contact, URLs, location, etc.)
Are people leaving (positive) reviews about us? If so, where can consumers find these reviews?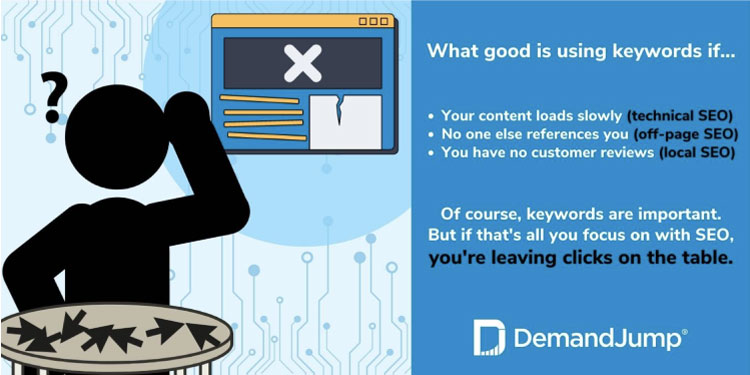 Boost Your Content SEO Strategy With DemandJump
Everyone wants to rank on page one, but not everyone can—if for no other reason than most brands don't have a real plan for getting there. But when you work with DemandJump, you'll develop an SEO content strategy that is not only data-driven but results-driven. We've seen many customers have success with Pillar-Based Marketing (PBM), and you can, too!
If you'd like to learn more about how PBM can set you up for success, you can reach out to us, or better yet, try the platform for yourself. After all, it's free!
Get Your Free Pillar Strategy Preview!