How to Create an SEO Keyword List: A Simple 5-Step Guide
September 24, 2021 •DJ Team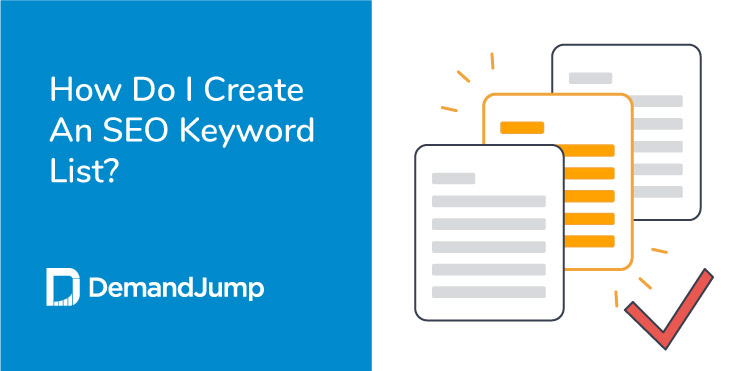 How do you put together a list of keywords? Creating a keyword list starts with common sense and uses tools to validate and iterate your assumptions with SEO keyword research.
Your keyword list will continue as a living document and reference point for your website SEO strategy moving forward--as well as your understanding of your audiences.
To make a great keyword list, you must tap into both the right side and left side of your brain. Use your creativity (right brain) to empathize with your customer and imagine their search journey, and use your analytics (left brain) to judge customer demand and the exact language you should target.
Or, there are SEO keyword research tools that can also help with that.
What Is an SEO Keyword List?
An SEO keyword list is a set of keywords or phrases that your customers are most likely to use to find your website or other content like videos and images on search engines.
Creating a keyword list with a keyword list generator is an important step to create a Search Engine Optimization (SEO) strategy. The keyword list helps you implement content creation and paid marketing tactics that drive more website traffic and conversions.
How Do I Decide What Keywords to Rank For?
Your keyword strategy should consist of the following categories:
Branded keywords
Keywords your customers are already using to find your website
Keywords your customers are also searching when doing online research
Let's break this down a little more:
Branded Keywords
Did you know that your website may not be the top result for your brand name in Google? This is especially true for brands that may have a generic name, have a similar name as other brands, or do business in a very competitive online space.
Third-party authoritative websites such as news sites or review sites may rank high for your brand name with content outside of your control. Don't forget to include a list of your company name and brand or product names in your initial keywords.
Keywords Your Customers Are Already Using to Find Your Website
You can use Google Search Console within Google Analytics to find out what keywords your customers are already using to find your website via organic traffic.
In many cases, you'll find just a handful of keywords that account for a high amount of traffic referrals, and you may be surprised by some of the keywords people are using.
You can also make a shortlist from your brand and industry knowledge of the topics, terms, and questions people often use to find your site. If you are new to the brand, ask some seasoned employees for suggestions.
Keywords Your Customers Are Also Searching When Doing Online Research
Once you've documented what you know, it's time to jump into research to find SEO keywords and phrases that you haven't considered.
How Do I Create an SEO Keyword List?
To create an SEO keyword list, start with writing what you know. Document your brand names and industry topics and phrases relevant to your business. Imagine you were searching for your product, service, or related information, and write down questions for how you would search for that online.
Next, you need a keyword research tool to analyze your starter keywords and brainstorm for others.
How to Use a Keyword Research Tool
Free keyword research tools such as Google Ads Keyword Planner and Keyword Surfer have limited features that will provide you with keyword search volume, competition analysis, and keyword suggestions.
More robust keyword planner tools such as DemandJump also provide features such as competitor URL analysis, precise search volume data, and content outline creation.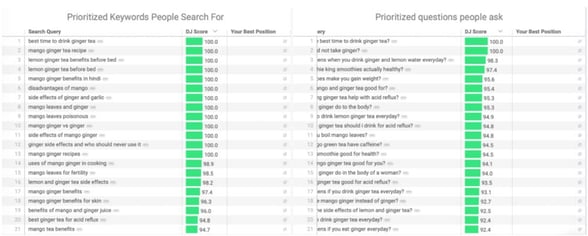 Once you have a tool identified, follow these steps to make your first keyword list:
Enter your starter keywords into your chosen tool.
Save your top keywords by search volume into a new list, eliminating any keywords with less than 50 monthly searches.
Add any relevant keyword suggestions from your keyword tool to this list. As you select new ones, look for ones with high search volume and low or medium competition.
Export your list.
Once your keyword list grows to 15-20 keywords, you're ready to start creating more lists.
Keyword List Examples
Here is a keyword list created on Google Ads Keyword Planner for a fictional company that provides website services.
Notice that the list includes a mix of low, medium, and high-competition keywords, a mix of phrases and questions, and the inclusion of some geo-targeted keywords.
This is the kind of keyword list example you can aspire to imitate as you move forward.
Get a Custom-Created SEO Keyword List From Demandjump
DemandJump provides precision in search marketing by consolidating keyword research in one place from around the web competitive search data, keyword performance, and organic rank data.
This suite of tools enables marketers to deploy tactics for measurable results including marketing insights and attribution and content planning with one-click SEO outlines.
Get Your Free Pillar Strategy Report