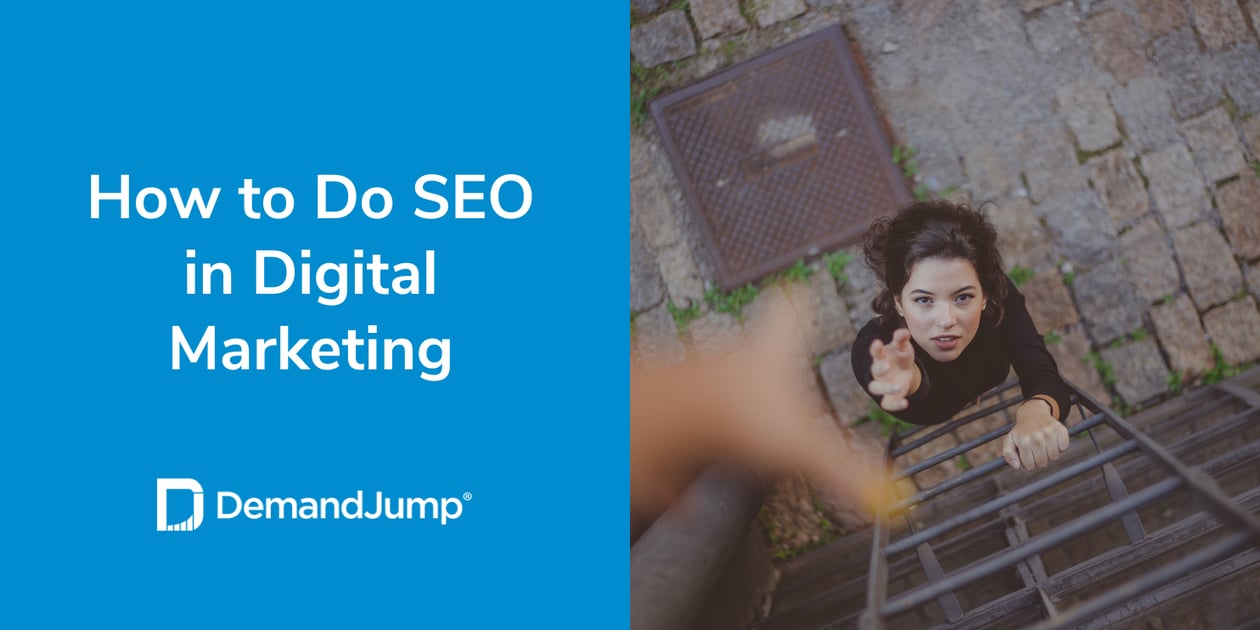 At DemandJump, we know a couple of things to be true. First, we know that 91% of the internet's content—good, bad, or otherwise—is never seen by anyone. Second, we know that by leveraging the right mix of modern search engine optimization (SEO) and digital marketing strategies, marketers can significantly increase the chances that their content will be seen.
The question, of course, becomes how.
How do you create an effective SEO strategy?
How do you know what kinds of content to create, and what kinds of strategies you should use to publish and promote that content?
How do you identify the right SEO activities to get a solid return on your time and money invested?
In this blog, we're going to take a quick crash course in SEO strategy in digital marketing—and how to get started on your journey.
What Are the Types of SEO in Digital Marketing?
Three of the most significant types of search engine optimization strategies are on-page, off-page, and technical SEO.
On-Page SEO: Refers to content published on your website, like blog pages and product documentation.
Off-Page SEO: Refers to behind-the-scenes efforts that enhance SEO strategies and their reach, through techniques like backlinking.
Technical: Refers to tactics for optimizing your website and servers, to make your content more likely to be discovered by search engine crawlers and more likely to be read by prospects—things like your website's mobile-friendliness, site loading speed, and so on.
It's difficult to overstate how SEO helps in digital marketing. To put it in very simple terms, if you want your website to attract and engage prospective customers, you will need to familiarize yourself with the basics of SEO. The more you understand about search engine algorithms—Google's recent "helpful content" update, for example—the better-positioned you'll be to create (and optimize) the right types of content, saving huge amounts of time and money over exhausting trial-and-error processes.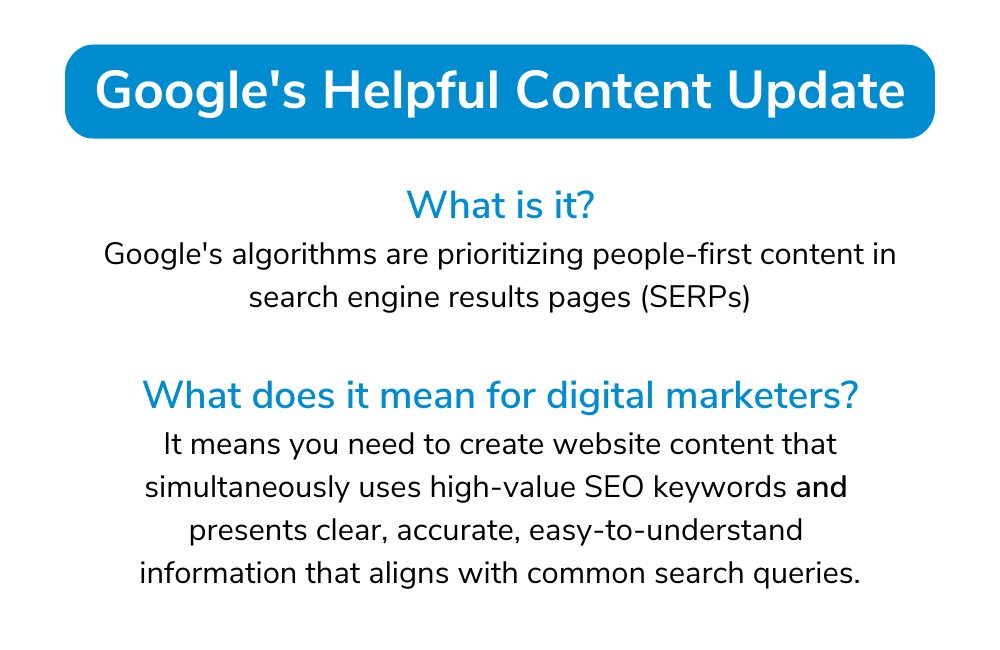 Is SEO Difficult to Learn?
SEO isn't particularly difficult to learn, but:
It can be overwhelming at first.
It requires a specific set of skills, and a willingness to continue learning (since search engine algorithms—and SEO best practices—are constantly evolving).
It's not for everyone, but the following qualities will make it easier to learn—and master—SEO:
Critical thinking, and the ability to determine what SEO strategies are working (or likely to work) and which aren't.
Clear communication, related to both speaking and writing, as well as the ability to collaborate and share ideas.
Technical skills, and a willingness to learn and keep adapting the latest SEO strategies in alignment with industry trends and your evolving objectives.
Data skills, including how to identify and track the most important metrics in defining SEO-driven digital marketing success.
Creativity, to come up with inventive strategies and/or fine-tune your approach as you learn what works best.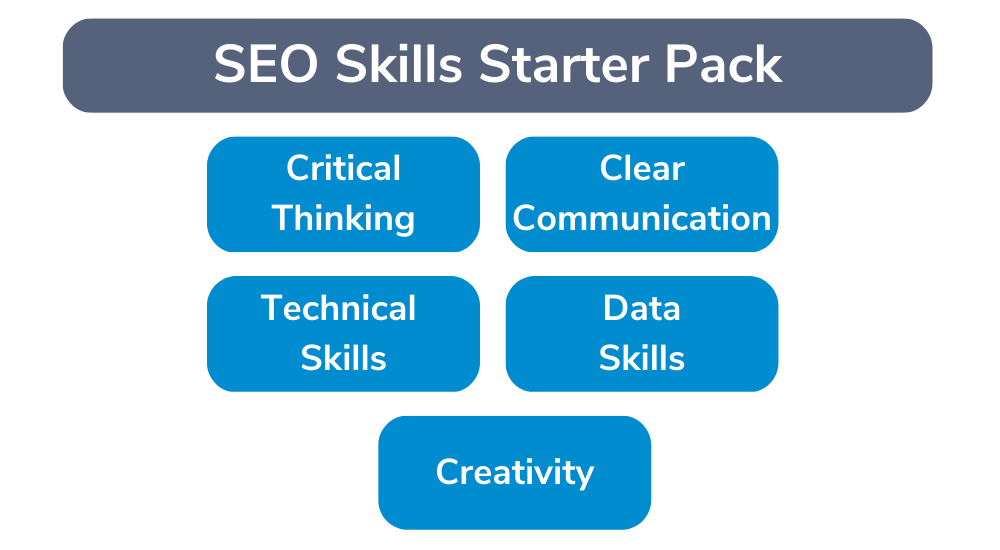 How Long Does It Take to Learn SEO?
Like the question of whether SEO is difficult to learn, this is another really loaded question, since:
We all learn differently, and have different amounts of previous experience and related knowledge.
To remain effective, SEO best practices need to be periodically updated and re-applied as the game changes over time.
SEO is never technically "done" or "perfected" (see points 1 and 2).
What Is the Best Way to Learn SEO?
There are several different avenues for learning SEO, so we recommend exploring options for learning it the way you best learn, whether that means taking self-guided courses online, working with a mentor, and so on.
How to Learn SEO for Beginners
To initiate your journey toward SEO mastery, you can start by exploring free online resources. Considering it's the world's most-used search engine, one ideal option is to learn SEO from Google. Begin with their starter guide to SEO, which offers a comprehensive overview at no cost whatsoever.
If you're looking for a general template for how to do SEO step-by-step, you can find several exhaustive guides online, like this one from Search Engine Journal.
Suppose you want to really hit the ground running with the latest and greatest in SEO strategies, though. In that case, you'll want to become familiar with Pillar-Based Marketing, or PBM—a proven content strategy that helps companies get ahead of the competition. (We'll introduce you to PBM in the next section.)
You can learn more about the SEO best practices and techniques that power PBM through DemandJump University, a free resource library of for a PBM Strategist or Writer.
How to Get on Page One: What's the Secret?
As you develop your SEO knowledge and fine-tune your skills, you'll hopefully see your rankings on search engine results pages (SERPs) improve. Then again, you might not. Generally speaking, SEO can be a maddening process, especially for beginners. It can be difficult to predict exactly what kinds of content and promotion will move the needle and resonate with your ideal customers.

At DemandJump, we've developed a platform and a methodology for consistent SEO performance. What makes us different from other companies that promise results?
First, our platform helps digital marketers to understand exactly what kinds of questions their prospective customers are asking, the pain points they're experiencing, and the types of content you should create to engage them. Learn about our SEO keyword research and content strategy tools.
Second, we've developed a proven and repeatable blueprint for success, introducing PBM to the world. We're the only PBM company, and our platform's the only one built for PBM success.
And What, Exactly, is PBM?
In short, it's an SEO-driven digital marketing strategy that centers around producing high-quality, informative content that helps establish your brand as an industry leader or authority and achieve Page One results. Learn more about how it works in our Page One or Bust! podcast.
Ready for Results? Then You're Ready for DemandJump
If you're ready to gain top-tier insight into developing and deploying an effective, SEO-driven digital marketing strategy, start with DemandJump. With just a few clicks, you can see exactly what kinds of content you should produce and prioritize the types of content that will attract and engage prospective customers, provide high-value content, and deliver consistent results.
Ultimately, it's better if we let you see for yourself—and there's no time like the present! Click the button below to begin exploring the platform today: