How to Measure Content Quality
February 12, 2021 •DJ Team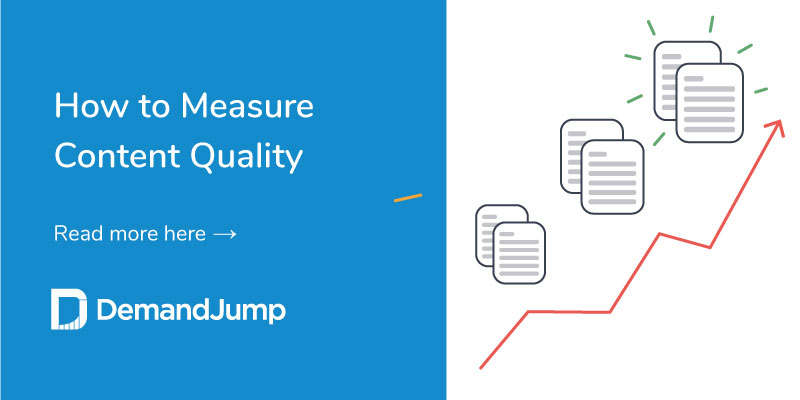 Marketers and business owners often turn to metrics such as open rates, bounce rates, and clickthrough rates to measure content quality. But is traffic and engagement really an indicator of quality content?
Think about some of your favorite books or movies. While some might be bestsellers or blockbusters, there are also probably hidden gems and less-renowned titles on the list. Just because they aren't as well-known, or widely seen, doesn't mean they are of lesser quality. And to the right audience they may resonate and be more impactful than popular content.
This example helps us underscore why quality content is important. When your content is great, it inspires audiences to the same enthusiasm about your brand that you feel when you get to tell someone all about your favorite book, movie, or tv show that they have never heard of.
Quality content doesn't just attract users to your website, it inspires them to do business with you—and keeps them coming back as a loyal reader or viewer, or even a repeat customer.
This is why you need to measure content quality by its deeper impact on your business and bottom line, not surface-level signals such as clicks and likes. Here is a little more about how to measure content quality, from the metrics that can let you know if you're succeeding in the eyes of audiences to the specifics of good writing.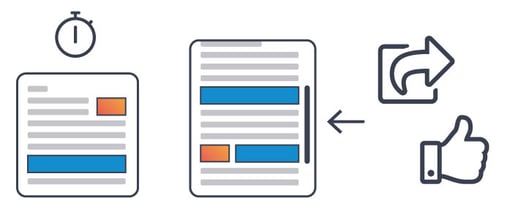 How Do You Measure Content Performance?
It's difficult to overstate the importance of content in digital marketing, but you can't go wrong starting with metrics like:
Time on page
Scroll depth
Social shares
Gaining an understanding of the type of content your prospects and customers are interested in is the best method for identifying topics that are likely to perform well. DemandJump helps companies know exactly what content to create to connect with customers and establish your brand as an authority on a given topic. Our platform helps companies break into the all-important page one search rankings on Google and other search engines.
So, when it comes to content marketing efforts, how do you identify quality content? Though content performance metrics like open rates, clicks, and likes may not be the best indicators to measure your content quality, there are some metrics that can help you get a general picture of your current content quality. These are:
Time on Page: The average time that visitors are spending on the page lets you know if they are reading and absorbing the content. If a page is getting tons of clicks through an ad, but the average time spent on the page is only a few seconds, you know the content isn't getting seen. A page with fewer clicks but a longer time on page might deliver more value and be more likely to convert readers.
Scroll Depth: Between Google Tag Manager and Google Analytics, you can also track a metric called scroll depth. This monitors different points within the content to let you know how far down a user read before they bounced. If you are worried content is too long, or that the whole message isn't getting across, this insight can be revealing. The user's scrolling speed is also tracked, so you can get a sense for if they are skimming or reading deeply. (Both can be effective for the consumer, so don't assume your content is low-quality just because it is being skimmed.)
Social Shares: Social shares are a very useful indicator of high-quality content. If someone takes the initiative to share your content on their feed, this means they have not only read/viewed the content themselves, but find it so useful they want to share it with their network. This means they consider the content to be quality. The more a piece of content is shared, the more you can assume it is high-quality and resonating with your audiences.
Looking at these metrics might give you a boost in confidence about your content quality, or cause you to take a step back and evaluate your content strategy. Remember, just because you start in a good place doesn't mean you can set it and forget it—and just because things aren't going well now, doesn't mean you can't take steps to improve content quality.

Characteristics of Good Writing
Writing quality marketing content is an area where people often lack confidence. How do you know if writing is actually good? How can you edit it yourself, or help others on your team give you useful feedback before publication or filming? What might help is to consider these five main characteristics of good writing:
Focus: Your webpage, blog post, eBook, video, or whatever other content, should be centered on one clear idea, topic, or product.
Development: Each paragraph, segment, or section should expand on and support the main idea through examples or new information. Tangents can be okay to a small extent, but if you catch yourself breaching a whole new topic, pause and refocus.
Unity: Every paragraph or section should stick to its main point, all leading back to the main idea of the overall content. When editing, sometimes you will be able to see how two or three paragraphs move back and forth between the same ideas. Putting all the thoughts on one subject in one paragraph makes it easier for the reader to absorb your meaning.
Coherence: The content must be organized logically, with more complex ideas or conclusions supported by the information that came before. Everything should not only make sense to the reader but also flow smoothly so they can read without distraction.
Correctness: Lastly, high-quality content should be error-free in all senses. This doesn't just refer to grammar and spelling, but also the facts and information that are shared as part of the content to support your arguments and conclusions.
These five characteristics don't just apply to written content like web pages and blogs, but to visual content like videos and infographics. For more tips about writing great content, take a look at our content writing guide.
Quality Content on Social Media
Content in your marketing arsenal will be shared on social media, and how it performs there will let you know if it's good quality—that we have already covered. But how do you know if your social media posts themselves are good. What are three qualities of good social media?
High-quality social media content across industries and social channels has a few things in common:
Strong Voice: Whether it's funny or professional, poetic or straightforward, high-quality social content starts with a strong voice and personality.
Audience Engagement: Unlike other online content, social media isn't occurring in a vacuum. The most successful brands on social media respond to comments and engage with the users who are engaging with them.
Patience: A quality social media presence is founded on patience. Every post doesn't have to focus on driving sales, but rather relationship-building and earning the trust of your followers.
For more about content marketing media and social strategy tips, check out our social media resource that provides insight into which content types are best for social media, and statistics about different social channels.
How to Improve Content Quality with DemandJump
Quality content succeeds when all these elements of structure, writing, and intention come together to answer the questions and concerns of your audiences. But if you're just guessing about the information your audiences are looking for, even the best content won't attract their attention.
We created DemandJump as a hub for marketers to get the information necessary to confidently create high-quality content. Current keyword trends, competitor analysis, and your real-time marketing analytics are all centralized in one place. The time you save collecting this information can be spent on quality and strategy. Try it free today—we're confident that in just one week, you will be able to improve content quality and see a tangible return on using our product.
Get Your Free Pillar Strategy Report