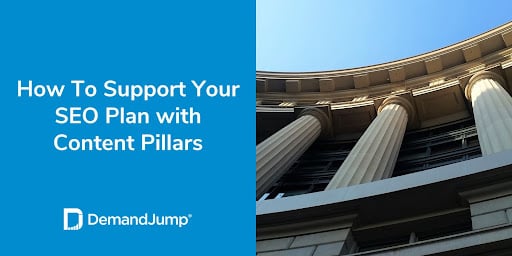 Search engine optimization (SEO) can feel like a black box at times. It works—you've seen the data and heard the anecdotal evidence. Yet, you're still not sure how to get those results for your business. Creating an SEO pillar strategy can transform your SEO marketing results. Why? Because when done right, this strategy increases your search engine rankings while building a deeper level of trust between you and your audience, which can both translate into more conversions.
This blog will help you get started by outlining the content pillar process and answering common questions like "What are the types of content pillars?" Let's dive in!
What Is Most Important in SEO?
According to Google's 2022 helpful content update, the most important and impactful SEO method is writing people-first content. What exactly does this mean? Google's prioritization of people-first content means that the keys to SEO success are:
Focusing on topics that you have expertise in, rather than creating content based on whatever's trending
Writing for human readers instead of using outdated techniques—like keyword stuffing—that try to game the algorithm
Answering the questions that people are searching for instead of using click-bait titles to get more clicks on pages that lack substance
Google also penalizes tactics that prioritize how bots read content over how people read content. This includes methods such as:
Using artificial intelligence to write content to manipulate search engine rankings (learn more about Google's stance on AI-generated content

here

)
Repeating what's been said in other pieces of content without contributing any original value
Leaving out key answers to questions that your content implies it will provide
At DemandJump, we couldn't agree more with Google's recommendations. Content written by people and for people provides more value for your readers. That means more time spent on your page, which helps increase your search engine rankings and brand reach. Providing value for your readers also builds trust between them and your brand. When they need more information, or they're ready to make a purchase, they'll come to you first.
How Do You Integrate SEO with Your Content?
The best way to create helpful, people-first content that ranks high on search engines is through Pillar-Based Marketing (PBM). As a content marketing SEO strategy, PBM focuses on creating networks of interlinked content about related topics. This works because it reflects how people naturally search for information. It also follows the internet's structure (It's called the world wide web—not funnel—for a reason).
Everyone has their own starting point and different ways of phrasing questions. PBM helps guide readers through topics by connecting related how-to guides, FAQs, resource pages, and more. In other words, whether someone starts their search with a broad topic or a specific question, they can navigate their way through helpful content.

While the paths a reader can take are often complex and meandering, pillar strategies follow a structured writing and linking strategy. Here's how it works:
A Pillar Page: These contain about 3,000 words and 20 keywords and give a broad overview of your topic.
Three Sub-Pillars: These contain about 2,000 words and 15 keywords each and focus more narrowly on different pieces of information introduced in your Pillar Page. Each Sub-Pillar links up to the Pillar Page to make it easy for readers to learn more and to improve rankings.
Twelve Supporting Blogs: These contain about 750 words and 8 keywords each and get into the details of a specific question within your topic. Each Supporting Blog links up to a Sub-Pillar and/or the Pillar Page for easy user navigation and to improve search engine rankings.
A PBM SEO plan example about starting a business could include the following to persuade readers to purchase advisory services:
Pillar Page:

The Ultimate Guide To Starting a Business

Sub-Pillars:

"How To Legally File a Business"
"How Do Taxes Work for a New Business?"
"How To Staff a Small Business"

Supporting Blogs:

"What's the Best State To Start a Business In?"
"Is It Better To Start a Business from Scratch or Buy an Existing One?"
"How Likely Is It for a New Business To Succeed?"
…and twelve more!
As you can see, the writing structure is from general to specific. However, if someone searched for "Tax Help for a Small Business," they might land on the "How Do Taxes Work for a New Business?" Sub-Pillar. From there, they can click on a call-to-action link or go to the Pillar Page to learn more.
In case you did not hear, DemandJump's Chief Solution Officer, Ryan Brock, has released a book titled, "Pillar-Based Marketing: A Data-Driven Methodology for SEO and Content That Actually Works." In the book, Ryan goes into even more detail on how PBM will innovate your entire SEO strategy. Below is a quick clip from DemandJump's Podcast, Page One or Bust!, that discusses the book. If you want to hear more, check out the full episode by visiting this link.
What Is the Main Purpose of Pillar Content?
The main purposes of pillar content (within your Pillar Page and the rest of the connected content) is to build trust, gain visibility, and drive conversions. An effective pillar SEO strategy will:
Establish your brand as the go-to resource on your topic
Educate customers on how to solve their problems (and why your solution helps)
Improve your website's ranking on search engines
You can also view the purpose of pillar content from a structural perspective. Like an architectural pillar supports a building, a well-written content pillar supports your SEO strategy. When done right, pillars actually get stronger over time. Instead of eroding to time and the elements, the more content you connect to a pillar, and the more people engage with it, the better results you'll see.
What Are the 4 Effective Content Pillars?

The answer to "How many pillars are there in SEO?" is that there are endless possibilities for the types of blogs you can write; however, the most common examples of effective content pillars are:
How-To: Gives a step-by-guide through a process. For example, "How To Start a Business."
What Is: Gives an in-depth answer to a broad question. For example, "What Is It Like To Start a Business?"
Guide: Gives useful information about many aspects of a topic. For example, "Ultimate Guide To Starting a Business."
Resource: Gives the reader an ample amount of statistics, facts, and case studies to refer to. For example, "New Business Statistics."
These examples are by no means a set-in-stone rule, but they can be a good starting point.
DemandJump: Taking the Guesswork Out of Pillar Construction
Pillar content can help you connect with your audience and rank higher on search engines. Yet, knowing exactly what to write about can be a massive challenge to overcome. After all, you don't want to write sixteen pieces of content, publish your pillar, then realize nobody is actually searching for that content.
That's where DemandJump comes in. Our keyword research tool makes it easy to see which topics your audience is searching and what your competitors are ranking for. You can then plot out your pillar strategy in a few clicks and decide on your Pillar Page, Sub-Pillar, and Supporting Blog Titles. To help you jump right into writing, you can use our content brief generator to see which keywords to include in that specific piece. Ready to start building your next SEO plan? It starts with signing up!
Get Your Free Pillar Strategy Preview!