Is Any Good Content Creation Software Free?
August 13, 2021 •DJ Team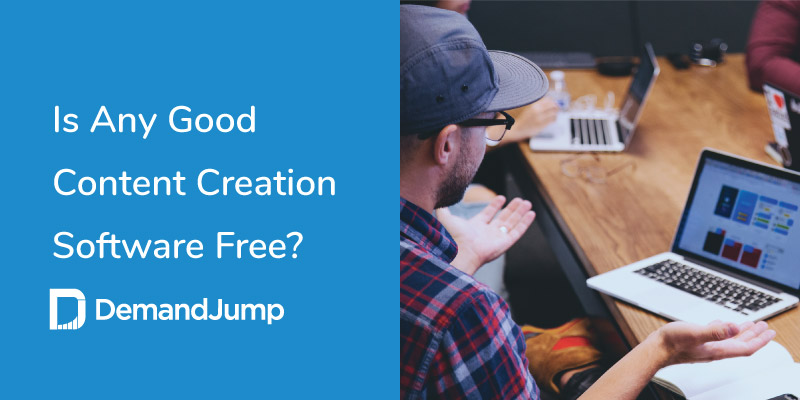 What is the state of today's marketing budget? The answer varies widely from source to source. Deloitte's 2021 CMO Survey claims that marketing budgets are now 11% or more of the overall company budget, near a record high. Gartner, on the other hand, reports that marketing budgets in 2021 have fallen to be 6.4% of revenue, a record low for the time that Gartner has been conducting this annual survey.
Whether your company is at the high end or the low end of the marketing budget spectrum, there's still not a dollar of that budget you would agree to see wasted, right? That's where the question of free content creation tools usually enters the equation. When 60% of marketers are creating at least one piece of content each day, any chance to reduce the spend that goes into that creation amplifies the potential of the budget in other areas.
But we've also all heard the saying, "you get what you pay for." Is any good content creation software free? Let's find out.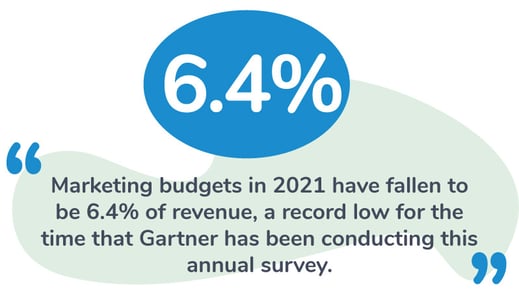 What Is Content Creation Software?
Content creation software is any tool that empowers a business to create content for their marketing initiatives. This includes software that allows you to write, design, or plan content like blogs, website content, infographics, and videos. Content research tools that provide high-value keywords and consumer insights can also serve as content creation software.
What Tools are Used to Develop Content?
There are several types of tools that are used by marketing teams to develop content. These include:
Brainstorming and Research Tools: To start the content creation process, many marketing teams rely on platforms that help them define the content they need to create to reach their audiences. Keyword planners, content idea generators, and even basic search engines can all contribute to this phase of content creation.

Competitor and Audience Insights Tools:

Once the broad topics you want to cover in the content are determined,

competitor and audience insights

help you focus the message in a way that will stand out. Social media listening tools, search engine alerts, and real-time insights from AI-enabled platforms can all provide the perspective you need.
Word Processors and Image/Video Editors: Next is the literal work of content creation. Basic word processors and image or video editing software comes installed on most desktops and laptops, and free cloud solutions are also available. Depending on your needs, you may also choose to pay for high-end solutions that allow greater functionality and/or collaboration.
Content Approval Workflow Tools: Lastly, there are tools that facilitate the easy collection of feedback and approvals from across an organization. These can be as simple as shared drives, or as complex as a content portal or separate workflow management tool.
These four classes of content creation tools are essential to developing a high-quality content marketing strategy that achieves your marketing goals. There are literally hundreds of free and paid tools on the market that can meet these needs and even go beyond. The choice depends on the work style of your marketing team as well as the legacy systems you may already have in place.
Free Content Creation Tools
If you're looking for free content creation tools, here is a short list of cutting-edge free content creation options:
Canva: Canva is a platform where you can create social posts, one-sheets, images, animations, and more. Though some of the templates require a paid membership, you can access a wide variety of options totally free of charge.
RawShorts: This drag-and-drop video editing platform allows you to use stock videos, video templates, and even artificial intelligence to make recommendations about the best videos for your team. There is a paid membership option that allows for higher-resolution videos and more videos to be created each month.
Easel.ly: Easel.ly is an infographic creation tool you can use to create graphics for both internal and external audiences. Like most free content creation tools, there is a premium option, which in this case allows team members across your business or organization to collaborate on designs within the platform, as well as license a greater number of designs and graphics for commercial use.
These are just some examples of free content creation tools you can use to create images, graphics, and videos your audiences will love and your competitors will envy.
Free Content Writing Tools
There are also free tools online to support the writing and editing of content for your website and social channels. Here are a few of the standouts:
Hemingway Editor: Hemingway Editor analyzes your content sentence-by-sentence to let you know how it could be clearer and more readable for your audiences. By breaking up long sentences and choosing simpler words, you can be confident your core message will be received and understood.
Ilys: If you are an over-thinker during the writing process, Ilys is here to help. At the beginning of the writing process, you set a minimum word count for the piece you are working on. Until you have written that many words, you won't be able to go back and edit what has already been completed! This can support you in completing the first draft and then editing the piece as a whole.
Yoast SEO: Once the writing has been completed, the Yoast SEO plugin for WordPress helps you identify ways to optimize your content for search. This includes everything from the length of your sentences and paragraphs to identifying how effectively you have used targeted keywords in the content.
These tools are some of the free options that can take the struggle out of content writing and let you create written content faster.

DemandJump: World-Class Content Creation Software
Using free content creation tools is great, and in some cases may be necessary to preserve the marketing budget. But it also sometimes means accessing multiple tools just to finish one project.
That's why we developed DemandJump, a platform that integrates topic generation, competitor research, audience insights, content briefs, and cross-channel marketing analytics in one dashboard.
DemandJump is a one-stop solution from the beginning of content creation to monitoring how well content is performing once it is published. You'll be able to see your search rankings and audience impressions improve in real-time, while also identifying the next topic that will continue the momentum.
But, don't take our word for it. Try it yourself for free!
Get Your Free Pillar Strategy Report