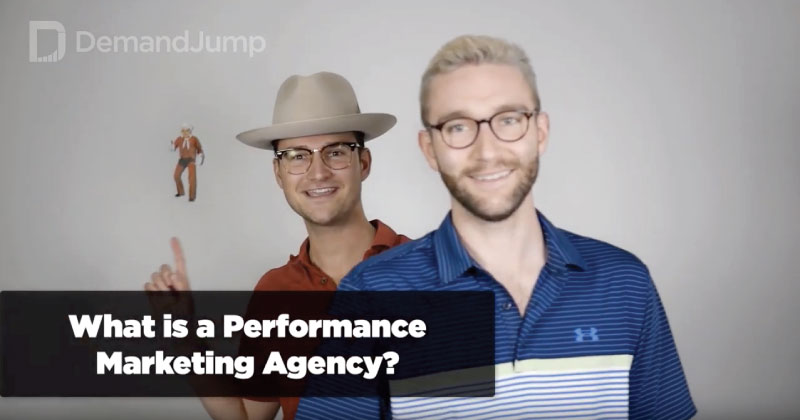 Performance marketing refers to online marketing and advertising programs in which advertising partners are paid when a specific action is completed, like a sale, lead or click (where marketers pay for performance or action). The first thing that might come to mind for you is Pay-Per-Click Search Engine Marketing. And you'd be right! But SEM is just one type of performance marketing.
Performance marketing agencies help with the execution and analytics of performance marketing campaigns within a variety of digital channels.
Performance Marketing Channels
Performance marketing agencies specialize in pay-per-action digital marketing channels and are able to use analytics to track and report on results. The most well known performance marketing channels include:
Native Advertising
Search Engine Marketing
Social Media Marketing
Affiliate Marketing
Display Advertising
Amazon Advertising
Click here to learn more about performance marketing channels.
A Brief History of Performance Marketing Agencies
In the 2000s, search engine usage increased, social media platforms were developed, and mobile devices became more popular with better technology. With these advances came a need for online marketing solutions. By the end of the decade, "marketers had software solutions available for social, mobile, search, and analytics" (Kapost). These solutions were channel specific and created a dilemma for marketers - which channel and software should I choose?
Throughout the 2010s, this problem has only deepened as new marketing technology companies continued to show up in the online market. With the need for guidance in digital marketing as a whole, a few things have happened.
First, digital marketing agencies have been able to flourish as companies search for how to optimize their online marketing spend. Since performance marketing has become such a large part of digital marketing efforts, marketers have specialized in this one area to guide companies through the pay-per-action atmosphere.
Also, with fragmented workflows, companies have seen an increased need for an integrated solution that provides a holistic look at online marketing efforts. Rather than individually manage each marketing channel software like DemandJump allows marketers to look at all of their channels and see which ones are performing best and to help other channels perform better.
Benefits of Working with a Performance Marketing Agency
Some of the benefits you get from working with a Performance Marketing agency come from the nature of performance marketing.
Data-Driven Results
Because of the nature of performance marketing, performance marketing agencies are data-driven. When you work with a performance marketing agency, they'll be able to help you clearly track your spend, your results, and communicate the value of campaigns using data.
Digitally Native
Many traditional marketing agencies have adapted to client's needs by adding digital and performance marketing services. On the other hand, performance marketing agencies were born for the purpose of digital marketing. Their expertise comes in understanding the online mechanisms used to get your brand out to the world.
Advanced Technology
Performance marketing agencies leverage technology that can better analyze the effectiveness of your performance marketing and give you ideas for what your next steps should be. If your performance marketing agency uses technology like DemandJump's Traffic Cloud®, it should be able to stitch together data in a way that makes sense of the customer journey, and identifies the most impactful drivers of growth across all channel execution.
Expert Advice
Working with a performance marketing agency can give you access to experts in the field. For some companies, it might make more sense to outsource performance marketing needs than to hire someone within their company and keep them trained. Within performance marketing agencies, you can find experts in each different performance marketing channel, which you might not be able to have within your own company.
Performance Marketing Agencies vs. Digital Marketing Agencies
Many digital marketing agencies include performance marketing services. However, there are agencies that focus solely on performance marketing channels and provide deeper digital expertise as a result. While there is some overlap between performance marketing agencies and digital marketing agencies, there is a key difference between the two.
Performance marketing agencies are more focused and specialized in the performance marketing channels listed above, while digital marketing agencies most likely offer a larger variety of services. For instance, a digital marketing agency might focus mostly on branding, content development, and other creative services and also offer performance marketing support as a supplemental service. On the other hand, performance marketing agencies aid in most effectively getting your brand in front of larger, more qualified audiences in the most effective way possible.
What Makes a Good Performance Marketing Agency?
Whether you are considering using a digital marketing agency that offers performance marketing services or a performance marketing agency, you'll want to consider several things, including:
Multi-Channel Expertise
There are a number of different performance marketing channels that can grow a business. When choosing a performance marketing agency, make sure that they know about each channel, have experience with each channel, and can give you a strategic plan that includes these channels as they would best serve your business.
A Holistic Overview
In addition to understanding each type of performance marketing channel, you'll want to make sure the agency you choose has a 30,000 foot view of how your channels are functioning. This holistic look at your performance marketing channels allows them and you to better understand your customer journey and how the marketing channels are influenced by each other.
Smart Insights & Recommendations
Your performance marketing strategy should not stay static forever. Instead, a good agency will be able to look at the data they've collected and tell you what your best next best steps are. They should continuously be monitoring your customer's journey, your ROI, and other key indicators to decide how to pivot your strategy and keep seeing better results.
A Dedicated & Adaptable Team
When choosing an agency, there are a few main factors about the team you should consider. First, consider their responsiveness and communication style. Ideally, they should adapt to you, seeking to both inform and collaborate with your team around your digital strategy. Second, consider their client-to-team member ratio. You wouldn't want to be the 15th account on an account manager's list. Lastly, make sure that you feel that the team truly understands your business and your target audience.
Is DemandJump a Performance Marketing Agency?
Not exactly.
While DemandJump's expert team offers performance marketing & digital marketing services, marketers primarily use DemandJump for our Traffic Cloud® platform - which shows all your cross-channel marketing analytics in one platform. It empowers your team to own all your marketing data and see the customer journey comprehensively to drive new growth.
Many of our current customers work with agencies and use DemandJump to power their strategic decision making. In the end, it doesn't really matter if you are executing or an agency is executing for you. We provide transparency into your marketing and media spend's effectiveness to help you and your partners make smarter decisions.
If you'd like better insights into how your marketing budget is working for you, we'll show you. Start your free trial today!