Performance Marketing 101: Comprehensive Guide
April 3, 2019 •Jordan Ehrlich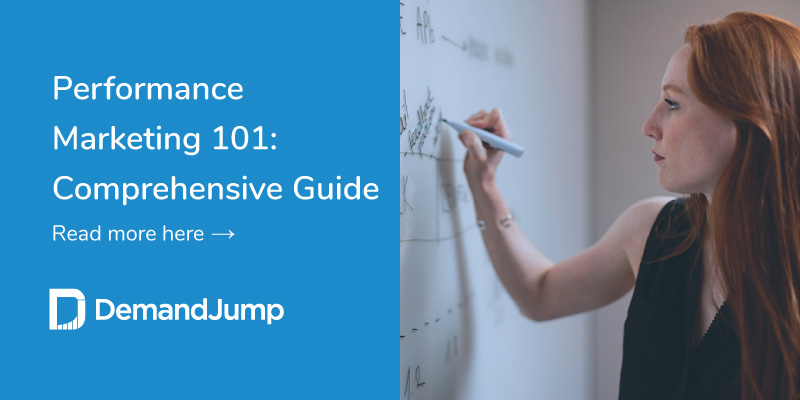 The main principle of performance marketing is simple. You only pay for marketing performance - in the form of ad clicks, lead gen, conversions, you name it. While this might sound new, performance marketing has actually been around since the mid-90's with the start of Pay-Per-Click campaigns.
The popularization of performance marketing, short for performance-based marketing, is in large part thanks to new technology that allows companies to gather more data on their traffic and campaign performance. This access to data allows them to better attribute value to efforts driving the most success, and to optimize advertising accordingly.
If you're ready to understand one of the growing marketing trends of 2019, we've given you a complete guide to performance marketing.
Navigating This Page:

What is performance marketing?
As defined by the Performance Marketing Association, "Performance Marketing is a comprehensive term that refers to online marketing and advertising programs in which advertisers and marketing companies are paid when a specific action is completed; such as a sale, lead or click."
In more traditional models of marketing, you pay upfront for a desired effort, hoping it results in your chosen action. This might mean paying for your ad to be in a magazine with an estimated reach, hoping it will drive customers to your website or store. With traditional advertising, the results can be estimated, but they are never guaranteed.
Performance marketing flips this model on its head.
With performance marketing, you're paying for the actual performance of the marketing partner, not just the effort exerted by them to promote your product or the reach that they have.


Creating a Performance Marketing Campaign
Creating a performance marketing campaign will look similar to other marketing campaigns. But to give you a launching-off point, we've outlined a high-level process here.
Start with a specific goal in mind. Do you want to attract 10,000 visitors to a new product or webpage? Are you trying to grow your newsletter subscriber list 10x? When evaluating your goal, you'll want to familiarize yourself with the different performance marketing pricing models (which we explain below) to understand what will give you the most bang for your buck.
Choose channels that make sense for your goals. Understanding your goals and the behavior of your target audience will help you decide which marketing channel you want to tackle and how. Later, we'll walk through five different performance marketing channels you may choose to advertise on.
Prepare your content for launch. Depending on the type of performance marketing platform you choose, you'll create different content to appeal to the viewing audience. It could be a blog for native advertising, a graphic for your display ads, or simply search ad copy leading to a certain landing page.
Continually monitor and optimize your campaign. Throughout the duration of your campaign, monitor its performance by analyzing your data, tracking the best traffic and sales sources and adjusting the campaign accordingly. We've given you some of our tips for optimizing your performance marketing campaign below.
Evaluate and pivot. At the end of the campaign, review how the performance compared to your goal and find news ways to optimize your campaign.


Performance Marketing Pricing
Below we've outlined a few of the different outcomes you may pay for with performance marketing partners & platforms.
Cost Per Sale: Paying per sale only requires advertisers to pay their partners when the partner's effort results in a sale of the product being advertised. In this agreement, the risk or burden falls greatest on the publisher as opposed to the advertiser.
CPI - Cost Per Install: Similar to cost per sale, here you only pay when an individual downloads and installs your mobile app. This is a type of Cost Per Action that's specific to mobile downloads.
CPL - Cost Per Lead: You only pay when an individual becomes a lead by giving filling out a lead generation form or giving you their contact information as a result of interacting with your advertisement.
CPC - Cost Per Click: With CPC, you only pay when an individual clicks on your advertisement. This is common across a variety of channels, as it requires less effort from the consumer and is one of the first steps of engaging with a brand.
Non-performance-driven pricing models you might see:
While you may not be paying for performance or action in these models, here are a few other options you might commonly see in performance marketing platforms (such as in display or video advertising networks).
CPV and CPCV - Cost Per Video/View and Cost per Completed Video/View: With Cost Per Video/View, you pay when an advertiser displays a video advertisement. With Cost per Completed View, you pay only when an individual watches the entirety of a video.
CPM - Cost per Thousand or "Mille": With CPM, you pay for when your advertisement has 1,000 impressions. This was one of the earliest types of payment models for digital advertising and is a common type of performance marketing (Tune.com).


Performance Marketing Channels
Performance marketing can be executed on a variety of digital marketing channels. We've described them below with common pricing used.
Display Advertising
Display advertising is a type of digital marketing that comes in several forms including banner ads, rich media, and more. These display ads rely heavily on images, audio, video, and a bit of text to communicate their message.
Because clickthrough rates in programmatic display advertising are relatively low, people infrequently think of it as a performance marketing channel. But when advertisers take more targeted approaches, for example more selectively choosing which websites to run display ads on (where contextually relevant and where in-market audiences frequently visit) it becomes a more effective performance marketing channel.
You most likely come across display advertising multiple times a day, as it's a popular way for blogs, publications, and other websites to monetize their site.
Typical pricing models: CPC & CPM
On Google, the average CPC of an ad on the Display Network is under $0.58.
Native Advertising
As opposed to display advertising, native advertising lets your advertisement blend in seamlessly in its environment. This is because your ad, in its design, content, and writing style, mirrors the non-paid content around it, which makes the user feel like it really belongs.
One website that you might associate with Native Advertising is Buzzfeed. Advertisers write articles that mimic the style and tone of the native Buzzfeed content and then are promoted to the front page or shared by Buzzfeed's social media team.
With native ads, the CPM can vary depending on your niche, the demographics, the publisher, and advertiser conversions. Native ad CPM rates using Taboola can range from .30 cents to $5.
Typical pricing models: CPC
Search Engine Marketing
With Search Engine Marketing, you reach potential customers by showing ads when specific search terms are entered into search engines like Google, Bing, and Yahoo.
Search engine advertisements can be used for many types of businesses, and you've probably been helped by one of these ads before when searching for a new piece of clothing or nearby eateries.
Typical pricing models: CPC
The average cost per click on Google Ads (AdWords) is $2.32 on the search network. The average cost per action in a Google advertising search campaign is $59.18.
Social Media Marketing
With social media marketing, you acquire visibility, traffic, and customers through advertisements placed on social media websites such as Facebook, Twitter and LinkedIn.
Typical pricing models: CPC, CMP, CPV, CPA, Cost-per-like
The average cost per click on an online Facebook ad is $1.72, while the typical CPM for Facebook ads is near $10. On Instagram however, CPM is closer to $5.
Affiliate Marketing
With affiliate marketing, you offer compensation to a partner when your partner generates traffic, leads, sales - whatever you decide - on your behalf. When you think of affiliate marketing, you might picture a well-known blogger in your industry who partners with companies.
Affiliate partners can range from large blogs to influencers to discount sites. Your ideal affiliate partner may differ depending on your buyer's behavior.
Typical pricing models: CPC, CPL, CPI


Performance Marketing Platforms
Performance marketing platforms are networks or places where you'll set up and actually run your performance marketing campaigns. Below are a few of them broken out by channel.
Display Advertising
Native Advertising
Search Engine Marketing
Google Adwords
Bing Ads
Yahoo Ads
Social Media Marketing
Facebook
LinkedIn
Twitter
Instagram
Reddit
Pinterest
Affiliate Marketing
Performance Marketing Benefits
There are many benefits to performance marketing, but here are the ones we discuss below:
Know what you're paying for
Easy to track, measure, and attribute value
Easy to manage campaign budgets
Expanded advertising reach
You'll have added creativity from your advertising partners.
Know what you're paying for
Starting with the clearest benefit of performance marketing, you'll only pay for your predefined results. There are no ambiguous, upfront costs.
Easy to track, measure, and attribute value
Have you ever heard the John Wanamaker quote, "Half the money I spend on advertising is wasted; the trouble is I don't know which half." On the other hand, performance marketing demands track-ability so that publishers and platforms can get paid for the action that results. So understanding what's working is built into the relationship itself. With this user-tracking, marketers can usually dive into what drove the most performance to understand how to best move forward.
Easy to manage campaign budgets
With performance marketing, you can start the campaign with your goal and ideal cost per action and then work out your budget from there. Let's say you're trying to define the budget for 1,000 new sales with an expected cost per sale of $20. You'd expect to pay $20,000 for this performance marketing campaign.
Reach in-market audiences
Bidding on specific search terms allows you to show up when audiences are looking for the things you might be selling. When advertising with affiliate partners and select publishers, you can achieve similar outcomes. These partners are chosen based on whether they'll drive qualified audiences to your site - oftentimes allowing you to show up when audiences are closer to the bottom of the funnel.
Align partner incentives
Since affiliates get paid when action is completed, they are incentivized by action that benefits you. This said, they'll bring their own efforts to getting your ads clicked on and devote resources to getting their commission. They might even have the time and resources to try new marketing techniques, and you'll normally see them tag along with your social media campaigns.


Performance Marketing Challenges
Monitoring Your Sources for Fraud and Bots
When running display campaigns programmatically, it is possible that your ads end up on fraudulent websites, or sites where views and clicks are generated by bots in order to rack up revenue for the publisher. In 2018 the Interactive Advertising Bureau (IAB) estimated that online ad fraud costs advertisers $8.1 billion annually.
While this may seem scary, it shouldn't deter you from running programmatic display ads. By monitoring your traffic sources and ad campaign costs, you can detect the sites that don't add value to your campaigns and nix them, which DemandJump's Traffic Cloud® makes easy.
Once you've identified the sites driving real performance, you can restrict your ad placements accordingly, more selectively targeting websites like you would affiliate partners.
Last-Click Attribution Can Lead You Astray
Last-click attribution refers to analytics that attribute all the value of a conversion to the last site or source a customer was on before arriving at your site. In a 2016 study, 65% of marketers used single-click attribution, also known as last-click, but 57% planned on changing their model.
While knowing where a "last click" came from can help you understand pieces of the customer journey, consulting last-click attribution alone neglects the value of other marketing touchpoints made along the customer journey. In such cases, last-click attribution may favor branded search terms and affiliate sites. But as discussed in this video, exclusively chasing these "high performing" efforts can prove to be a fool's errand if you don't continue to feed the top of the funnel. Check out the video for greater context.
Without a platform like DemandJump that offers a holistic view at your buyer's journey, you might be led astray by last click-attribution.
Losing Site of Longer-Term Goals
When many marketers think of performance marketing, they think of generating an immediate ROI (because in theory, you are paying for performance right?). But don't lose site of the full-funnel in the process. Just because bidding on branded terms and affiliate programs drive the most action, you still need to generate awareness and nurture consumers to arrive at those affiliate sites in the first place. You can learn more about this in our blog on performance marketing strategies.


Trends in Performance Marketing
A 2018 survey from Tune.com and Acceleration Partners surveyed around 2,300 performance marketers in the U.S. and U.K. and found that an average of 62% of brand and enterprise marketing budget was moving toward performance marketing.
This same survey also found that 128 of the 2,300 people we surveyed said a full 100% of brand and enterprise marketing budget was going straight to performance in 2018.
Also, partner and affiliate marketing will continue to grow in popularity. Forrester Consulting predicted that affiliate marketing will have an annual growth rate of 10% by 2020. As affiliate popularity increases, it will be important to leverage content marketing with your affiliates. According to Entrepreneur, slideshows, images and video demonstrations of products and services will reign over the traditional approach to content.


Is My Business Ready? Consider this.
Performance marketing can benefit nearly every type of business, but there are a few ways to tell if your business is ready and suited for a new performance marketing program.
Your Business Distribution
The reach of your business lends itself to different performance marketing tactics and partners. If your company is already national - great! You don't have to be as selective when choosing which type of performance marketing to use. However, if you're a smaller, more local business, you'll have to be more selective when choosing your performance marketing platforms to make sure they can target your area specifically.
For instance, you won't want to pay for a national affiliate network, since those affiliates most likely have national audiences. You'd probably also want to carefully consider native advertising, since the larger websites you'd be featured on most likely have a national audience as well. Instead, you'd consider Search Engine Marketing or social media marketing which can focus in on geographic locations.
Your Online Presence & Customer Experience
Since your main goal of performance marketing will revolve around your website and/or online shop, you'll want to make sure that both are in top shape before pressing go on your first campaign. If you're looking to do cost-per-lead advertising, make sure that your lead form and lead magnet are clear, nicely designed, and attractive to your customers.
If your main goal is generating online sales, then you should make sure your shopping and checkout experience is seamless and secure for your customers. The Performance Marketing Association also recommends that you have a return policy and guarantee. Your affiliates will want to make sure that their customers will trust purchasing from you.
Your Current Revenue
The PMA has a list of factors that will affect how much you spend on Performance Marketing. These include: additional technology, additional personnel resources, cost of marketing and promoting, commission rates, network/platform costs, long-term commitment to the program, and additional company strain.
Your Technical Needs
In order to make your performance marketing successful, you're going to have some technical pieces that need to be in place. You'll need to be able and familiar with how to set up tracking, data feeds, online ads, an affiliate program, and more depending on your type of performance marketing. Before you begin, you might want to consider hiring a performance marketer or someone who specializes in your type of performance marketing, to help you set up and run your campaign.

Performance Marketing Best Practices
Experiment, Experiment, Experiment
Inspired by Shawn Schwegman's approach to scaling Overstock.com back in the early 2000s, one of DemandJump's mantras is "if you're not testing something in any given campaign, you're doing it wrong."
But make sure you're taking the time to fully understand what it is you're testing and the goals you wish to achieve. For instance, if you're doing A/B Testing, make sure the variable that you're experimenting with is directly related to the metrics you're tracking. Be sure you have a control group for any experiment you run to identify the cause of changes in performance and then improve with an iterative process.
Keep Long-Term Goals in Mind
While performance marketing is great for driving immediate ROI, don't lose sight of the higher-funnel campaigns that brought consumers to discover your products in the first place.
When implementing lower-funnel keywords (such as branded terms) and affiliate sites into your marketing strategies, last-touch attribution might suggest you double down on the sources that drove the most direct conversions. But don't forget to feed your funnel by continuously trying to reach new audiences who have never heard about your company or your products.
Don't Categorize Marketing Channels by Funnel Stage
At DemandJump, we believe that you could create a full funnel strategy within just about every single digital channel by itself. For instance, some people think that display is solely a top-funnel channel. We know that by leveraging the right insights, you can move consumers down the funnel in any one channel.
While you can certainly use display to generate awareness, it can also be used closer to the bottom of the funnel. But as consumers move further down the funnel, you can adjust your display campaigns to target them more strategically. By whittling down your middle-funnel ad placements to more contextually relevant sites, you can save money & target audiences when they're more likely to engage with your ads.
To read more about this, click here and read 8 Performance Marketing Strategies Your Dad Didn't Tell You About.
Combine Data Across All Channels
Digital marketing grew up in silos, which means you might get a siloed view of your performance marketing. However, by focusing too much on one channel, you can lose sight of how you're impacting consumer behavior on other channels.
So, we recommend you take an omniscient view of customer behavior. Without it, you're missing the opportunity to align your marketing across channels. For more context, check out the video above.

The Future of Performance Marketing
Driven by cross-channel insights
Today, most performance marketing reports are generated within the platform in which they are executed. But this limits marketers to a siloed view of their customer's journey. Consumers don't navigate the internet on Facebook alone, nor do they only look at the titles of articles in Google search. They weave seamlessly between social platforms, search engines, and relevant articles to answer their questions.
There are important lessons performance marketers learn by referencing cross-channel data, such as:
Understanding how facebook campaigns influence Google search behavior
Referencing search data to inspire display ad messages
Identifying what channel's efforts should be increased by analyzing the net impact of marketing campaigns
Performance Marketing in Display Will Popularize
Marketers like to think of display advertising as an awareness-stage channel, so most marketers today largely pay for impressions (as opposed to clicks, leads, or conversions). But marketers are quickly understanding that more targeted approaches to display can dramatically increase CTRs.
Contextual targeting is on the rise, with 87% of marketers planning to increase the scale of contextual targeting this year. This signals a shift in the mindset of display advertisers, as they realize that the right ad placements can create higher click-through rates compared to audience targeting alone.
DemandJump's display analytics use competitive data to uncover which websites will drive performance with display ads. As this approach continues to improve display performance, marketers will increasingly think of display as a performance marketing channel (and not one for just generating awareness).
Search Marketing Will Become A Conversation
Increased depth of search analytics will allow marketers to tailor search campaigns to more sophisticated search behavior and start advertising more dynamically. With analytics solutions like DemandJump, marketers see which search terms drive visitors to their site on the first, second, and subsequent visits - as well as a variety of more dynamic insights. With more valuable search insights, the search will continue to become more of a conversation channel than a content channel - as marketers answer more specific questions asked in Google.
Leveraging holistic attribution models
Marketing analytics have evolved to better quantify the value of marketing touch points than last-touch attribution allows. With last-touch attribution, all conversion credit is given to the marketing interaction that immediately brought consumers to buy. But the reality is that consumers don't buy after one well placed ad. They see your brand across a variety of channels and over a longer period of time than last-touch attribution gives credit to. Seeing this customer journey comprehensively dramatically increases performance compared to the more siloed approach of yesterday's performance marketers.

Want to better understand the whole customer journey, across its many touch-points? DemandJump is offering a free insight report on any topic related to your business. Simply enter a term, and learn how your customers are searching on the web!