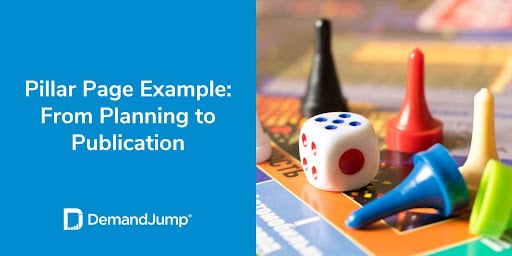 Pillar-Based Marketing (PBM) helps marketers rank higher on search engines by connecting with readers based on their searching habits. At the center of this strategy is the Pillar Page, a piece of long-form content covering topics that can branch out into shorter, more specific supporting content. But how do you choose an SEO Pillar Page topic? What are Pillar Page best practices for planning and writing? In this blog, we answer these questions and more.
What Is a Pillar Page, and What Is a Topic Cluster?
A topic cluster is a group of closely related, interlinked content; a Pillar Page is the central piece of long-form content that the rest of the topic cluster links up to. Oftentimes, marketers create content under the impression that searchers follow a funnel-like path. In this pattern, customers start with broad topics and gradually engage with more specific content until they're ready to make a buying decision.
However, search paths are rarely this linear. Instead, customers type a question or phrase into their search bar, read a little bit, then search for a closely related topic. They're not always starting at the top of the funnel. Customers could begin their search with a specific question, a broad topic, or anything in between. Topic clusters mirror natural search patterns and guide customers through your content as their curiosity grows.
A Pillar Page serves as the central hub of a topic cluster. These pages are typically about 3,000 words long, contain around 20 keywords, and cover a wide variety of information about the topic. The rest of the content links up to the Pillar Page to help readers find important information, build that page's authority, and ultimately help your page climb the search engine rankings.
To learn more about how DemandJump's writers create Pillar Pages, tune in to our podcast, Page One or Bust! Below is a helpful clip from a recent episode, but if you want to hear the entire episode, follow this link.
Is a Pillar Page the Same as a Landing Page?
The difference between a Pillar Page vs a landing page is that a Pillar Page's main purpose is to educate visitors, while landing pages aim to make conversions. Even though these pages have different primary goals, they can overlap. For example, you could run a social media ad with a link to your landing page where readers can scroll down to read pillar content. This way, if a visitor needs more information before making a decision, it's all on that page. Another example is using a Pillar Page to drive conversions. These pages often end with a call to action, so after a reader learns all of the information they need to, they know what action they should take next, such as signing up for a product demo.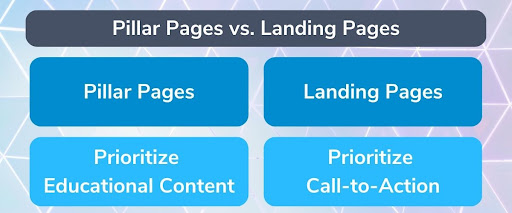 What Are Good Pillar Pages?
To plan, write, and publish successful content, follow these best practices when creating topic clusters and Pillar Pages
Write about what people are searching for.
Create a network of related content.
Provide value for humans.
Include high-value keywords.
Publish your entire pillar network at the same time.
Promote your content through social media and paid ads.
Not sure where to start? DemandJump has the tools to get you there. To learn more about PBM strategy and writing tips, take our free courses at DemandJump University. If you're ready to dive in, sign up for a free trial and experiment with our insight reports, keyword research tools, and content briefs.
What Is an Example of a Pillar Content Topic?
Different Types of Pillar Pages appeal to different readers. Here are a few Pillar Page examples to kickstart your writing process:
Ultimate Guides: These pages give readers an overview of everything they need to know about your topic.
Product/Service Pages: These pages integrate your products or services throughout the piece, so your offerings are consistently positioned as the solution to readers' problems.
Resource Pages: These pages house relevant statistics, infographics, and case studies that readers can keep referring back to.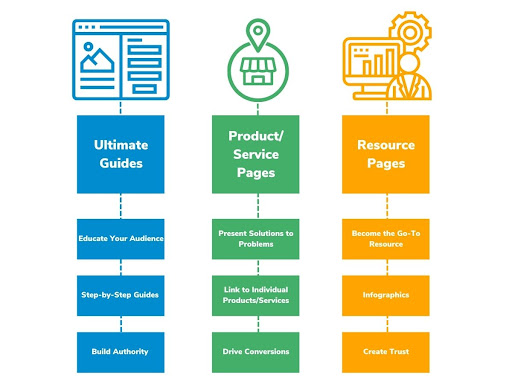 Let's take a look at a hypothetical example of a board game publishing company, Good Games, to see how each of these Pillar Page types can turn out.
The Ultimate Guide to Board Game Publishing: In this ultimate guide Pillar Page, Good Games appeals to their audience of independent game designers that they would like to work with. This Pillar Page provides a step-by-step process for self-publishing compared to working with a publisher, including:

How to come up with ideas
How to test your ideas and receive feedback
How to create a prototype and pick component materials
How to market your game
What a game publisher does
What you can expect to earn from publishing a game


The Pillar Page ends with a call to action that encourages designers to schedule a call with a publishing expert.


Family Board Games: With this product-oriented Pillar Page, Good Games connects with their customers who are looking for their next exciting addition to family game night. This piece of content covers information like:

The best games for 6-8 year olds
Board games that middle schoolers love
Educational board games
Easy-to-learn games
Fun games for all ages
Each of these sections include images for each game with a link to their product pages, so readers can easily shop for games that catch their interest.
Board Game Industry FAQ: This resource Pillar Page provides important, easy-to-read information for independent game designers. As a compilation of relevant statistics and bits of information, readers can refer back to this page when they want to find out information like:

The size of the board game industry
The average costs for hiring an artist
The largest game manufacturers
The dates for upcoming conventions
Because designers come back to this page for helpful information, there are more chances for readers to take the desired call to action: schedule a consultation.
As Good Games completes their pillar strategy, it will include one Pillar Page, three Sub-Pillars, and twelve Supporting Blogs.
How Do You Write a Pillar Page? Go from Planning to Publication with DemandJump.
Here's how to use DemandJump to go from planning to publication for your next (or very first) content pillar:
Sign up for a free account.
Use Compare Topics to see which phrases and questions your audience wants to learn more about.
Use Competitor Rankings to see which topics can help you rise above the competition.
Use Topic Pillar Strategy to explore a web of potential content all related to your pillar topic.
Use Content Briefs to see which keywords you should write about in each specific blog.
Publish your entire pillar to your website, and implement an up-linking strategy.
Promote your content using social media and paid ads to reach more readers quickly.
Use Keyword Rankings to see how well you rank for certain phrases and questions after publishing your content.
Excited to get started and see results? Sign up today!
Get Your Free Pillar Strategy Preview!