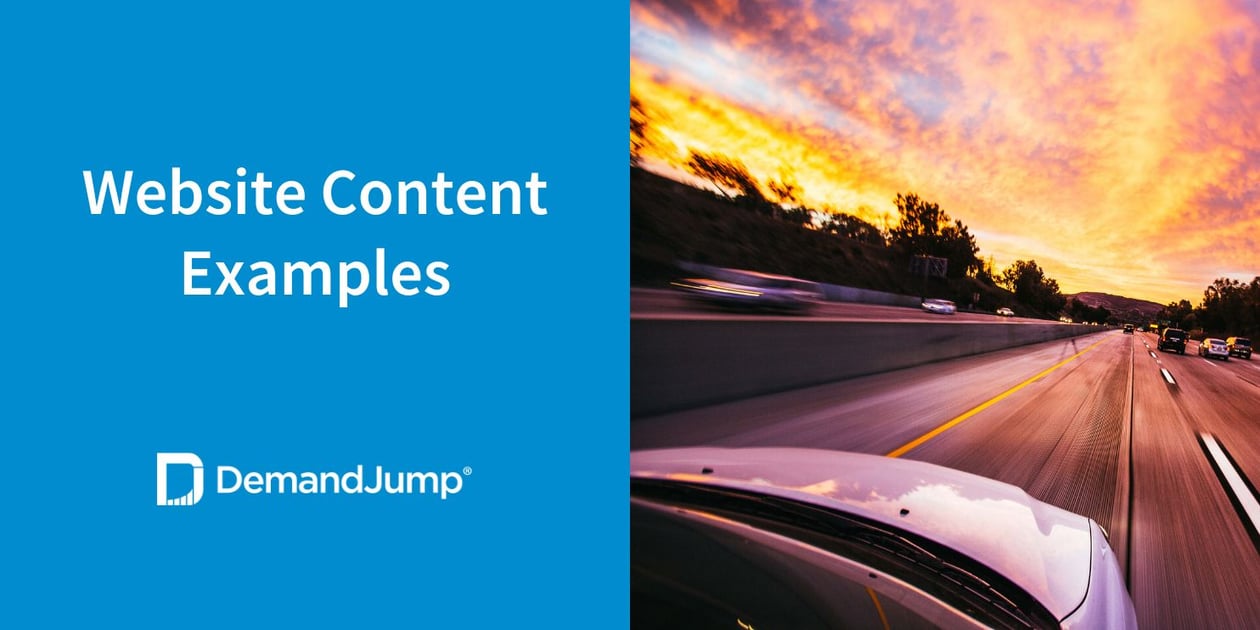 Is your website driving your business outcomes—or is it just along for the ride? When done well, website content can be one of the most essential parts of achieving your marketing objectives, improving conversions, and communicating with new or potential customers. Of course, not all sites are created equally. With roughly 1.88 billion websites online, your business likely has some steep competition.
One of the best ways to ensure your website is truly offering your organization all it can is by including the right kinds of content to draw in and attract potential customers. But what are the kinds of website content, and what website content writing examples are available to help you get started? Keep reading to find out.
What Is Website Content?
Website content consists of all of the written, audio, and visual elements that visitors experience on a website.
That's a fairly broad definition, so it may be helpful to look at some common examples of these different types of web content.
Written: Anything that's written in text form on your website falls into this category. Common types of written content include landing pages, product descriptions, white papers, case studies, blogs, ebooks, how-to guides, and more.
Audio/Video: Written content isn't the only type of website content that matters to visitors. Audio and video content is trending. As early as 2017,

YouTube

was reporting that over 1 billion hours of videos were watched on their site each day. Use audio or video content like demos, podcasts, and even music—in some cases—to round out your website content strategy.
Visual: Finally, graphic, visual content makes it easy for visitors to understand who your company is and what your product or service does. In this category, website content includes photos, infographics, charts, branded images, data visualizations, and more.
What Are the 4 Examples of Website Content You Need?
To help ensure your website stands out among your competitors and reaches your target audience, you need to include the right kinds of content on your site. Here are just four examples of website content that can help drive business outcomes.

Customer Logos
For B2B organizations, one of the most common company website content examples you'll see is customer or client logos. Adding existing customers' logos to your website is a great way to communicate to prospects what kinds of businesses already use your product or service. Consider adding logos that illustrate each of your ideal customer profiles to effectively show what kinds of industries and niches you operate in.
Of course, before you add any logos to your site, be sure to reach out for permission. Using a logo without permission could endanger the customer relationship.
Customer Success Stories
Customer success stories are another must-have on our list of website content ideas. Whether your organization operates in the B2B or B2C space, communicating the satisfaction and success of your customers or clients is a great way to prove your value add. For example, Oracle built out a robust customer success database that breaks out stories by product, geographic region, industry, and more.
There are a lot of options on how to tell these stories on your website, including:
Quotes from happy customers about how your product or service makes a difference. Including a headshot of your customer can be an excellent way to work in a visual element.
User-generated video testimonials that share why they use your product or service. If using this option, be sure to generate captions on your video to ensure accessibility.
Case studies or white papers that explore, in detail, the story of your customer and their results. Well-designed case studies and white papers include elements like charts or graphs to help readers visualize data points.
Just like with customer logos, you should ask permission if you plan to include identifiable information like names in your success stories. One way to entice your customers into agreeing to be featured is by offering an incentive—like a discount on their next invoice, a slide deck, or a free hour of advisory services.
Pillar Content
What content should be on a website to improve your organic search traffic? Search engine optimization (SEO) pillar content. An SEO pillar is a series of interconnected articles about a singular topic—generally a topic that speaks to your core product or service. SEO pillars consist of three different types of articles.
A Pillar Page, which is a 3,000-word article that serves as a big-picture overview of your topic.
Sub-Pillars, which are 1,500+ word articles that dive into more specific elements of your pillar topic.
Supporting Blogs, which are 750 - 1,000 word articles that explore very specific parts of your pillar topic.
Each of the articles in your SEO pillar should use high-value keywords and questions to help optimize your content for search engines. Doing so will help you:
Rank higher on Google and other search engines. By creating high-value content with keywords that your audience is actually searching for, you can signal to Google that your content is authoritative—pushing it up the search engine results pages (SERPs) rankings.
Drive more traffic to your website. More than

one-quarter of searchers

on Google click the first organic search result. Improving your SEO rankings means more visitors to your site—and better outcomes for your business.
At DemandJump, we live and breathe pillar content. Our platform connects businesses with the right data to strategize and create content that'll give you more page one rankings, more customers, and more revenue.
Landing Pages
Finally, landing pages are a must for businesses looking to drive conversions via marketing campaigns like paid search ads, social media ads, or email. A landing page is essentially a standalone web page where a visitor lands after clicking a hyperlink in a marketing campaign.
While you might want visitors who hit your website organically to click around and explore, that's not the case here. Instead, landing pages are singularly focused on driving a conversion or a call to action (CTA), like downloading a white paper, signing up for an email newsletter, or scheduling a demo. In fact, the best landing pages only include one link so that visitors know exactly what to do. Landing pages offer a great opportunity for A/B testing a few different styles of content to find out what message resonates best with your audience.
DemandJump: Helping Companies Drive Outcomes
DemandJump is the number one marketing strategy platform showing you the exact content to create to increase first page rankings and drive outcomes. Our robust platform offers tools that help with:
Content Marketing
SEO Keyword Research
Pillar-Based Marketing
Consumer Insights
Cross-Channel Analytics
Marketing Intelligence
Ready to find out more? Sign up for a free account to see just how easy content can be with DemandJump.
Get Your Free Pillar Strategy Preview!