What Are 3 Main Areas of SEO?
December 20, 2022 •Jeremy Flick
Have you been having trouble reaching your online audience? You're not alone. A vast majority of websites don't see any traffic and it's because they don't use search engine optimization (SEO) to their advantage. SEO is an essential tool content marketers use to gain organic clicks to their websites. But to use SEO as a tool, you need to focus on the written content, keywords, and structure of your site. So what is the most important part of SEO and how do you apply them to your own content marketing?
What Is SEO and Its Elements?
Search engines send out crawlers to explore the internet to build an index, or map, of the internet. Search engines prioritize important and informative content that organically answers questions people are asking online. In turn, search engine optimization is what we use to make sure these crawlers see content as valuable, informative, and authoritative. The ultimate goal of SEO is to improve search visibility—like reaching page one of Google—and increase organic traffic to your website.

What really drives SEO is how you navigate things like keywords and structure in written content. But understanding the two main elements of optimization are important to take advantage of what SEO has to offer.
On-Page SEO: As the name implies, on-page SEO is something you put on your website to drive traffic from a search engine. These are things like the content itself, the keywords you use, and the meta title and description.
Off-Page SEO: With off-page SEO, the focus is on things that are related to pieces of your website that you can directly control. Elements like backlinks, social media posts, and pay-per-click are all ways to drive traffic to your site beyond its organic value.
Next we'll cover the three components that drive the most traffic to your website and their relevance in SEO.
What Are the 3 Pillars of SEO?
Building an SEO strategy is essential to reaching your audience, as written content that uses SEO gets you more clicks and more eyes on your website.
Content
We are obsessed with content, and you should be too! Content is what connects your business to your audience. It gives you the ability to share more information about products or services you offer, your business in general, and valuable information about topics your audience cares about. And because 90% of websites never get any traffic at all, valuable content is essential to get clicks online.
The best website content should be:
Informative

Authoritative

Relevant
Google rewards content that provides value to the audience. You can position yourself as an authority on a topic by providing accurate, relevant information that answers readers' questions.
Keywords
In the past, content marketers filled their written content with a keyword over and over again, hoping to rank higher on search engines for that term. Imagine reading a blog about the best running shoes for a marathon that uses the keyword "best marathon shoes for men" twenty times within 750 words. Not only would that stand out to a reader, but does it bring any value? Not really. And Google knows that too. Now, using keywords in your content is about focusing on high-value keywords and questions that your audience is actually searching for. You don't stuff them, but instead use them in relevant context while providing useful information.
The problem with keywords in content is finding which ones are important to your audience. It can take hours or even days to research keywords on your own. Searching through competitors' websites one-by-one to see what their content contains is really hard. With DemandJump, our insight reports provide in-depth keyword research that takes minutes. Our platform lays out the top keywords and questions about your topic, so you can easily identify and write about what your readers are searching for.
Structure
While content can be many different things, like blogs, videos, images, etc., written content is typically the main driver of organic traffic to a site. At DemandJump, we have developed an SEO marketing strategy known as Pillar-Based Marketing. PBM uses content pieces known as Pillars, Sub-Pillars, and Supporting Blogs.
Pillar: As the largest piece of content you write at 3,000 words, you can create an "ultimate guide" on a topic. Because of its large scope, you can write a wealth of information for your audience. We'll get more into keywords in a moment, but a Pillar should have ~20 high-value keywords within the text.
Sub-Pillar: The second largest piece of content you write should be a Sub-Pillar at 2,000 words. The goal is to write on more specific topics as they relate to the Pillar. This helps you focus in on an idea and explain it further. There should be ~15 keywords within a Sub-Pillar.
Supporting Blog: The most specific type of content you write is a Blog at 750 words. A blog answers a specific question that relates to both the Sub-Pillar and Pillar. There should be 7-8 keywords within a Blog.
Structuring your content in this way will help you join your content together, which shows search engines you know the most about a topic. But how do you connect it all together as a cohesive strategy?
The best way is through linking. Since a Pillar is the longest piece of content, it is at the top of the Pillar Strategy structure. And because that page is a guide to a topic, other writing should connect to it. Sub-Pillars connect directly to the Pillar by linking them using a keyword and hyperlink within the intro. The same goes for Supporting Blogs, which should hyperlink to both the Pillar and Sub-Pillar. Google sees these things as one large piece of content and determines you as an authority on the topic.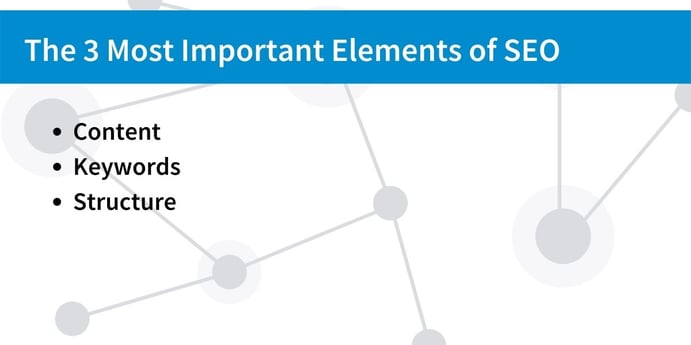 Using these key pieces of SEO for your website will help you develop an SEO plan to boost organic traffic.
Boost Your SEO Rankings
At DemandJump, we know content and we can help you create the best content for your business. Using our platform, you'll have access to insight reports and a Pillar Strategy that can help you develop a Pillar-Based Marketing plan. Get ranked on page one of Google by trying DemandJump for free today!
Get Your Free Pillar Strategy Preview!