What Are Multi Channel Funnels?
February 12, 2021 •DJ Team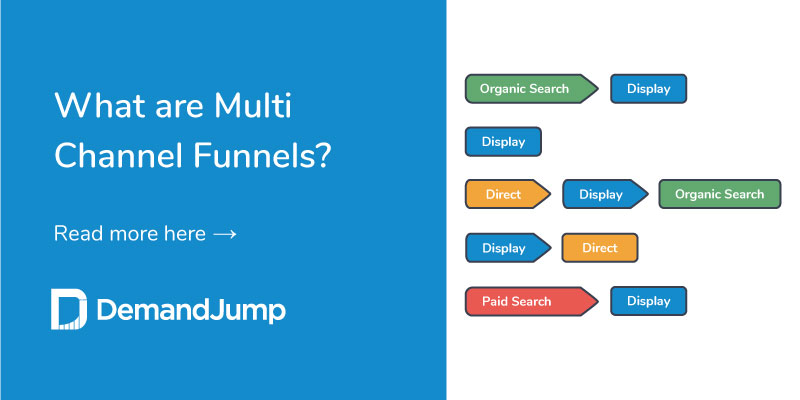 Multi Channel Funnels are a feature of Google Analytics, created to help marketers understand the gap between the performance of paid marketing through AdWords, and website insights displayed in Analytics. Multi Channel Funnels demonstrate how content works together across different channels to create conversions.
Let's explore what is necessary to use this feature, what you can learn from these reports, and strategies to apply those marketing attribution insights and make your marketing even better.
What Feature Must Be Enabled to Use Multi Channel Funnels?
Before you can access Multi Channel Funnel Reports in Google Analytics, you must be tracking a conversion goal. This could be simple eCommerce activity, or something more abstract.
Revenue, acquisition, inquiry, or engagement are high-level categories of business goals that are pre-defined in Analytics. Within each category, there are goal templates. If you haven't selected an industry in your Google business property, you won't have goal templates provided, since these are specific to your industry.
You can also create custom goals like directing traffic to a webpage, achieving a specific time on page, viewing a certain number of pages per session, or having a user complete a form or other activity.
Multi Channel Funnel Report in Google Analytics
The reason you must have at least one goal established in Analytics is so that the program knows the end point, or destination, of your multi channel funnel. When you run the Multi Channel Funnel Report, the activity of every user that completed your goal will be compiled in the report. This shows you what activity across channels led them to visit your webpage, complete the form, or make the purchase.
Multi Channel Funnel Reports Can Credit Conversions Across Which Channels?
Organic Search that leads search engine users directly to your website.
Paid Search through ads and pay-per-click that directs users to your site.
Web Referrals from shopping sites or partners you work with to promote content.
Affiliates who have backlinked to your site or content.
Social Networks that refer traffic to your content.
Email that drove traffic to the content.
The report also helps you understand the role of mobile traffic vs desktop traffic in your marketing funnel. Within the Analytics menu, you can ask the report to show you only specific kinds of conversions, like those whose last click was an email, those whose first click was through paid search, or those who took longer than a day to make a buying decision. These are examples of some of the pre-defined conversion segments, and you can also create your own based on what you want to learn.

What Insight Can Be Drawn From Using the Multi Channel Funnels Feature?
There are five different reports you can access through the Google Analytics Multi Channel Funnels Feature:
Multi Channel Funnel Overview Report: This summary compares and visualizes the unique customer journeys during the time frame you specify. You can see overlap between the journeys and which content seems essential to all of them.
Multi Channel Assisted Conversions Report: This report shows you how many conversions each channel respectively started, supported along the way, and concluded. You will learn which channels are most often the beginning or end, and which are the vital links along the way.
Multi Channel Top Conversion Paths Report: This report shows all the different groupings of a customer's path, and which ones were most common. For instance, one path might just include a paid search touchpoint by itself, while another includes multiple email and social touchpoints.
Multi Channel Time Lag Report: This report breaks down the different time frames of customer conversion, anywhere from 0-12 days. This teaches you more about the length of your sales cycle and how different timelines might rely on different content.
Multi Channel Path Lag Report: This report shows you how many interactions users had with your site before reaching the goal. You might find that low-value conversions happen quickly, while the longer path leads to more value per customer—or, vice versa!
Apply Insights from Multi Channel Funnel Reports with DemandJump
All this reporting from across different channels teaches you a lot about the content your customers love. But the keyword insights and competitor analysis you need to make the most of this knowledge mean looking through more reports and spending lots of time in thought and deliberation.
We developed DemandJump to integrate directly with Google Analytics and Adwords, collecting all these insights in one place. Backed by the power of machine learning, our platform presents all these multi channel insights along real-time keyword trend insights. This lets you make more informed and efficient strategic choices about everything from pay-per-click to content creation. Let us show you just how easy multi channel marketing attribution can be. Schedule some time today!
Get Your Free Pillar Strategy Report