What Are the 4 Types of SEO?
March 7, 2023 •DJ Team
The four types of search engine optimization (SEO) that are essential to a comprehensive digital marketing strategy include:
On-Page SEO
Off-Page SEO
Technical SEO
Local SEO
Keep reading if you're curious how each can make or break your SEO strategy. We'll run through the highlights of each, from choosing different types of SEO keywords to optimizing your content for web crawlers.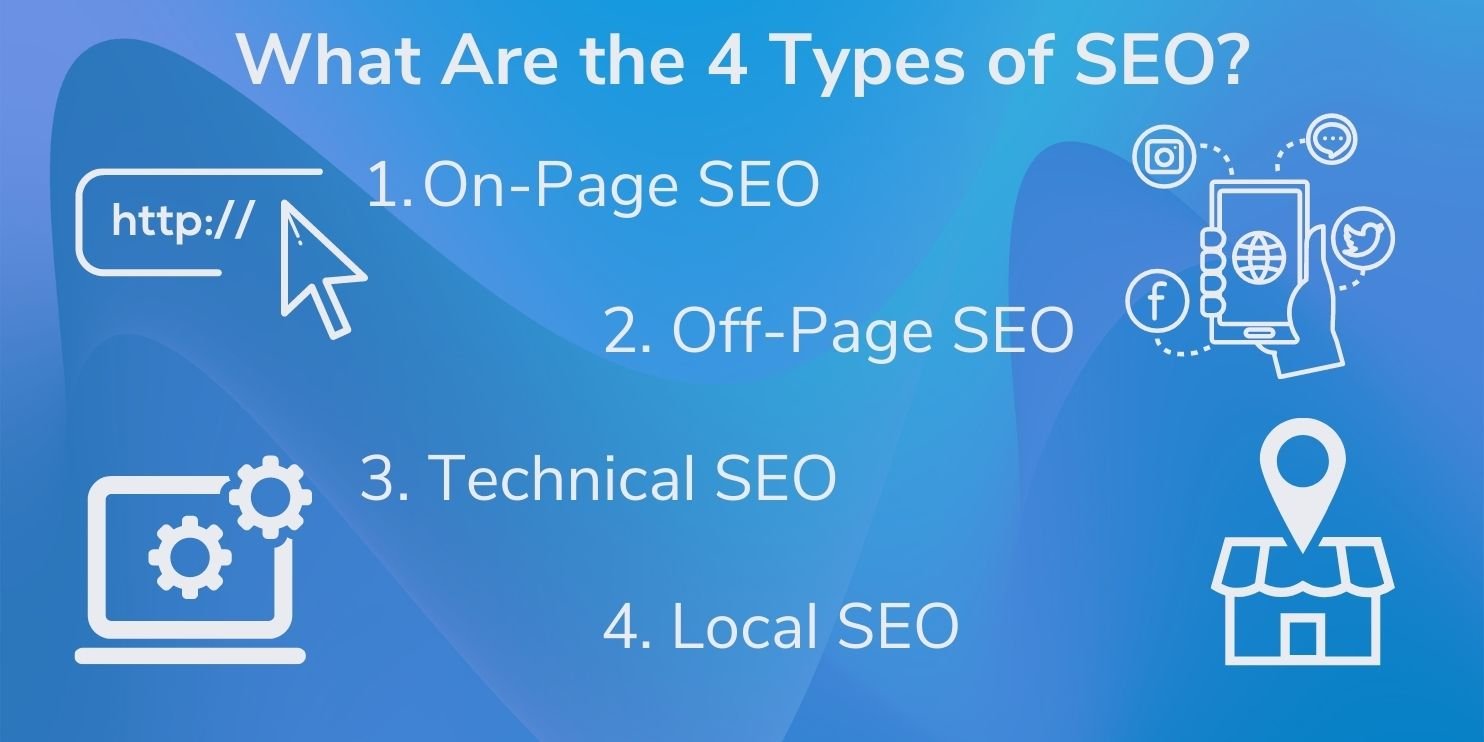 1. What Is On-Page SEO?
On-page SEO (aka "on-site SEO") is the process of improving elements on your website to boost search engine rankings and site traffic. These elements are visible to anyone on your website, such as:
Helpful Content - Been wondering, "What is most important in SEO?" The answer is helpful content. In August of 2022, Google launched a "helpful content update." The intention behind this update was to promote helpful content written by humans, for humans. Actions like using AI to pump out tons of varying content or writing about niche topics without proficiency can now hurt your SEO and move you down search engine results.
Keywords - Keywords are how you identify exactly what your audience is searching for on the internet. Fortunately, you can automate SEO keyword research with a platform like DemandJump. Simply type in the topic you want to write about, and DemandJump will generate a prioritized list of keywords and one-click SEO content briefs to guide your writing. Your audience and the search engine algorithms will thank you.
Title Tags and Meta Descriptions - Title tags are pieces of HTML code that designate web page titles. Including keywords in your title is a best practice to ensure your content ranks for the keywords you want. You also need to write a clear meta description, which is a short summary of a web page. Your title and meta description are what show up on a search engine results page (as you can see in the image below), so make sure both are enticing and informative enough to earn clicks.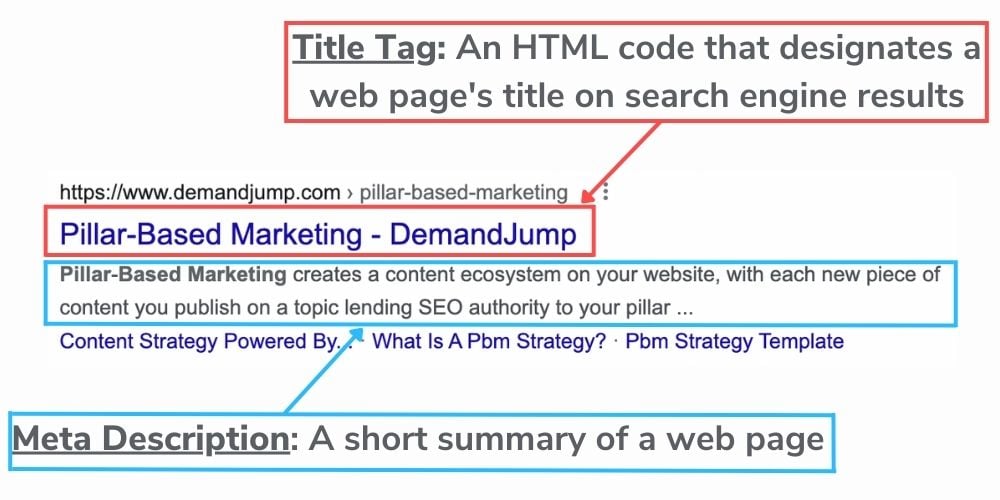 Images - A website with no pictures is just plain boring. Images keep the interest of your website visitors while also supporting your SEO—if you're publishing your images properly. Be sure to use JPG and PNG images only, compress them to increase loading speed, and create unique images instead of inundating visitors with stock photos. As a last step, don't forget to add descriptive alt text to your images, preferably with keywords included. Alt text is the alternative text that displays when an image can't load. It's also the text read by audio-based prompters that people with low or no vision use. For SEO, it's how search engine web crawlers (more on these later) identify images to index them and display them in related image searches.
Internal Linking - Internal linking is the action of hyperlinking to another helpful web page within your website. It is one of the core components of Pillar-Based Marketing, which involves creating a network of related content linked together in a strategic way. This encourages folks to stay on your website instead of looking elsewhere for more information. If you'd like to learn more about SEO and Pillar-Based Marketing, click on that internal link in the previous sentence (see what we did there?).
URLs - These are the web addresses that show up at the top of an internet browser. Keep your URLs concise, and maintain consistency in how you organize the hierarchy of your website. For example, adding "blog" into each blog post URL before the title is a common practice and looks something like this.
2. What Is Off-Page SEO?
Off-page SEO is anything you do to improve website rankings outside of publishing content on your website, including:
Backlinks - When other websites link back to yours, it signals to search engines that your website may be an authority on a particular topic. In the past, this has led to paying for backlinks and building fake websites. Search engines have improved their algorithms in response to these schemes so that they no longer reward this behavior. Focus instead on creating fresh and innovative content that naturally earns backlinks from other websites.
Social Media Marketing - An easy way to boost engagement with your website is by expanding your social media presence and marketing. This will increase your brand's visibility, ultimately driving more traffic to your website.
Guest Blogging - In a dream world, folks would ask you left and right to guest blog on their site. But until you make it big (someday!), you'll probably have to be the one who asks. Start by looking for websites that mention they accept guest posts. When you send your pitch in, include a few suggestions of what you could write about and examples of your past work. Be sure to link to one or two of your high-traffic web pages in your writing.
Podcasts - Podcasting is an increasingly popular form of entertainment and knowledge sharing. It's also an excellent avenue for off-page SEO, whether you create your own podcast or appear on someone else's. Reach out to those in your professional network with podcasts and offer potential topics you could discuss that align with their purpose. This will help you reach new audiences, and you may even earn a backlink to your website when you appear as a guest podcaster. As a side note, if you like listening to podcasts, check out Page One or Bust, which frequently features guest SEO and marketing leaders.
3. What Is Technical SEO?
Technical SEO is about making your website's back-end easy for search engine web crawlers to understand and index. Web crawlers are bots that make a record of the internet. This way, when you search for something, the search engine knows right where it can find that information. If you're not a web developer, consider taking a technical SEO course to learn the basics, as some of these concepts are more advanced than what we've discussed so far.
What is a technical SEO example, exactly? Some of the cornerstones of technical SEO are:
Structured Data - Search engines like Google have the technology to find any kind of data on your website, but adding structured data to your site will help the process. This is because structured data makes it easier for search engines to classify content and present your website in more attractive ways on search engines. You can also check out Google's Structured Data Markup Helper for assistance with adding structured data markup to your website.
Page Speed - Ever been frustrated by a web page that's slow to load? In today's fast-moving digital age, a slow website is simply unprofessional. If you want visitors to spend more time on your website, don't waste their time with slow-loading pages. Conducting regular speed tests, reducing image sizes, and using website caching are all standard practices for reducing load times.
Mobile-Friendliness - Near the end of 2022, 51.42% of web traffic in the U.S. came from mobile devices, up from 26.8% in 2015. As you can see, more and more folks are using their mobile devices over desktop computers to access the internet. If you aren't creating web pages for desktop and mobile, you're missing out on a ton of mobile web traffic. Be sure to test your website on a mobile device to guarantee that it works as efficiently as the desktop version.
4. What Is Local SEO?
Local SEO is about developing your website for local search engine results. This is vital for brick-and-mortar businesses that rely on local traffic to support their venture. A few actions you can take to improve your local SEO include:
Google Business Profile - If you still need to claim your free Google Business Profile, do so as soon as possible. You'll have to verify your business location and information either via a postcard or a phone call. This validates your business and gives it more authority in your local area, which can lead to increased local search results rankings.
Consistent Contact Information - Make sure your contact information (name, address, and phone number) is accurate and consistent anywhere it's listed on the internet. This includes your website, social media pages, Google Business Profile, other search engine profiles, and anywhere else you may have posted it.
Local News and Trends - Consider making content around local news or trending topics in your area. By sharing this special content on your various channels, you'll catch the eyes of local prospects and customers. You can also create content around local keywords. For example, a realtor in Chicago could focus their web content around Chicago-specific keywords to pull in folks that are house-hunting in that area.
Looking For SEO Tools for a Digital Marketing Boost?
Then you need DemandJump. Because while you could spend hours and hours completing manual SEO research—why do that to yourself? The DemandJump platform automates keyword research, so you can collect related SEO keywords in seconds instead of hours. All you have to do is type in the search term you want to rank for, and our platform does the rest of the research for you.
Click the button below to give it a go—you know you want to. Besides, it's free to try!