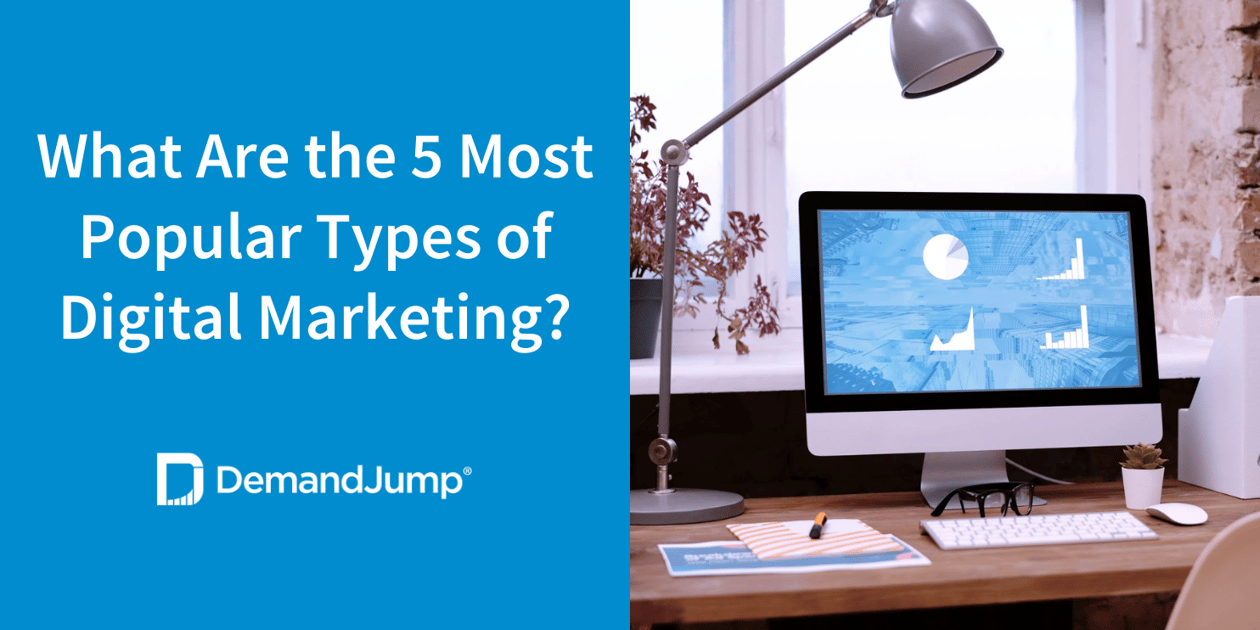 Content marketing, social media ads, retargeting… When it comes to digital marketing, it can feel like you have endless options and no direction. Yet, understanding how to harness the internet to connect with people has never been more important to the success of your business. 62.5% of the global population is online, and 85% of Americans use the web every day (with 31% considering themselves constant users). If you want to sell, you need to be where the people are. And the people are online.
Jumping into the world of digital marketing can feel overwhelming, but it helps to have a starting point. In this blog, we break down the top 5 types of digital marketing and how you can use them to grow your business.
What Are Some Examples of Digital Marketing?
To give some context on what we mean by digital marketing, let's take a look at some examples that you likely encounter every day—like pop-up ads, social media posts, and more:
An email newsletter from your financial advisor letting you know that tax season is rapidly approaching
A YouTube ad for a hammock after you recently Googled "How to install a hammock"
An Instagram post of a Subaru driver loading up their freshly cut Christmas tree with the hashtag #MeetAnOwner
Marketing Channels Examples
Marketing channels are the mediums that you communicate with your customers through. Here are some examples of digital marketing channels:
Social media posts
Emails
Websites
Digital ads
Video content
Podcasts
Webinars
Marketing Tools Examples
Marketing tools are specific programs that help you get the most out of each channel. For example, you may use some of the following to improve your return on investment:
Hootsuite

to schedule your social media posts
DemandJump to find out exactly what your audience is searching for so you know what content to write

Mailchimp

to automate your email campaigns
If you are struggling with finding the time or resources to expand your digital marketing, there is likely a tool to make it more manageable.
5 Most Popular Types of Digital Marketing
While there are many digital marketing methods, several of them shine above the rest as proven ways to get a return on your investment. Still, these methods are not a one-size-fits-all solution to customer acquisition. Each business has different goals and audiences, so you should experiment with digital marketing strategies until you find what works. Then, keep experimenting to find ways to get even better results!

Paid Search Ads
81% of shoppers do their own research online before making a purchasing decision, so it's crucial to show up on search engine results pages (SERPs). Paying to show up on page one can bring much-needed visibility to your business, which is why in 2019, 96% of brands were spending money on pay-per-click (PPC) ads on Google.
While PPC ads can shoot you to the top of rankings, you may not always get the clicks you want. Only 10% of clicks go to ads—the remaining 90% goes to organic listings, which we'll cover next.
Search Engine Optimization (SEO)
Having an SEO strategy can help increase your rankings without paying for ads. You can do this by finding out the commonly-searched phrases and questions about the pain points that your offerings solve. Make sure that your web pages and blog content include those phrases and questions to boost your rankings.
Content Marketing
Content marketing takes SEO several steps forward when actually connecting with your target audience. The key difference between SEO and content marketing is that content marketing writes for readers, not algorithms. This means that readability and answering questions is prioritized over outdated and inefficient tactics like keyword stuffing.
Does conducting keyword research for and writing your own content sound overwhelming? DemandJump takes the stress out of learning exactly what your customers are searching for, so you can focus on providing answers.
Social Media Marketing
Promoting your business on social media platforms like Facebook, Instagram, and LinkedIn can also help you grow your audience. Social media can be especially effective for marketing because people opt-in to following you. Whenever you post, you know that your followers will see your new content.
Which platform(s) you choose will depend on your target audience. For example, YouTube can connect you with the do-it-yourself crowd while LinkedIn is phenomenal for business-to-business sales.
Email Marketing
Email marketing—whether sending out information and coupons for your latest deals or educating your audience through a newsletter—can yield impressive results despite low open rates. Email benefits from being a low-cost channel, so expanding your mailing list and knowing when and how often to send emails can deliver a better ROI.
Which Type of Digital Marketing Is Best To Meet Your Goals?
Oftentimes, the best digital marketing method isn't just one platform or tool—it's a carefully crafted combination that reaches your target audience in the variety of ways they engage with digital media.

At DemandJump, we've found that our customers have had success growing their audience and conversion rate with a Pillar-Based Marketing strategy. At its core, the goal of a pillar strategy is to write a cluster of related content pieces centered around a pillar topic. Each blog goes into detail about a specific aspect or question about the main topic. This allows you to answer the questions that people are searching—which also boosts your ranking on search engine results pages without paying extra for ads.
What Is a Digital Marketing Strategy?
A digital marketing strategy is how you choose and combine different types of digital marketing to support your business goals.
For example, a content marketing strategy could achieve your goal of getting more people to sign up for your newsletter by creating and posting blogs to your website in addition to a social media campaign promoting DIY videos.
Which Platform Is Best for Digital Marketing? DemandJump!
When it comes to getting the most out of your digital marketing efforts, look no further than DemandJump! Our digital marketing platform takes the guesswork out of content creation. Here's how:
Insight reports tell you which keyword phrases and questions your target audience is searching for.
Competitor rankings show how you rank compared to your competition for individual keywords and topics so you know what to focus on to get ahead.
Pillar strategy trees show you what topics and questions to focus each piece of content on.
Content briefs tell you which keywords to include and generate an outline so you can jump into writing.
Don't put off powering your business with digital marketing any longer.
Get Your Free Content Marketing Strategy Report