What Does Content Creation Include?
December 9, 2020 •Amber Peckham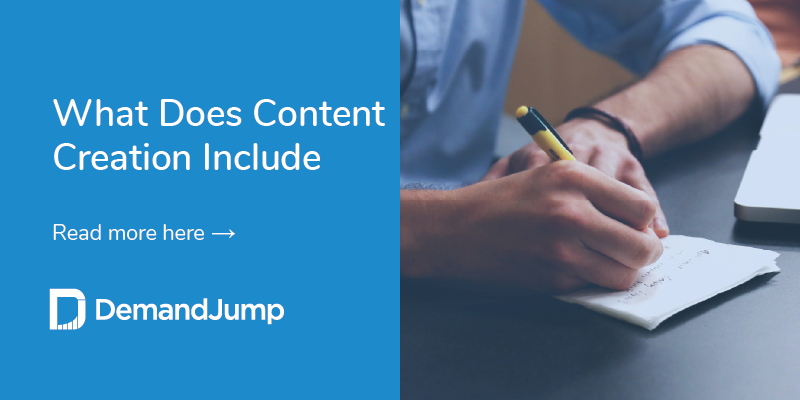 The process of online content creation involves more than simply sending pieces of content into the void. The content creation purpose involves planning what content you will share, implementing your strategy, and maintaining the effort as you learn more about your audiences and market fit. The content you create? That's the relevant websites, articles, digital media, and other mediums which connect with your target audience.
When it all works together, it works very well. But what is included in reaching this state of confidence with your marketing? Here's everything you need to know about content creation. These tips help you capture your best customers' attention through smart, engaging content marketing campaigns.
How Do You Describe Content Creation?
Content creation is the effort to entertain, inform, and ultimately win over your audience through content to help you achieve a goal. For personal content creators, the goal might be to share perspective and grow the following for an idea or philosophy. For businesses, the goal is often to drive revenue, whether by getting new customers or retaining old ones. Achieving this reach usually hinges on a balance between sharing brand values, news, thought leadership, and insight into the business' products and/or services.

Whether it's sales collateral or a marketing whitepaper, whatever written or visual materials you create to do work and win business are part of your content library.
How Do You Define Content Creation Goals?
Content can do a lot for you, but it can't do it all at once. At least on the marketing and sales side, it's best to set out with a defined content creation goal. Here are some tips for how to decide on those goals.

Check the Overall Strategic Plan: Your goals for content should always be in alignment with the current top goals for the business. Do you want to attract new customers? Retain existing customers? Promote a new product or service? You might want your content to do it all, but each goal needs a distinct strategy to support it. If you try to move the needle on all the options at once, the content will lack focus.
Dig Into the Data: If the business goals are too broad or don't give the direction you crave, the next place to turn is data. You can start with data from sales and marketing, learning more about the most profitable and loyal customers in your pipeline. What resonated with them? What information was most important to them? With this data, you can inform new goals to attract more customers like them.
Listen and Learn: While you're setting and developing your content creation strategy, you should also stay in touch with trends and consumer behavior insights that are emerging and evolving. That's why a weekly or bi-weekly look at a platform like DemandJump can be so valuable. Our powerful algorithm draws in consumer behavior insights related to the high-value search terms you want to rank for. You will be able to see what questions your audiences have about your services and products, and change your focus along with consumer sentiments and needs.
Content Strategy Framework
The process of content creation and management begins long before the first frame of a video, the first sentence of a blog, the on-air of a podcast… It begins with a content strategy framework, or mapping out your agenda. Here's what you need to understand the big picture before starting to plan tangible content elements.

Define your objective. Think about what you want your call-to-action (CTA) to be for the entire content marketing campaign. Are you encouraging people to download something? Fill out a form? Schedule a demo? Or maybe you're focused on social media content creation, meaning you want likes, shares, and comments. Explain your objective in specific, measurable terms.
Define your audience. Who is your audience, and what do they value? Further, what reason do they have to look at your content? Without a good understanding of the type of audience you are reaching and why, , you're shooting in the dark, leading to vague content objectives and weak messaging. You also don't have the power to course correct if you need to reach a different audience than the one you are currently.
Define your voice. Voice is the personality of your brand beyond the specific topic being discussed. Think about the specific language that will help capture your culture and unique market position. Develop keywords. Clarify terminology. Your voice must be consistent, and it should be part of the framework behind executing content.
Content Creation Workflow
Once you've created your content strategy framework, it's time to form your team, assign roles, determine deadlines, and come to an agreement of what your content creation plan will look like. This involves a host of valuable team members, all of whom must understand their role in content creation workflow.
Consider the responsibilities in front of you: messaging, content writing, web page creation and maintenance, videographers, media personalities, project management. Don't focus on the size of your team or your current capabilities, as that might limit your strategic thinking. Instead, determine the jobs that will be necessary to finalize the entire process. This will let you think creatively about how you'll break down those responsibilities.
If your content creation plan requires five blogs linked to an infographic, you'll need to connect a content writer with a graphic designer to streamline their messaging. Will your social team be working in connection to publication dates of podcasts? Who's responsible for engaging all of this to maximize SEO optimization? Identifying these jobs and filling them with the right people will help connect with your audience.
Map these pieces early on so your team can function as one, all while staying consistent to your content framework.
What Is the Meaning of Content Development?
Content development to us means leaving flexibility for the plan to change and develop during the content creation process. Midway through, check if your content creation status is still in line with your initial plan. Do the same at the end of the project to gauge how successful you were, as well as any improvements in process.
What impact did the process of content creation have on your audience? Did it create leads, new followers, a bigger email list? Define the measurable aspects of your goals, record them, and begin the process of content development over again.
You learn more about your audience based on whether or not their response matched the actionable objectives you created at the beginning of the project.
What Is the Meaning of Digital Content Creation? DemandJump's Data Brings Clarity
Despite all the high-level discussion, sometimes you just want someone to tell you exactly what content to create so you can win page one rankings on Google. Wouldn't that make your life easier? If so, you should try DemandJump. Our platform is free to use, generating Insight Reports about the key search terms and phrases you need to win on search engines to get in front of your audience.
Each Insight Report collects thousands of hours of research, revealing the top keywords you need to write for. We also show you how you are already ranking for these terms, how your competitors are ranking, and what you need to create in order to rank better.
End-to-end, from framework to content organization to efficacy analytics, DemandJump helps you develop content and then learn what's connecting with your audience.
Get Your Free Content Marketing Strategy Report