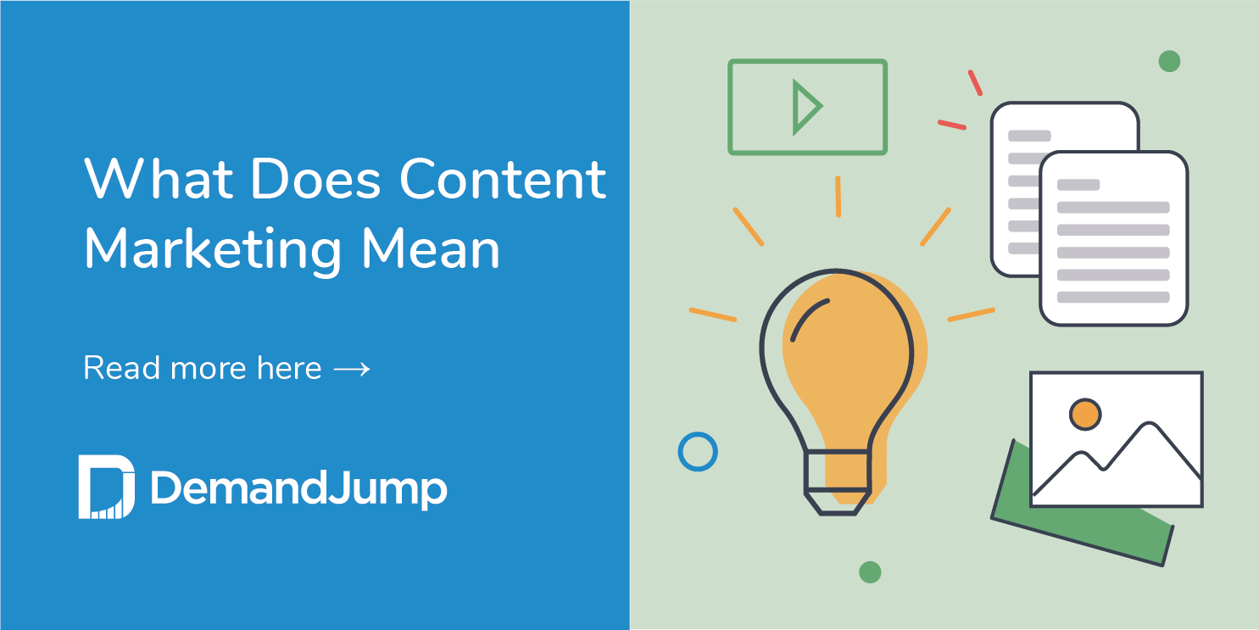 Content marketing gets confused with a lot of other communication avenues for businesses. Tell someone you're a content marketer, and you might hear responses like, "So you're essentially advertising, right?" Wrong. "So you're a writer for any internal and external content for your brand?" It's more involved than that. "Kind of like PR?" Get out of town.
To be fair, content marketing does operate in a nebulous zone when trying to explain it to someone outside the field, but the core content marketing definition centers around establishing a meaningful connection between you and your audience's interest through informative, engaging content.
In other words, the central role of content marketing is all about providing valuable content that your best customers will find as they are looking for specific information or a solution to some problem. With well-conceived blogs, emails, social media posts, and more, you can provide your audiences with everything they need to overcome their challenges—with your help, of course.
To add to our definition of content marketing, let's next look at the purpose of content marketing. Then, we'll discuss a few examples of content, define the essential elements of an effective strategy, and provide an overview of how DemandJump empowers content marketers to create exceptional content by demystifying search engine optimization (SEO).
What Is the Purpose of Content Marketing?
A content marketer's job is less about overt "marketing" and more about forging genuine connections with prospective customers by creating and publishing informative, valuable content.
On a larger scale, content marketing's prime objective centers around identifying what's valuable to the audience, establishing a unique, consistent brand voice, and promoting content that provides clear value and builds trust. When a content marketer is really in their element, their readers don't necessarily know they're reading anything related to marketing!
Next, let's look at a few of the most common forms this content can take, by way of examples.
What Are Examples of Content?
Modern content marketers rely on several different types of content, often delivered and promoted through multiple channels (like website content, social media posts, etc.). The intent is simple: to engage prospective customers, introduce them to your brand, and show that you understand—and can help solve—the questions they have, or the issues they might be facing.
Let's say you work for a company that sells record players. In brainstorming potential avenues for content that might resonate with your target audience, here are four types of content marketing you might consider:
Blog posts: You could decide to write a series of blog posts addressing frequently asked questions about record players. That way, people who are thinking about buying a record player and start searching for information, you can be right there with the content they're looking for.
You might write blogs like:
"The Ultimate Buyer's Guide to Record Players"
"Five Things to Look for in Your First Turntable"
"New vs. Used: Which Record Player Should I Buy?"
"The Best New Record Players in 2022"
Infographics: Let's be honest—not everyone wants their information in paragraph form. Some of us see more than a few paragraphs of uninterrupted text on a webpage and we're outta there. Infographics are a great way to represent key information in a highly-visual format that's also highly-shareable on social media.
Social Media Content: If you want to reach potential customers where they're at, look no further than social media. Depending on your industry and audience, you might leverage channels like Facebook, LinkedIn, Instagram, and Twitter to engage with prospective customers, grow your brand, and promote other forms of content.
Case Studies, eBooks, Whitepapers: We're lumping these together because they are terms that tend to get used interchangeably. Think of them as a more formalized (or "businessy") product than a blog page or website content. These forms of content often include research/data, testimonials, or elements of thought leadership (content-marketing-speak for making waves with new ways of thinking about something).
With any of these types of content in digital marketing, the intention is roughly the same. Picture this: Juliet is going to college and wants a record player to liven up her dorm. Being a college student, she doesn't have a ton of money lying around—and being a relatively novice vinyl collector, she's a little intimidated by all the options.
"Why are some record players $75 and others $500? I don't get it. Maybe I don't want to get into this after all."
Later, she comes back around. She decides she does, indeed, want to buy a turntable—but she doesn't want to spend a lot. And she doesn't want to feel like she's being ripped off. So she goes to Google, and types: "what to look for in a record player" and immediately knows she's on the right track.
So she reads a few blogs, learning about different manufacturers and the features that separate good record players from crappy ones. She's able to determine her budget and learn a lot more about record players.
Through her research, she's exposed to content written from all sorts of different perspectives, which plays a large role in her decision. If there's one thing the companies producing the webpages she finds—and finds value in—have in common, it's that they understand the basics of content marketing and search engine optimization (SEO).
She also remembers which companies' content felt too salesy (and caused her to feel some distrust toward them) and which companies felt like they were "speaking her language." It turns out, a blog titled "Five Things to Look for in Your First Turntable" really spoke to her. At the end of the post, she clicked on a link to learn more about the particular manufacturer's offerings. She liked what she saw, found the perfect turntable, and pulled the trigger on a purchase.
The point of this success story example? It demonstrates what marketers have known for decades—that customers prefer to buy from and work with companies that they trust. They like supporting companies that have similar values or a worldview that resonates with them. And this is the essence of content marketing. Content marketers' work is what establishes a brand's identity, brings their products and perspectives into the conversation, and differentiates them from their competitors.
What Are the Essential Elements of a Content Marketing Strategy?
Now that you understand the main objective of content marketing and the types of things a content marketer might publish, we're ready to discuss the final piece of the puzzle. We're, of course, talking about developing a comprehensive content marketing strategy that will resonate with your audience and grow your brand. So, what goes into an effective content marketing strategy? Here are a few of the most-important points:
An effective content marketing strategy starts with a foundation of keyword research and audience understanding. What are the types of questions your prospective customers are looking for answers to? What problems are they looking to solve? Once you understand what they're looking for, you can create strong content tailored to their particular needs.
DemandJump's

keyword research tools

enable content marketers to quickly identify and understand their prospective customers' questions and pain points in order to write content that will resonate with them.
Another element of effective content marketing involves understanding concepts like market share and competitive positioning. What kinds of content are your competitors publishing, and what kind of success are they having? What keywords or questions provide the greatest opportunities for your brand to inspire buyers and increase market share?
To learn more about how DemandJump helps companies dramatically improve their position within search engine rankings, check out our Page One or Bust podcast.
Finally, you'll need to write, publish, and promote great content. While there's no true "shortcut" to the perfect content, there are sophisticated tools available to make content writing feel like less of a burden and more of a breeze.
DemandJump's Pillar Strategy dashboard makes it easy for content marketers to harness the power of

Pillar-Based Marketing

(PBM), a new way to develop content that drives positive outcomes.
For individual content pieces, DemandJump's one-click Content Briefs provide writers with an organized set of keywords to include in their material.
So, to recap:
How DemandJump Makes Content Creation Easy
You may find yourself understanding everything about content marketing so far, but wondering: "how do you know what to actually write about?" That's where DemandJump comes into play.
At DemandJump, we're obsessed with content. More specifically, we understand content marketing inside and out and are passionate about helping our customers to see real results through Pillar-Based Marketing, a unique type of content marketing that helps brands establish authority and connect with their customers.
The DemandJump platform was built with one objective in mind—to help content marketers better understand their audiences so they can create the types of content that will get their brand the exposure that comes with improving their search rankings. In other words, when your target audience is searching for information related to something you can provide, we want to make sure they find you (via your content).
You can sign up today—for free—to run your first Insights Report. In just minutes, it will provide you with invaluable data around the exact keywords and questions your prospective customers are searching for right now.
More than just keyword research, DemandJump also lets you see the exact language customers are using when they perform their searches. This might seem like a minor point, but it provides greater insight into the kind of language and voice you should tailor your content to.
Curious about the competition? You can also see where you currently rank for search terms and questions—and how you compare to specific competitors, on a keyword-by-keyword basis. With your high-value keyword list in tow, then, you can even create one-click Content Briefs, which help to organize and develop the best content possible.
Finally, our website is also home to a number of resources you may find valuable. For example, you can:
Learn the ins and outs of PBM and effective content strategies by enrolling in a content marketing course through DemandJump University.
Create a free account to get started with our tools today. Competitive insights, content recommendations, and more are just a couple clicks away!
Use the button below to get started.
Get Your Free Pillar Strategy Report