What Is a Pillar Page? Example and Ideal Structure
February 18, 2022 •Josh Daugherty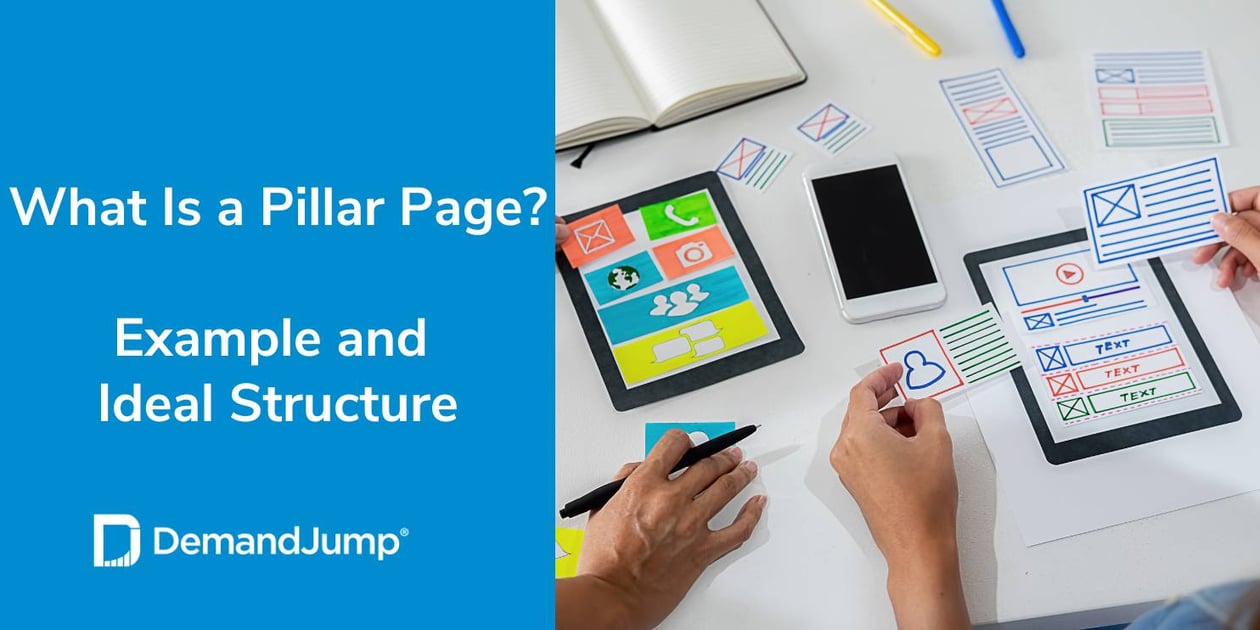 Content marketing can be maddening. For example, why does it sometimes seem like no matter how much SEO keyword research we perform, the results (in terms of website traffic) fall short of expectations? Is it a matter of having the wrong keywords, or a matter of how they are used in content?
It's a combination of both. The right keywords are crucial, but so is how they're used.
When a search engine provides a user with a page of results in response to a query, the pieces of content that rank highly are those with strong contextual relevance. By contextual relevance, we're referring to Google and other search engines' algorithms for ranking content within search results. While they use complex algorithms to ultimately determine search rankings, there are tried-and-true methods for increasing your chances of position one placement.
When a high-quality Pillar Page is paired with a network of related blogs, the strategy can increase web traffic exponentially.
In this post, we'll be looking at what an SEO Pillar page is and some helpful Pillar Page examples, and offering some guidance on how to write a Pillar Page that ranks!
What Is a Pillar Page?
To put it simply, a Pillar Page is a high-level piece of content that explains a single topic (and closely-related sub-topics) or answers a broad question. For optimal SEO, a Pillar Page should be linked to other, shorter pieces of content to drive its authority. A Pillar Page by itself doesn't draw in a whole lot of results, but when it's used as part of a content strategy, it becomes a powerful force in driving traffic to your website.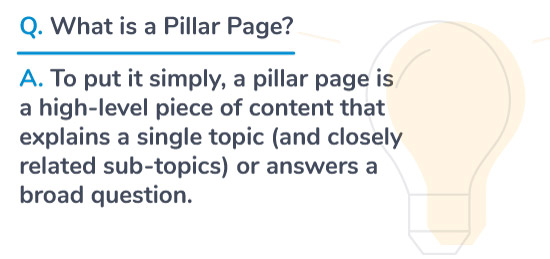 How Long Should a Pillar Page Be?
A good rule of thumb for a Pillar Page template is typically around 3,000 words. Blog posts, by contrast, should be about 750 words.
Is a Pillar Page a Landing Page?
Pillar Page vs. landing page: what's the difference? While they may look similar to the untrained eye, the biggest difference between a Pillar Page and a landing page is in each's purpose:
Pillar page: Establishes web authority for improved search placement and increased traffic to your website; contains links to pieces of related content
Landing page: Serves as an entry point for potential customers, to convert page visitors into leads; usually contains a contact form or other call to action (CTA)
Once you know what you're looking for, you'll start recognizing Pillar Page examples everywhere.
Keep in mind that many organizations choose a Pillar Page design that puts brochure content at the top of the page—think videos, case studies, pricing, etc.—and the meaty Pillar content beneath the fold.
Where Can You Find Content Pillar Examples?
The internet's full of content Pillar examples—of wildly varying quality. For a solid example, look no further than our own website. While not a pillar piece in itself, the blog you're reading right now is a piece of content that's part of a broader pillar strategy around SEO keyword research.
Go ahead, click the "SEO keyword research" anchor text (in the first sentence of this piece) to check it out! It's worth pointing out that the link will take you to a hybrid landing page/pillar page. The initial content, which suggests you click a "Try It Free" button is landing page content. Scroll past that to find the pillar content, titled "A Comprehensive Guide to SEO Keyword Research."
How to Create a Pillar Page (Example Process & Result)
So, how do you write a Pillar Page? Let's take a look at the process for creating one, again using the SEO keyword research Pillar published on our own site as a sort of Pillar Page outline.

DemandJump's podcast, Page One or Bust!, often discusses PBM best practices. In the clip below, our writers discuss how they typically go about creating a Pillar Page. For the full episode, follow this link.
Step 1: Perform Some Keyword Research
Using a keyword research tool like DemandJump, the first step is to run some insights reports to identify keywords and topics that people are looking for. After all, there's no use writing 3,000 words about something no one cares about! Effective keyword research is the foundation of the entire strategy—when you strategize around high-value keywords, there's a good chance your pillar will be effective.
DemandJump not only automates keyword research but enhances it with real-time, up-to-date insight reports. We make it simple to see what your potential customers are searching for, what your competitors are ranking for, and how you can strategically enter the mix with robust, traffic-generating content. Once you start publishing content, you can dig deeper into how your keywords are performing, helping you plot out your next moves.
Step 2: Plan Topic Clusters and Create an Outline
By performing keyword research and evaluating searcher intent, you create effective topic clusters. Think of topic clustering as if you're developing a content ecosystem. The hefty Pillar serves as the backbone, but SEO gains are truly realized through the creation of shorter blog posts around related topics. In these posts, you'll aim to answer direct questions—for example, this blog post (hopefully!) answers the question in its title, "What Is a Pillar Page Example?"
It might help to think of a content cluster in terms of how Google displays search results to a query.
Notice how Google offers some "People also ask" suggestions? Those could be blog topics, or you could use them to guide what content to include in what you're writing. The same goes for the related searches displayed at the end of the first page of results. The job of your Pillar Page (and larger content strategy) is to connect those dots and provide high-quality information.
Within the DemandJump platform, these relationships are visualized. For example, here's an excerpt of the pillar strategy outlined in relation to "SEO keyword research." From left to right, you can see topics branch out into smaller, more specific topics—these would be ideas for blogs.

Step 3: Draft, Publish, and Link
As you write the content of your pillar page, you want to use as many high-value keywords as you can without going overboard and "keyword stuffing" the piece. For a roughly 3,000-word pillar, shoot for around 15-20 keywords as a foundation.
As you're drafting, consider the reader's experience. One of the pillar page best practices that can help with both readability and establishing authority is to use plenty of headers (H2s and H3s) to make it easy for a reader to skim through the content if they're looking for something specific.
When you can use high-value keywords in your headers, that's ideal. For example, a few of the keyword phrases included in this blog make up its first few headers—what is a pillar page, how long should a pillar page be, and pillar page vs landing page are all keyword phrases this piece is designed to rank for.
The SEO keyword research pillar example we've been looking at uses no fewer than 15 keywords, many of which are seamlessly used in headers throughout the piece.
As you write and publish the blogs that support the pillar, you'll link back to your pillar page with each one. This goes back to the idea of a content ecosystem and how Google understands content's relevance. You create blogs that will answer basic, commonly-searched questions. Then, as each of those pieces links back to the pillar page, it helps elevate your pillar page in terms of perceived relevance. This ultimately increases its chances of ranking on page one of the search results.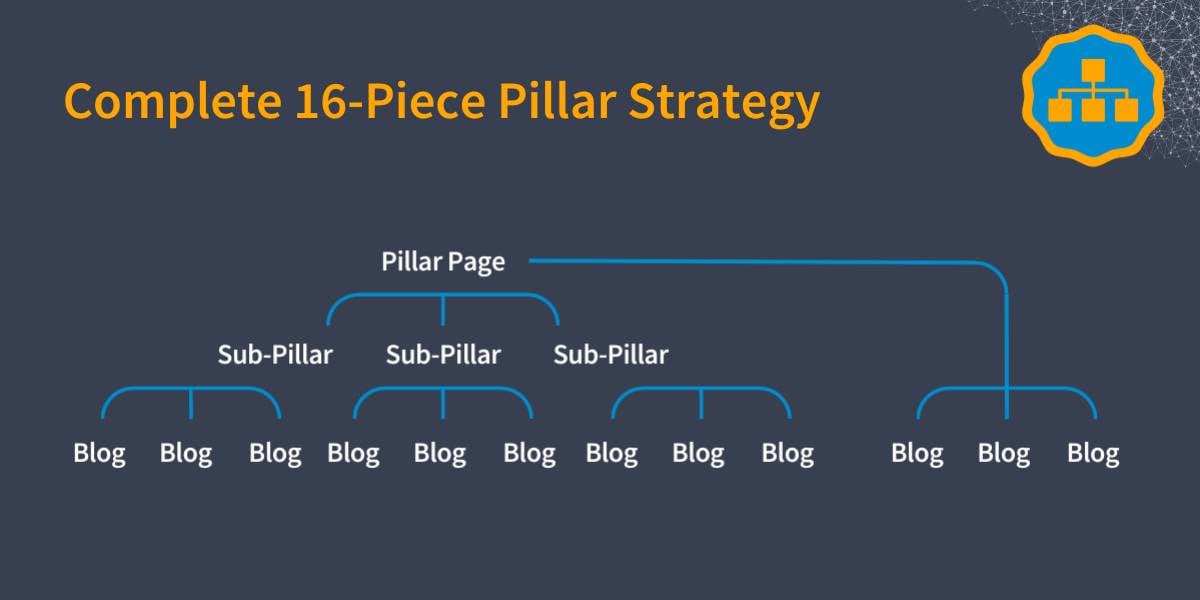 Are You Ready to Create Pillar Pages that Rank?
We've only scratched the surface of how an effective pillar content strategy can help drive more traffic to your website. There's really only so much we can say without showing you. The good news is that you can try it for free today.
(Now, if you've been paying attention, you can see what we're doing here. At the end of our blog, we're linking you over (again) to the landing/pillar page, where you can find more in-depth information about developing a content pillar strategy and effective topic clusters. This time, though, we're not sending you there to check out the pillar. No, this time we're hoping you'll go ahead and click the orange button to give DemandJump a try. This is what content marketers describe as a call to action!)
Get Your Free Pillar Strategy Report