Search engine optimization (SEO): an idea often talked about, yet rarely understood, and even less frequently achieved. Why is that? Well, for one, it's a very complicated target to hit. None of the solutions are simple, and none of them work in isolation either. SEO marketing strategies require a lot of moving parts, working together, to achieve consistent results. You need a solid, well-thought-out plan.
If you're looking to start that plan for your organization, DemandJump has you covered! In this piece, we'll go over the basics of an effective SEO strategy. We'll give you a brief overview of how SEO works in digital marketing, the four main types of SEO, and some of the tools we use when creating an SEO plan for clients. Once you've read through this, we highly recommend looking at our other resources, including an SEO plan template for free download.
What Is SEO and How Does It Work?
Search engine optimization is the process of increasing search engine traffic to a website or web page. While this may sound simple, there are a lot of components that go into making SEO happen. Legacy tactics have focused on things like using keywords to appeal to search algorithms. While this does help increase SEO, keywords are just a small part of what makes SEO happen. Using keywords is meaningless without a message or strategy behind them. Remember, you aren't writing for search engines; you're writing for people. SEO should work in service of your message—not the other way around.
In general, there are four types of SEO to consider: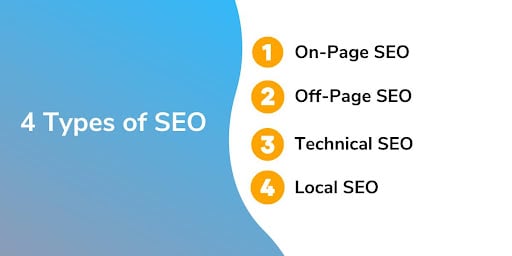 On-Page SEO | This refers to the actual content on your pages and the effect it has on your search page rankings. This is where using keywords comes into play; the more relevant your content is to how people search online, the more likely it is to rank high in search engines. At DemandJump, we help you identify keywords that are high-value, then use those keywords to build your

content Pillars

.

Off-Page SEO | As the name suggests, this is everything off of your page that increases your SEO authority. Off-page SEO is mainly boosted by outside content that links back to your content, such as press releases, blogs, social media, or other content that backlinks yours as a source.

Technical SEO | The nuts and bolts of an SEO strategy, this considers your UX design, how easily your pages load (including on mobile devices), and whether your content is varied enough. Repetitive, stale content loses out on technical SEO value, so it's important to keep the things you share fresh and unique.

Local SEO | To understand how important this type of SEO is, all you need is two words: "near me." Content with higher local SEO ranks better in its respective geographic region. Using tools like a "Google My Business" profile can help you in this department, provided you keep it updated with current business hours, customer testimonials, and your contact information.
SEO, then, is how well all four of these factors in your content pair with the way people search online. High-value content that is relevant to users, referenced by other content creators, technically sound, and locally present is very likely to achieve search engine optimization.
How Do I Make an SEO Plan?
To form an effective SEO plan, you need to consider all four SEO types individually (on-page, off-page, technical, and local), and develop a strategy for each one. You need to ensure that all four types of SEO are interacting with each other, working toward the same goal. These plans you form are not static, either; they will need to change with the times, as well as with your target audience's search behaviors. That, among other reasons, is what makes achieving SEO a complex target to hit.
This is not cause for concern, though! Ultimately, it all boils down to answering a some key questions:
What are your

most important messages

as a company?

What consumer problems does your organization solve?

Who are you trying to reach with your product or service?

What tools are you using to

research your audience

?

Does your website load quickly, and have good mobile responsiveness?
Knowing your audience—and writing content that prioritizes what they are looking for—is the true key to ranking higher. This is the foundation of Pillar Based Marketing (PBM), our central strategy at DemandJump. There are no tricks, no amount of keywords you can stuff into a page that beats creating helpful, relevant content.

Can I Do SEO on My Own?
Yes—you certainly can! Contrary to what some may have you think, there is no magic, mysterious solution to SEO that you can't do yourself. It's a complex strategy, yes, but it's not a riddle. In fact, all of the answers are laid out in how people search for answers online.
Increasing traffic to your website doesn't have to feel like paying a troll toll to cross the bridge into success, or solving a sphinx's riddle. That may come as a surprise to hear from us, given what we do. You're likely wondering, "well, if I can do this myself, why even work with a marketing company at all?"
The honest answer is this: you should still work with a company, but only one that 1) understands how to write compelling content, and 2) has the data to back that content up. Well, it just so happens that at DemandJump, we have both of those things—and more.

SEO Success on Demand(Jump)
There's no need to complicate the path to page one rankings. All you need is a message, and the tools to reach your audience. DemandJump helps you with both. Through our Pillar-Based Marketing (PBM) strategy, we help organizations craft their message into compelling content. We do this by using the language of their consumers as building blocks—thanks to our Consumer Insights platform, which gives us Google Search data on any topic. With the knowledge of how internet users search and the skill to write compelling content, topping search engines is much easier than you think. All it takes to get started is signing up for a free account with us. You can also reach out to us, anytime!