What Is Media Attribution?
December 8, 2020 •DJ Team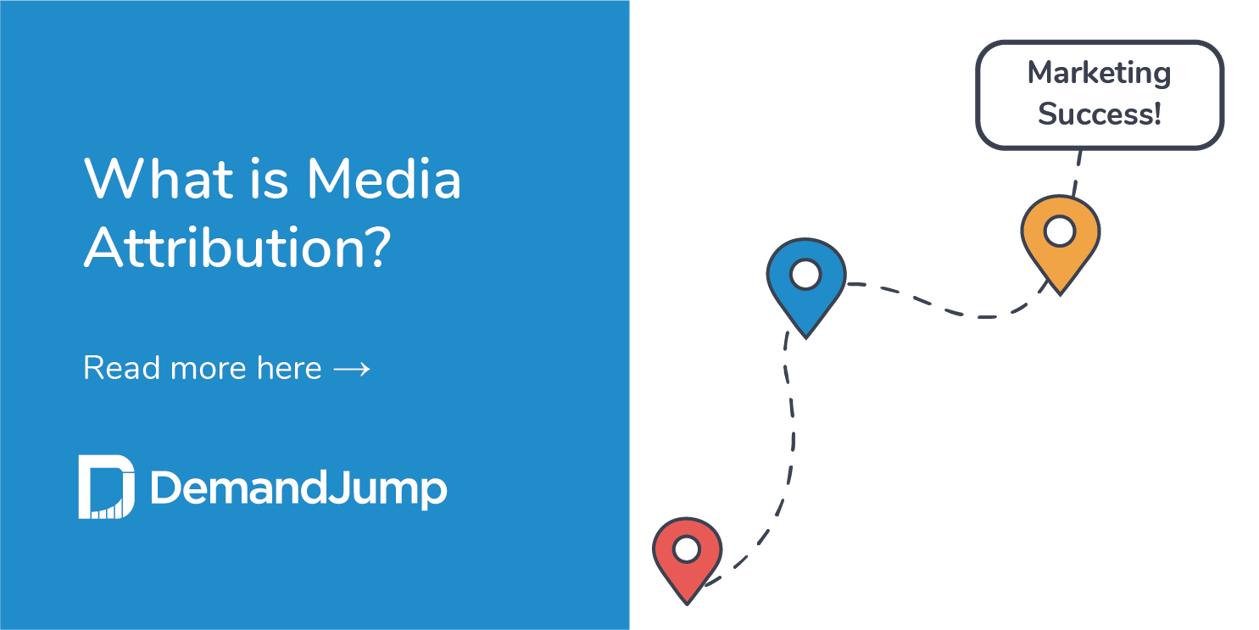 From 2017 to 2019, marketing spending in the U.S. rose by over $6 million. 25% of this spending is related to media placement! Whether it's pay-per-click advertising, social media outreach, or traditional print and television advertising, the cost and importance of getting your message heard is rising all the time. And the smaller a business is, the more of its revenue is allocated to marketing—businesses of 1-20 employees may spend as much as 25% of revenue on marketing, compared to 7% at businesses with 1,000 or more employees.
All this is to say, it's more important than ever for small and mid-sized businesses in every industry to find simple ways to determine which media channels are actually providing a return on their marketing investment. Enter the concept of media or marketing attribution. Let's unpack this concept and how it makes a data-driven marketing budget easier than ever to figure out and implement.
A Simple Definition of Media Attribution
Media attribution is the practice of monitoring and tracking which media channels make the biggest impact on your customer engagement and ultimately, your sales. Finding out which content, promotion strategy, and media platforms make the perfect combination for your bottom line lets you make the most of your marketing spend.
In this day and age, it's unlikely that one media channel alone is the magic solution for your marketing. Even low-cost products are researched and compared across search engines and social media before a purchase is made. Instead, media attribution is about tracking the customer's path to discovery of your brand across multiple channels, pieces of content, and perhaps even multiple devices they own.
Digital Media Attribution Models
There is no one-size-fits-all media attribution model for a business. In fact, different marketing campaigns may benefit from being measured using different models. This will be determined by the complexity of the strategy, how long the campaign is planned for, and how many channels are used, among other factors. There are three basic media attribution models, each representing a different level of technical marketing maturity:
Assisted Conversions: This simple approach to media attribution can be accessed through tools like Google Analytics. In this model, all the user interactions that happened prior to their conversion interaction are tracked and reported by media type. These include segments like display ads, mobile ads, search ads, and more. This lets you know which media channels are valuable parts of your customer journey, even if they aren't the very last interaction that seals the deal.
Rule-Based Attribution:

Sometimes known as multi-touch attribution, this is an intermediate approach to media attribution that assigns each channel a tangible percentage of the credit for attracting and winning customers. However, this is assigned based on rules you define. Playing with different rules-based models will let you see which channels are performing best for first click, last click, and closer in time to the conversion, but you might not have as much insight into unique consumer behavior across channels.

Algorithmic or Data-Driven Attribution:

The most advanced model of media attribution is data-driven attribution, which uses machine learning to evaluate and judge the media paths that are converting versus not converting. By analyzing the data of what actually happened, the algorithm can then make projections of what could have happened differently based on changes in the marketing strategy. This not only tells you what media touchpoints are driving conversions, but which ones could hypothetically drive conversions better in the future. The one speed bump is that an account must generally have at least 600 conversions in 30 days for there to be enough data for the machine learning to function.
Experimenting with different media attribution models will help you gain perspective on your strategies and learn what works best for different kinds of content.

Choose a Media Attribution Tool That Also Prescribes Strategy
You don't have to achieve high-volume conversion metrics in the next 30 days to put machine learning at work in your media attribution. We developed DemandJump to draw in data from all your media channels in real-time and provide on-demand insights about campaign performance. Based on the search habits and content consumption by your target audiences, our platform makes keyword and content topic recommendations, and can even create an automatic SEO content outline.
Demand Jump not only provides essential media attribution data to inform your marketing budget allocation, but also helps you create the content that will keep inspiring conversions as you fine-tune the placement. Sign up for a free trial today and learn just how quickly our platform can make a difference for you.
Get Your Free Pillar Strategy Report