Why is Content Creation Important?
December 7, 2020 •Amber Peckham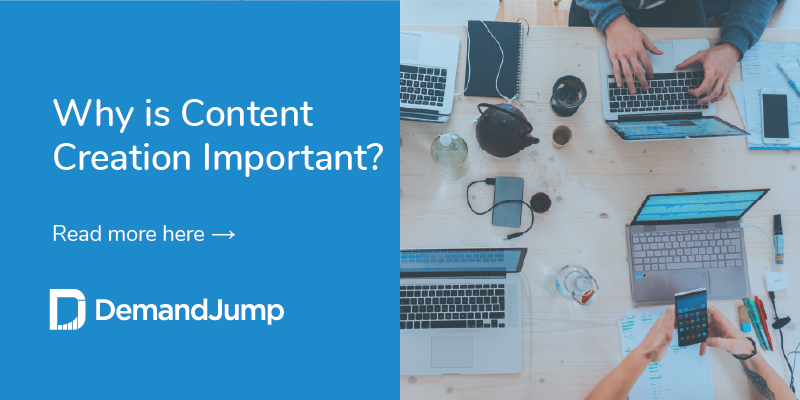 The importance of content creation in business is the importance of the competitive edge. Content is what makes your company stand out from the rest, qualifies your leads, and keeps existing customers engaged and satisfied with your brand. How do you get the most out of this investment? Here are our thoughts on the matter.
What Is Content Creation?
Content creation is the act of conveying information through written word and/or visuals. Then, publishing them for others to see. Most content creators have a goal or purpose behind what they are doing. For example, a teenager making a TikTok video is creating content to try to get likes and shares and to connect with their online community of friends. A clothing business hiring a photographer and model is creating content for their clothing catalog. This will then translate to their social media platforms with the ultimate goal of selling their clothing. The purpose of content marketing defines what is created and where and how it is shared.

Why Is Content Important?
Though content is all around us, it can still be hard to pinpoint why content creation is important. Content is a powerful form of inbound marketing. Traditional outbound marketing meant making cold calls and throwing ad campaigns hoping to get customers. Digital content marketing offers the customer something of value and draws them to you. The content does the work, plus it's 62% cheaper than traditional marketing tactics, and it brings in 3 times as many leads.
Why is content creation important for businesses? Content creation both attracts new customers and retains your current customers while creating brand loyalty along the way.

What Is the Purpose of Content Creation?
Content creation shouldn't be about dressing up an advertisement in a disguise and hoping you fool people - it should be about showing your brand's personality. That includes not just your company values, but sharing what you know and are experts at. Tweeting an ad about your product and using trending hashtags blindly doesn't show your customer that you're an expert in your field. Filming a how-to video that shows how to achieve results is an example of quality content that engages audiences.
Try to think about creating content that you are interested in consuming. You can also ask what your team thinks is engaging. Odds are that if you aren't excited about creating it, your customers probably won't be excited to read or view it. While having content is important, quality is also an important piece of the puzzle that shouldn't be overlooked. Quality is one of the ways to achieve goals through content creation…but what else?
How Do I Start Content Creation?
Use the resources that you have - talk to your team and bounce ideas off each other! Look at your competitors and see what types of content they are sharing. What sort of public responses can you see? Did they post an infographic that got hundreds of likes and shares? Consider creating your own infographic that is specific to your business.
Through DemandJump, you can even see what keywords your competitors are ranking for and which pages on their sites are giving you the most competition. This will let you think strategically about the next type of content to create. If they have a webpage that is ranking well, maybe a social post or video on that topic will also reach the same audience?
This leads us to who we believe should be at the core of content creation, the audience. What questions and insights are they searching for as they discover a solution like yours? Whether you're selling clothing or a CRM platform, your audiences are often starting their buying journey with questions and a search engine. With a free DemandJump account, you can see exactly what questions and keywords they are searching for.
With this insight, put yourself in their shoes and do some brainstorming. What type of content do you think they would be drawn to? A big part of creating quality content is knowing WHO you're creating that content for.
Consistency Is Also Key in Content Creation!
Content marketing can be difficult. There are audience insights to uncover, a strategy to set, content to create, and then measuring and reporting on outcomes. With a significant majority of companies now using some form of content marketing, it's unlikely you're starting from zero. But new businesses or new professionals might need some insight on the basics–and hey, even old pros can benefit from time to time.
Whether you're building from scratch or trying to improve your content strategy, rest assured that consistent data-driven efforts will pay off eventually. Some marketers consider this the "flywheel effect." While it takes a lot of energy and time and effort to get started, without seeing much reward, once you are consistently pushing out content and climbing the search rankings, you'll start to see the leads and sales exponentially grow.
Posting quality content consistently is an important part of content creation. A small example can be seen with blog post frequency: companies that post 16 or more blog posts per month receive 3.5 times more traffic than companies with 4 or fewer blogs posts per month.
Does that seem daunting? Keep in mind that the best content creators know that all of their content can be reformatted and used on different platforms to get the most bang for your buck. Not only that, but you can recycle and reuse content and share curated content from other relevant sources in order to keep publishing on a frequent schedule. If you don't have an internal team of content creators, you can always outsource this work to a content agency or vendor.
Why Is Content Creation Important in Social Media?
90% of marketers say social media has a direct impact on their revenue. Content creation for channels like Facebook and YouTube Live or Instagram Stories has special potential to grow brand awareness and loyalty among younger generations. However, this also requires a dedicated person to create social content in demand and in response to trends. To fill in the content calendar, you can also share your blog posts and web pages on social media. Social media can also be a valuable channel for getting customer reviews and feedback in comments.
How Can DemandJump Help? Create Content That Is Interesting to Your Audiences
Why is content creation so important? Because it's what makes the internet interesting. From social media to viral videos, businesses have their own unique place in the conversation. Standing out on each channel requires meeting your customers and prospects where they are in their buyers' journey. Interesting content, served at key touchpoints, is how you win over audiences.
When it comes to understanding how to delight your customers, DemandJump is a leading resource for consumer behavior insights. DemandJump uncovers the most important topics for you to focus on when creating content. You can see consumer search queries, like the top keywords that people search for that are related to your business. These help you figure out what content and information will engage your target audience. Make the most of content creation's important role by leveraging the insights from DemandJump!
Get Your Free Content Marketing Strategy Report