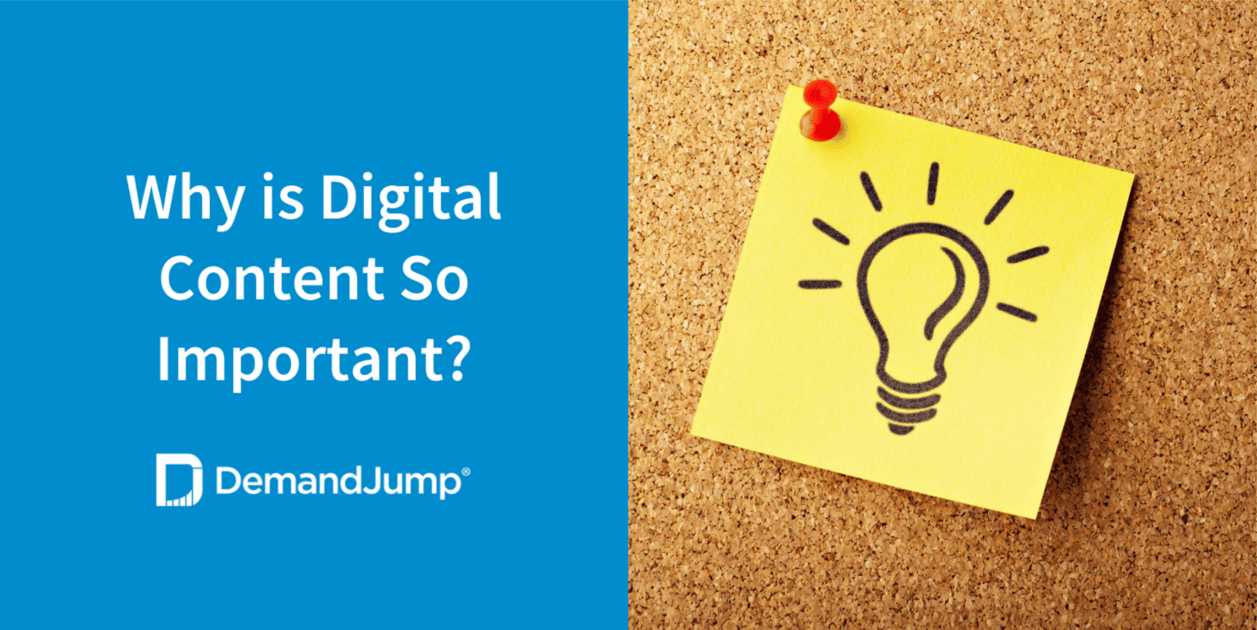 Digital content is important because it's the reason people get on the Internet. If it wasn't for digital content like websites, blogs, emails, video, et cetera–what would the Internet even be? Just a blank screen and a spinning circle of death? It confuses me just to think about it.
Yes, digital content is important because it's what online audiences are looking for, even what they expect. But what exactly makes digital content marketing worth the investment? In other words, what is the importance of content in digital marketing? That's a more complicated question. Luckily it also comes with a pretty straightforward answer. Let's unpack the longtime claim that "content is key" to make it perfectly clear how your digital marketing can progress to the next level through higher-quality content.
Why Is Content and Value Important?
A lot of marketers will tell you that content and value is important because a value proposition is how you inspire online users to convert as leads and customers to your business. But this is a pretty self-centered perspective (no offense to you fictional or perhaps very real and offended marketers out there). The value that is important in your content is not the value your business offers to the customer. It's the value the content offers to the customer, in and of itself, no purchase required.
Why? Well, remember, content is key. Namely, the key to unlocking better qualified leads, more trusting and loyal customers, and the envy of the competition. All those outcomes are achieved through information. Here's how:
Better Qualified Leads: A lead in the sales pipeline becomes better qualified when they are more prepared to make a purchase. This preparation occurs in one of two ways. The customer either understands their needs better, or learns more about the unique solution you deliver. Both of these require information and education.
More Loyal Customers: Habit is not a valuable source of loyalty. Neither is being locked into a contract. Trust is the best source of loyalty. Giving your customers tips, how-tos, and ongoing value from your content when they aren't spending more money builds trust in your brand, product(s), and/or service(s).
Envious Competitors: At the end of it all, the competition is confused and jealous. How are you winning so many customers without putting a lead gen form on every piece of content you publish? The answer is, customer-centered value in your content.
If you're using DemandJump, they'll be equally envious of how quickly your content has started to dominate the search engine results pages without emptying your budget on paid search ads. That's also connected to our unique aggregation and analysis of user behavior insights–more on that later. For now, we'll stay focused on why content marketing is important.
5 Reasons Why Digital Marketing Is Important
63% of the global population uses the Internet. That's 5 billion people, over 4 billion of which are social media users. Though digital channels are a little less trusted than print ads or television ads, that attitude among consumers is offset by the sheer potential for reach. And that lack of trust is exactly why you need to lead with value in your content (as we described above.)
Get to Know Your Customers
You can learn a lot simply from tracking your own customers' journey through your marketing content. What webpages get the most traffic? Which content inspired more clicks to your contact form? In addition to these insights from your web analytics, you can use a platform like DemandJump to access publicly available user behavior data from websites like Google. Once you know the exact keywords and questions your audiences are searching for, you can deliver high-value digital content that speaks directly to those needs.
Speaking of getting to know your audience, digital marketing also allows a bigger audience the chance to get to know you. With digital content, people from all across your country or even the world can find your company and learn more about your business.
Stay Ahead of Behavior and Market Trends
The insights we described above don't have to be reactive. Once a digital marketing strategy is up and running, you can start to anticipate shifts in trends and user behavior before they impact your bottom line. Thank you predictive analytics!
Better Data, Better Goals
Digital marketing offers more opportunities for attribution tracking than traditional methods like print, radio, or television. Online, you know exactly what content a user explored before making a purchase. Out in the world, they may have seen a TV ad, billboard, or print ad, but they might not mention it at the time of purchase. With more and better data, it's easier to tell how simple it was to achieve your marketing goals. You'll also be able to set better ones for the month, quarter, or year ahead. No more sales and revenue forecasting based on guesswork or personal opinion. Digital marketing gives you a concrete ability to track growth and prove marketing ROI.
DemandJump Can Drive Your Digital Content to the Top of Page One
Digital content is important because it captures the attention of your audience and proves you can deliver value to their life. But there's one more catch–90% of content never gets seen by anyone online at all. That's because it doesn't show up high enough in search engine results pages. Most online users never go past page one to find digital content after a search, which is why your content has to meet them there.
DemandJump's Pillar-Based Marketing strategy is proven to help your website gain SEO authority and win rankings in weeks and months instead of years. Use our Insight Reports to see exactly what content your audiences want to read, view, listen to, or watch in connection to the high-value topics for your business. Then, it's happy creating.
Get Your Free Pillar Strategy Preview!