Content Development for Websites [Examples]
January 3, 2023 •Josh Daugherty
Think about the last time you were on a company's website. What brought you there? Were you looking for general information about a topic? Researching how a specific company stacks up against its competitors? Maybe you were just looking for customer support options, product documentation, or something else entirely.
Once you reached the company's site, what were your first impressions? Did the content seem helpful? Did you understand and connect with the brand's mission and vision? Were you underwhelmed by generic, unhelpful content riddled with careless proofreading errors?
The reason we ask these questions is simple. The modern internet is packed to the gills with content. A lot of it, if we're being honest, underwhelms—it's just words, geared toward search engine performance instead of helping readers in any valuable way. Despite this, more content is published and indexed every day, which makes creating effective content more important than ever before.
In this post, we'll take a quick survey of the most common types of website content you should prioritize, so you can understand what is website content to begin creating valuable content amidst all the noise.
What Are Examples of Website Content?
A modern website is more than just a single webpage with some words—today's websites are more comparable to content ecosystems. There are usually numerous pages within the site map, tailored to different purposes. Some of this content is meant to attract prospective customers, while other pieces are geared toward engaging and educating them.
So, what are the basic contents of a website? Most companies' sites will contain several different types of content. Let's explore a few of the most important website content examples, so you can prioritize your content creation efforts.
A homepage that introduces the company. Think of this like your company's digital storefront. If someone searches for your company's name or URL, your homepage will establish the visitor's first impression. The best homepage websites are clean and uncluttered, letting your company's main value proposition shine through. DemandJump's own

homepage

, for example, prominently features what we promise our customers ("More Page One Rankings. More Customers. More Revenue."). It also features content about how our platform works, the results it delivers, some customer stories, and links to other areas of the website.
Blogs that explore the topics your customers are interested in. Most companies will have a blog, but if you've read many of these, you may have been underwhelmed by some of the content. Company blogs are usually published for search engine optimization (SEO) purposes, meant to help them move up in the search rankings. Companies that really succeed, though, are the ones that don't just write content for content's sake. Instead, they prioritize educating customers by answering the questions they're asking, first and foremost. For example, you may have come upon this very blog because you searched something like "What are examples of website content?" With

DemandJump

's keyword research and content planning tools, you can quickly discover the exact topics your audience is searching—even in the exact terms they're using.
Digital assets, like product documentation and case studies. Especially when dealing with complex topics, it can help to differentiate between what makes good blog content and what should be a standalone, downloadable resource. Blogs are ideal for topics that you can explore without getting too deep into the weeds. To explore more technical concepts, consider creating standalone resources like downloadable ebooks, whitepapers, and product documentation guides. For example, within the Resources section of our website, we have a Consumer Central video series that explains how DemandJump harnesses the power of Consumer Insights data, as well as a number of ebooks

and

product documentation.
Product-and service-specific landing pages. If you're trying to target specific customer segments or drive product/service adoption, you might want to create dedicated landing pages for these campaigns. This enables you to tailor specific content to your audience, and opens up a wide range of analytics data. With analytic capabilities in tow, you're better-positioned to understand whether your content is being seen—and, if it is, what actions it may drive. Our website features a number of different landing pages. For example, this landing page is designed for readers who are looking for information around how to develop and apply consumer insights.
Multimedia content. This might surprise you, but not everyone enjoys reading—especially if we're talking about long-form, technical content. When possible, you should integrate multimedia content throughout your website. Multimedia content, like informative videos, helps ensure that your content will resonate with its audience. To better illustrate the power of the DemandJump platform, we've developed a few different types of high-performing multimedia content. Our Page One or Bust! podcast and ongoing webinar series are prime examples of media content that really helps us tell our story.
Any time you're thinking about adding new content to your website, you'll want to set yourself—and your content—up for success. Next, let's cover the essential questions you should be asking yourself as you set out to write winning content.
What Are the 5 Essential Elements of Web Contents?
Regardless of the actual type of content you're creating, there are a few website content best practices to keep in mind. You can evaluate content and its potential usefulness by asking the following questions:
Who is this content intended for? Customers (even just prospective customers browsing the internet) want to feel known and understood, so the more you can tailor your content to their expectations, the better. Consider the voice/tone that will resonate with them best, and try to find the sweet spot between being too blunt or producing pure fluff, based on what you know about your audience and their preferences.
How useful is this content? Specifically, think about how you would expect your target audience to receive, understand, and respond to the content. Keep in mind how short the average person's attention span is, and make sure every piece of content you produce provides clear value for the audience.
How's it look? For better or worse, first impressions are powerful and can mean the difference between a customer reading an entire blog post and clicking through a Call-to-Action (CTA) and a customer reading two sentences and deciding they're not really interested. Keep the design clean and minimize opportunities for turning people off—with poorly chosen fonts, pixelated clip art, or crowded layouts, for example.
How will people find this? Imagine this: you've spent weeks rewriting all of your website content. You've devoted just as much time and energy to redesigning the website. Fast-forward a month, and no one's reading your content. The truth is, content is only effective if it is promoted and shared. Make sure you have a plan for promoting your content via social media, at a minimum.
How engaging is this? Finally, effective website content should be engaging for readers. This means keeping the voice and tone appropriate to the audience, as well as concise and straightforward. It also means directing readers to a specific outcome or action by the end of the piece, so you'll want to create a compelling and relevant CTA at the end of certain content pieces (especially blogs!).
To recap, here's a handy website content review checklist for your reference:
Steps You Can Take Today
We've covered a lot in this post, and want to make sure we leave you with some actionable takeaways. With that in mind, here's a handy website development task list you can use to get the wheels rolling as you brainstorm and execute your own website content development strategy.
Assess your current website content. When considering your website as a whole, identify any content gaps. Make sure you have homepage content, blogs, digital assets like ebooks and whitepapers, product/service pages, and multimedia content.
See what the competition's up to. Who are your main competitors? Spend some time going through their websites, and see if that sparks any ideas. If one competitor gets a lot of traffic because they put out a popular ebook, for example, you might want to consider what topic or topics would be worth developing this kind of content around.
Do some keyword research. Effective website content gets a lot of traffic and drives conversions because it's developed with the customer in mind. What are your prospective customers Googling today? Through keyword research tools like

DemandJump

's, you can know the exact questions they're asking, and then develop content that answers them. It's a simple, yet effective practice!
Make a content creation plan. Once you have a list of content ideas, it's time to make a plan. Decide what kind of timeframe makes sense for creating and publishing website content components, and assign responsibilities among the team.
Review and proofread before you publish. Nothing undermines great content quite as severely as sloppy copy-editing. If you're trying to establish yourself as an authority or thought leader within your industry, then you can't publish content that's littered with errors.
To recap, here's your website development task list: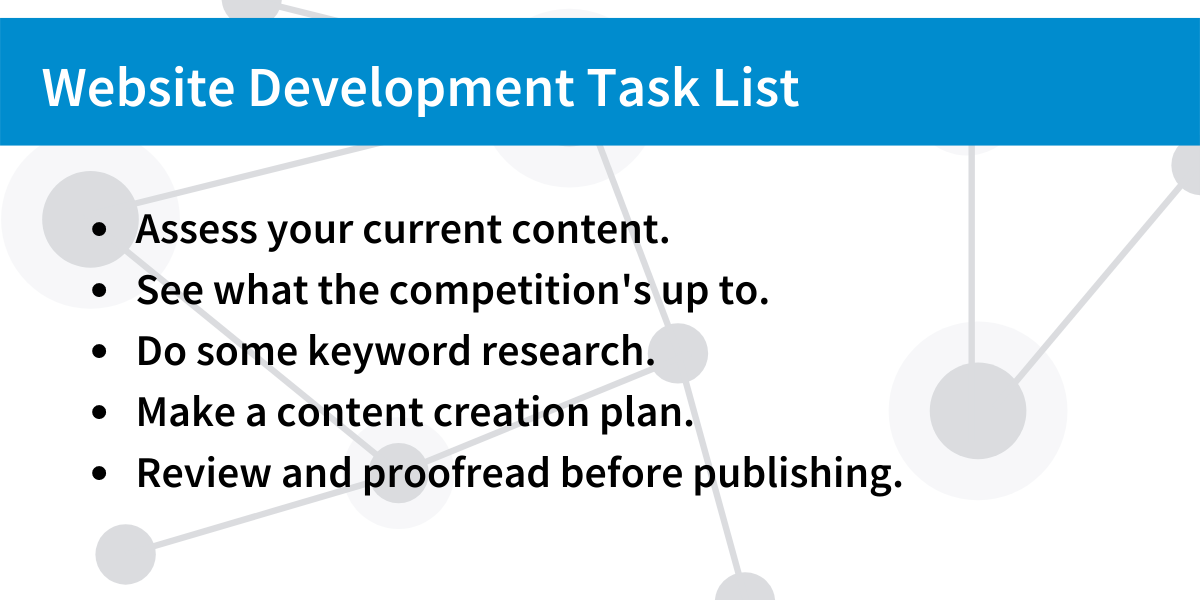 DemandJump Makes Website Content Development Easy. See for Yourself!
To learn more about how to generate content ideas with topic research and content planning tools, visit our homepage. Or, click the button below to try out our platform—for free.
Get Your Free Pillar Strategy Preview!