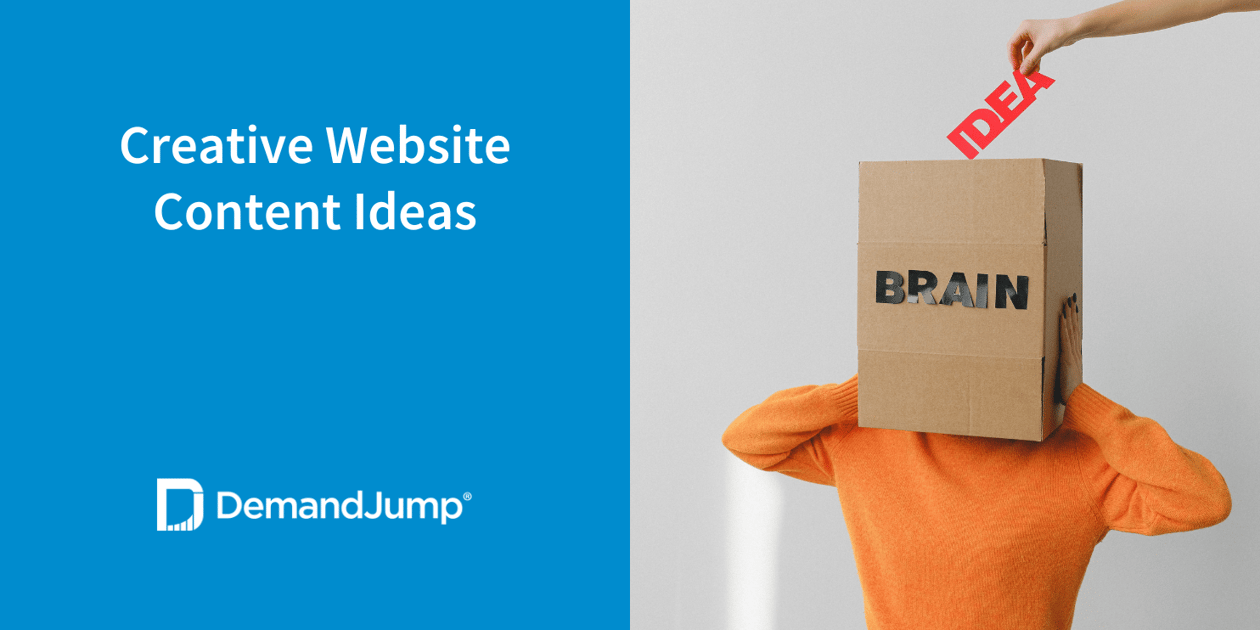 If you're interested in driving more traffic to your company's website—especially potential customers who may be ready to buy—then you're going to want to think outside of the box. In other words, just writing blog posts sporadically is a nice start but probably not enough to really move the needle.
With that in mind, then, this is your quick guide to creative, high-performing website content ideas. We'll offer some practical tips and examples, so you can write content that provides value to customers while also helping to raise your search engine rankings for topics and questions related to your business.
What Are Examples of Website Content?
To attract and engage prospective customers, your website needs to have some thought behind it—and some substance. To help get the ball rolling, here are 5 website content examples you might use to develop your own creative ideas:
Blogs: When well-conceived and well-written, blog posts provide a great foundation for any business's website content strategy. As a content medium, blogging works well because it's so versatile. It doesn't require super-advanced writing skills or an overly formal tone, for starters, which makes it less intimidating for less-experienced writers. It is also suitable for virtually any product, service, or industry.
Charts or Infographics: Not all website content has to be in paragraph form. Consider creating charts or infographics that highlight compelling data points (think: charts) or narratives (think: storyboard-type infographics). Well-designed infographics are especially useful as creative content ideas for social media, since they lend themselves well to sharing—and might even go viral—via Facebook, LinkedIn, Twitter, and more!
Frequently Asked Questions (FAQ): FAQ content provides a number of benefits. First, the simple act of addressing your prospective or current customers' most-common questions shows that you know and understand your audience and what they care about. Second, it shows that you're not afraid to address the tough questions and that you really know your stuff. In other words, it gives you more credibility and helps you become more of an authority in your field.
Case Studies, eBooks, Whitepapers: Speaking of credibility and authority, you can also build it through things like case studies, eBooks, or whitepapers. By writing and publishing case studies, you can make the leap from telling customers you're great to letting your results do the talking. If you can capture actual customer testimonials, even better. As far as eBooks and whitepapers go, consider the types of topics your customers might appreciate long-form content about.
Product, Service, and Company Descriptions: What do you actually do, and how do you stack up against your competitors? While you won't want these areas of your website to feel too "salesy," letting customers know the features and benefits of your product or service offerings simply helps them make an informed decision. Without clear explanations of what you do and why it matters, website visitors might wonder what you're hiding! You should also consider writing some "About Us" content to show more of the business's human side. For example, how did your company form? What are the mission and vision?
How Do I Get Creative Content Ideas?
There are no two ways about it: coming up with website ideas that haven't been done can be hard—demoralizing, even. If you're wondering how to generate content ideas with topic research, here are a few places to start:
Check in on the competition. Visit a few of your top competitors' websites. What are they blogging about? What are the different areas of their website, and what kind of content's there? As much as possible, you should be looking for opportunities to differentiate your content.
Get input from sales and marketing. Members of these teams are especially attuned to what matters to your prospective and current customers. What are the main messages the marketing team uses in their content? When possible, create website content that echoes or supports those messages. What are the big differentiators the sales team focuses on to close deals? You can collaborate with sales to develop ideas for case studies, for example. The idea here is simply to present a consistent and cohesive story for customers—whether they're engaged with your sales or marketing teams, browsing your website, or doing their own research.
Do keyword research. Using an advanced keyword research and content planning tool like DemandJump can jump-start your efforts. With our platform, you can:
See the types of questions your customers are asking—verbatim—so you can write the exact content they're looking for.
See the keywords, keyword phrases, and questions that are likely to provide you with the best opportunities for success in driving traffic and winning customers.
Understand the competitive landscape. You can easily see where you stack up against your toughest competitors, on a keyword-by-keyword basis.
Map out a Pillar-Based Marketing (PBM) strategy, including the keywords and topics you should focus on, the types of content you should be writing, and how to effectively link your content together for maximum performance.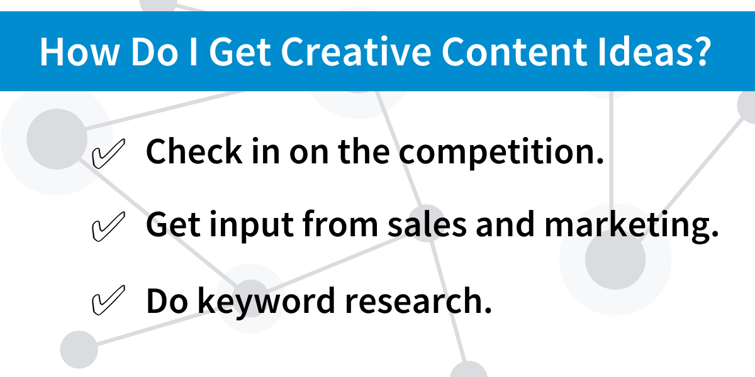 Become an Unstoppable Content Ideas Generator—with DemandJump!
If you're looking for creative content ideas for your website, look no further than DemandJump. We've helped companies across a number of unique industries to achieve more page one rankings, more customers, and more revenue.
For content marketers, DemandJump is like Luke Skywalker's trusty lightsaber—the weapon of choice for those who are serious about their craft. By opting to wield DemandJump's platform, content marketers can:
Know exactly what to write about, with a content strategy that's less about guesswork and more about actual user behavior.
Save time with automated keyword and search engine optimization (SEO) research, including topic networks and one-click content briefs to turn research into results.
Publish content and then see clear results through increased traffic and more qualified leads.
The great news is that you can try it for free…so what are you waiting for?