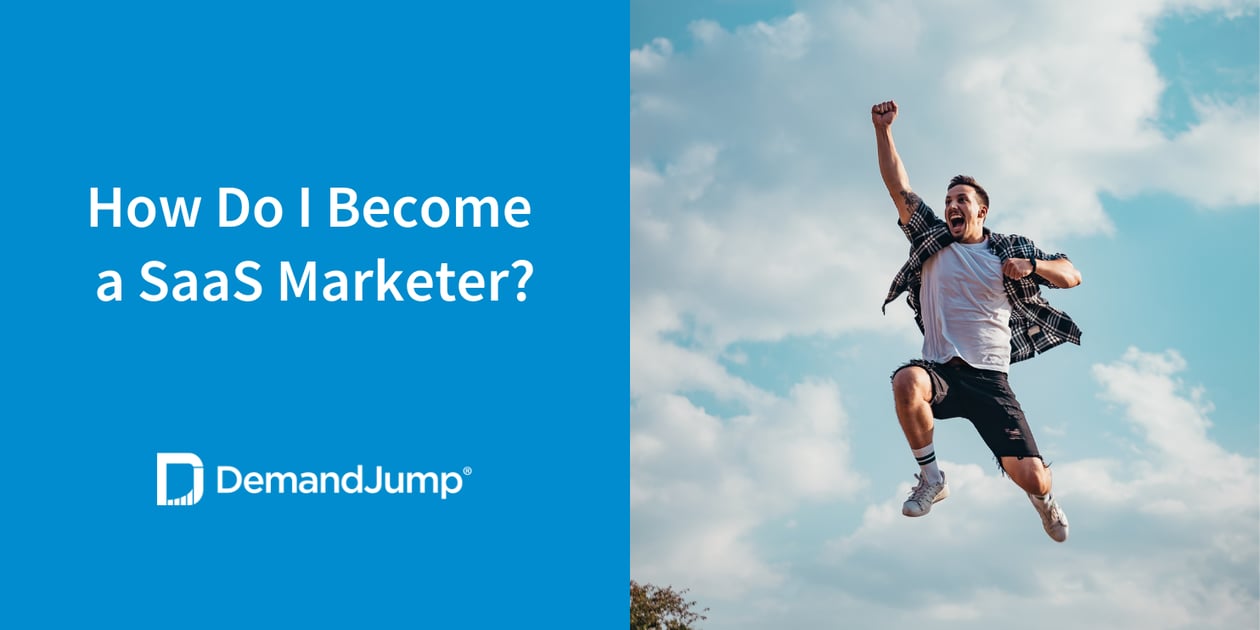 If you're reading this, then it's not too far-fetched to assume you're exploring the idea of becoming a SaaS marketer. We're also guessing that you're not entirely sure where to start. For example, what comes first: creating great SaaS content or designing strategies to make sure the right people—your ideal customers—can see that content? Also, is there a SaaS marketing course to take, or is it best to learn on the job?
The good news is that you're asking the right questions, and we're here to help you understand exactly what it takes to enter—and succeed in—the exciting and growing field of SaaS marketing. To make sure we cover all the bases in this post, we're going to specifically answer two big questions:
What are SaaS marketing jobs, and what makes them unique?
What do you need to learn in order to land, and succeed in, a SaaS marketing position?
What Are SaaS Marketing Jobs?
Depending on factors like industry and company size, a business might employ anywhere from 1 or 2 marketers all the way up to a team of a dozen or more. The exact roles at any particular company will also depend on their objectives.
For example, let's say Company A has outsourced certain marketing functions—like outbound campaigns or paid advertising—but wants to better-connect with its customers through content marketing. Their marketing team might consist of the following roles:
Chief Content Officer or Director of Content Marketing
Content Marketing Manager
Content Writers
Editors or Editorial Assistants
On the other hand, Company B, a relatively new company, needs to focus on marketing for SaaS startups. They might initially assemble a fairly small team and task them with all things marketing. Their team might consist of the following leadership positions, which would be supported by their own mini-teams:
Chief Marketing Officer (CMO) or Director of Marketing
Head of Growth Marketing
Head of Product Marketing
Head of Marketing Operations
Head of Brand Marketing
Or, Company B might elect to hire a whole team of SaaS marketers, each specializing in one or more specific media or strategy types. As you search for job openings, you might come across individual job roles/titles like:
Branding Specialist
Content Marketer
Digital Marketer
Email Marketer
Market Analyst
Product Marketer
Search Engine Marketing (SEM) Specialist
Search Engine Optimization (SEO) Specialist
What Makes SaaS Marketing Unique?
A few factors that make SaaS marketing unique include the following:
SaaS products are intangible, so demonstrating their value can be tricky.
SaaS-based industries are ever-evolving, meaning the strategies you'll need to compete will require innovation.
SaaS sales processes are typically shorter than those associated with traditional (non-SaaS) products and services.
SaaS companies must continue to deliver value post-sale, in order to prevent churn and drive renewals.
Read more about what makes SaaS marketing unique, and how DemandJump makes it easy.
How Do SaaS Marketers Measure Success?
Generally speaking, the goals of SaaS marketing teams tend to include:
Developing a unique brand voice.
Increasing brand awareness.
Establishing credibility and authority within their industry.
Driving website traffic.
Moving prospects through the buying process.
Enhancing the value of other advertising methods.
Gauging results in order to improve campaigns over time.
With those objectives in mind, there are several different types of key performance indicators (KPIs), such as:
Brand Awareness metrics like unique visitors, page views.
Engagement metrics like time on site, bounce rate.
Search Engine Optimization metrics like domain authority, impressions.
Lead Generation metrics like click-throughs, conversion rates.
Sales Enablement metrics like demo requests, trial sign-ups.
What Will I Need to Know to Market SaaS?
In order to land a SaaS marketing job and succeed in it, you'll need three things:

Knowledge and Skills: You'll need to be able to be knowledgeable about marketing SaaS software, including general SaaS marketing best practices and how to develop an effective B2B SaaS marketing strategy. You'll also want to be aware of emerging trends in marketing, like DemandJump's speciality, Pillar-Based Marketing (or PBM), for example.
The Right Mindset: To succeed as a SaaS marketer, you'll need to not only be knowledgeable, but innovative, adaptable, and resilient as well. You'll need to be confident enough to be able to work on certain projects independently, while also being an effective communicator and collaborator.
The Right Tools: An often overlooked component to a SaaS marketer's success is whether they have the right tools and resources available to understand a company's customers and tailor your strategies around their most-pressing pain points. DemandJump's platform helps SaaS marketers thrive by delivering invaluable customer insights in a single, easy-to-use space.
What Is the Best SaaS Certification for Beginners?
If you're looking for the best b2b digital marketing course to prepare you for a career in SaaS marketing, DemandJump University offers a great starting point. Our Introduction to Pillar-Based Marketing course provides a great SaaS marketing certification for those who are new to digital marketing—or experienced marketers who haven't yet been formally introduced to PBM.
We offer an Introduction to Pillar-Based Marketing course that introduces the key concepts, or you might be interested in one of our learning pathways for a crash course in becoming a Certified Pillar-Based Marketing Writer or Certified Pillar-Based Marketing Strategist.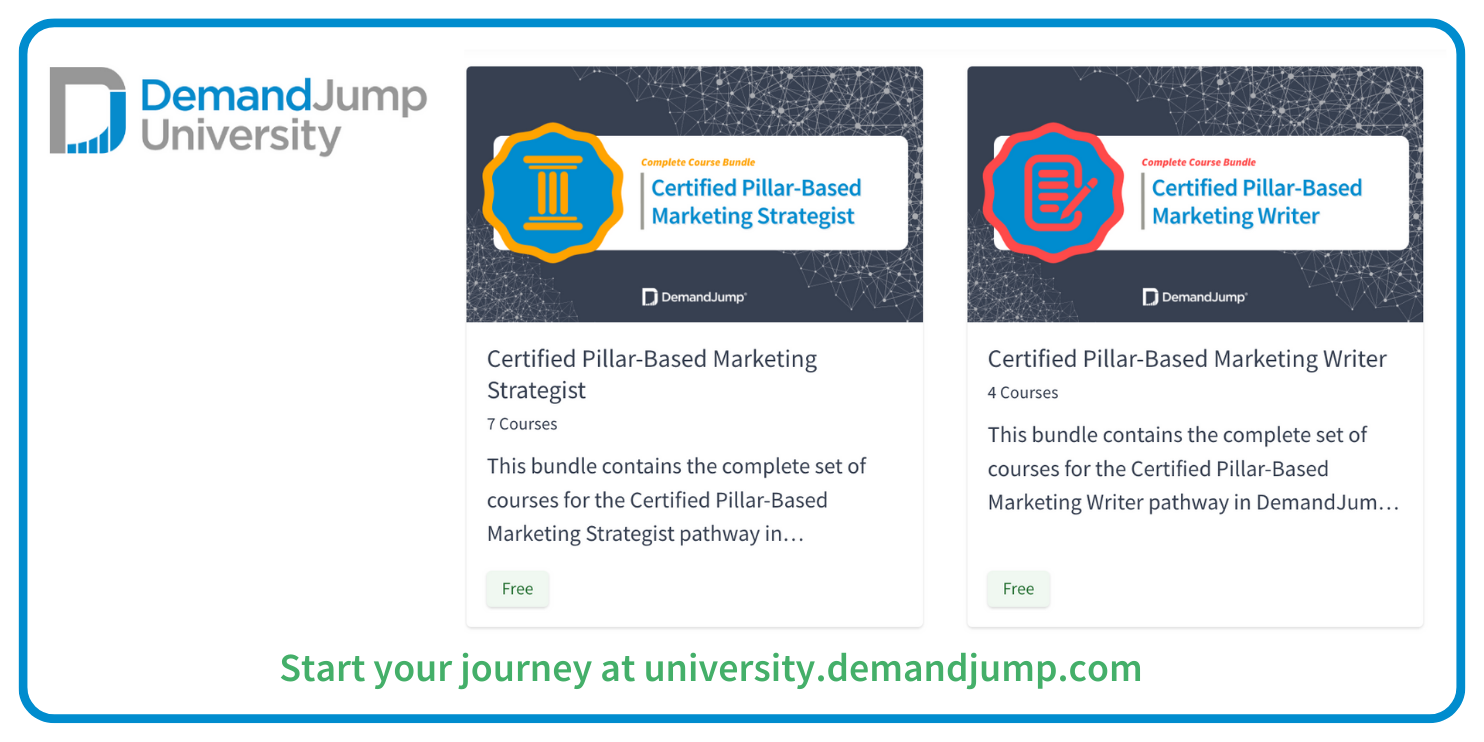 DemandJump: Empowering SaaS Marketers
DemandJump is a B2B SaaS marketing agency that introduced Pillar-Based Marketing to the world, helping our clients to develop effective strategies for ranking on page one. Our SEO keyword research and content planning tools empower SaaS marketers with everything they need to hit the ground running. Ready to try it out? Hit the button below to try it for free.
Get Your Free Pillar Strategy Preview!