How Do You Develop Consumer Insights?
April 10, 2020 •DJ Team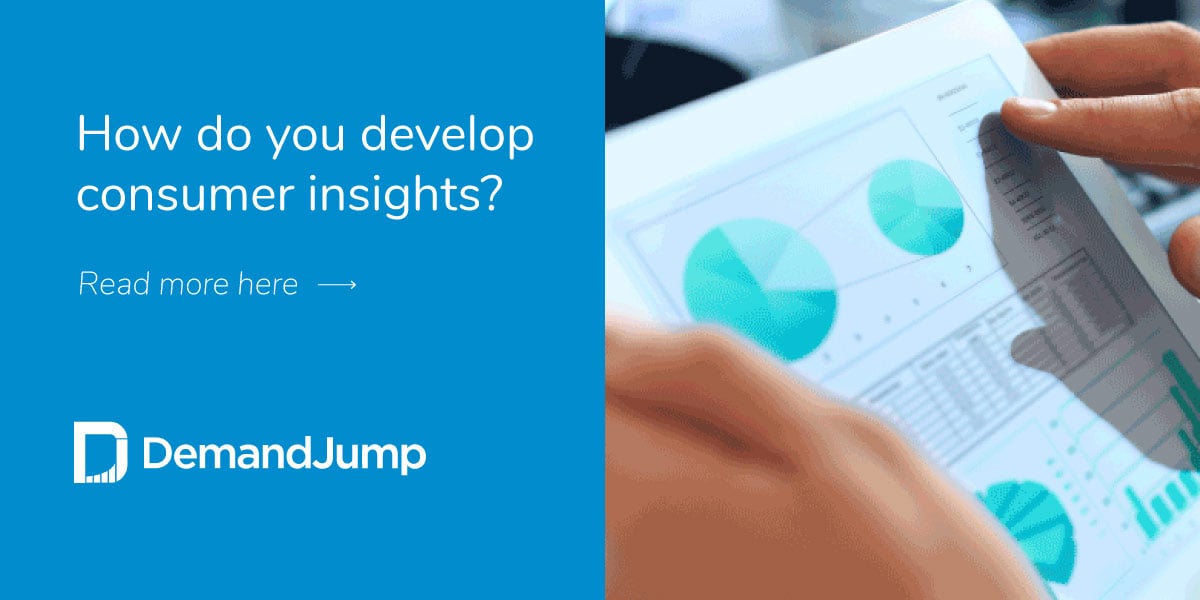 Insights, by definition, give you a window into something you might not otherwise have known about. Consumer insights, therefore, utilize data so you can see into your customers' behaviors and thought processes. With this information, you'll learn more about what they need and want, how they navigate the customer journey, so you can tailor your campaigns accordingly. With this in mind, let's take a deep dive into the world of consumer insights.
What Is Insight?
The use of consumer data enables you to really understand what your customers want and why they feel and act the way they do. This data aids in conducting marketing research, where the goal is to generate some insight about your target audience that informs what you do next. These insights are then used to create marketing campaigns and messages that most relate to the people they're intended to target. A good consumer insight is made up of several elements, such as:
Good data quality, which is essential if you're going to actually glean any information about your customers;
A dedicated team who will study and interpret consumer insight and consumer behavior based on what the data is telling them;
Consumer research, which will ultimately help you create a greater emotional bond with your audience, thereby increasing engagement with your brand;
Database and segment marketing, the means by which you parse people into specific target markets so you can hone messages that are specifically made for their interests and behaviors.
Although sometimes confused with analytics, insights are actually different. Analysis is the process of looking at something's individual components in close detail as a means of learning about the whole. Insights, on the other hand, are often derived from analysis and are more about discovering something meaningful and actionable that isn't readily clear at first glance.
Creating Insights
If you're searching for consumer insights articles, Think with Google does a great job of explaining how information moves from data to insights. In the consumer insights industry, we turn data into insights. That is to say, we help our customers support their business decisions by using real data that tells the story of their consumers' needs and wants. A solid consumer insights strategy is a multi-faceted process. It includes the following elements;
Defining the data. You have to know what you want from your data before it will be of use to you. This means you need to know what you're trying to achieve, what kind of needs the data should address, and how you'll measure the success of your project.
Building the framework. In this step, you'll visualize what you want the data to tell you in a way that creates a story. This is when numerical quantities become graphs, or when unexpected data is transformed in a way that can be easily understood at a glance.
Examining different viewpoints. Different people see data differently. It's helpful to have a few hands in this type of project so you can get different perspectives and glean actionable insights.

Consumer Insights Examples
Now that you know a little bit more about what consumer insights are and how they're beneficial to businesses of all types, let's look at some successful insight campaigns. As a consumer insight company, we're always looking for concrete examples we can use to showcase the importance of insights to our customers. Here are a few of our favorites:
Apple
As the 2016 holiday season drew near, the people at Apple discovered that its consumers were tired of stats and data being shoved at them in hard-sell tactics. As a result, the tech giant took to a different approach. Instead, they created a commercial that warmed the hearts of people all over the world. The goal was to give people a piece of entertainment, which ties well with the brand's beliefs.
Three
Three, a mobile phone company that was founded in Hong Kong in 2002, has received numerous accolades for its 2015 #HolidaySpam campaign. The campaign was based on consumer insights that identified the fact that people love to show off and brag. Three promoted a special offering to its customers, allowing them to use mobile phone services while abroad without incurring roaming fees. The ad presented an array of cheesy holiday photos with the message "we are sorry" denoting the reverse psychology that worked so well for this campaign.
Kenzo
Luxury French fashion house Kenzo made headlines with an ad campaign that really turned heads when it released its new fragrance. The insight came from the team of creatives who thought of ideas on the fly after asking the question, "If we do x, what would be the outcome?" The rather unconventional ad left people talking for quite a while and became a contender for the best perfume ad.
Consumer Insight Analysts
Have you thought about looking into consumer insights jobs? Typically, you'll be required to have a bachelor's degree and may need to have some experience in management, consumer analytics, or retail. You'll be working with very large amounts of data, so you'll need to have strong mathematical skills to make projections and talk about trends to people in other departments. According to Glassdoor.com, the average consumer insight analyst salary is $54,155 annually as of February 2020.
Consumer Insight Tools
Consumer insight tools can help you and your analysts get to insights faster. They take the manual work out of the data collection and analysis process and help you discover what to do next with more clarity than before. The following are some consumer insight tools you might consider trying:
DemandJump is a cross-channel analytics platform that offers consumer insights on where you should be investing your marketing spend - from the keywords you should be bidding on to the websites you should be advertising to the blogs and videos you should make - all aligned to consumer behavior.
Google Trends lets you confirm your assumptions about the interests of your audience. When coupled with Google Analytics, you'll be able to create content that people enjoy while tracking the traffic that comes to your site.
Social Mention is a free tool that provides you real-time analyses of social media.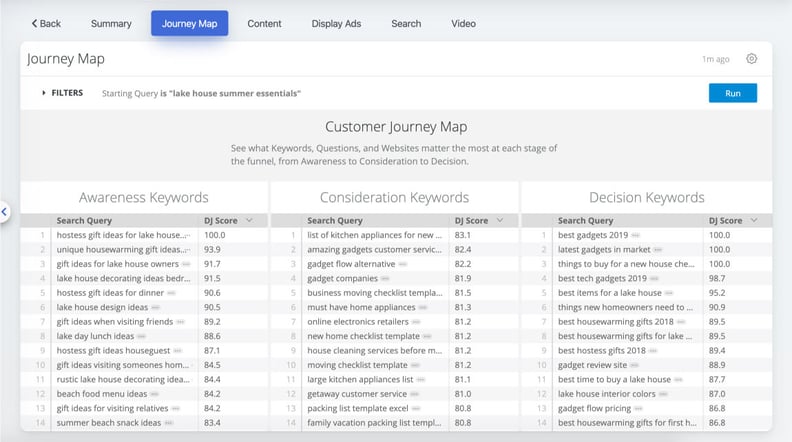 At DemandJump, we take the guesswork out of developing consumer insights. Our Consumer Insights Product shares instant insights into what your target audience is searching for at each stage of the marketing funnel. It even shares what ads, videos, and content these consumers see along their path to purchase. If you're ready to remove the mystery around consumer insights, start your free trial today! Or request a free insight report with the form on the right.
Get Your Free Pillar Strategy Preview!