What Is Marketing Research?
April 6, 2020 •DJ Team
Marketing research refers to the process by which an organization gathers information about its ideal customer and larger market in order to inform the organization's go-to-market strategy. This research might include gathering data from current or former customers, consumers in your target market, or even marketing activities of competitors.
(Automate your marketing research with Consumer Insights.)
Maybe you're already doing something in this area but you're wondering if you're doing it well. Whether you're looking for a market research definition or just have questions like "what is market research used for?" or "why is marketing research important?", you've come to the right place.
How Does Market Research Help a Business?
Marketing research helps a business by giving it insights into what customers say they like and dislike, what they say they want. These insights come in both quantitative and qualitative forms and can play a massive role in empowering a business's decision-making.
Marketers play a significant role in both gathering and interpreting the data used in marketing research. In most organizations, the marketing department (sometimes in conjunction with sales) has a pulse on the customer base. Marketers are well positioned to actually reach the people needed to perform market research.
Generally speaking, marketing also has the skills needed to interpret the data that comes in through market research. Companies of any size will have a trained researcher or analyst that assists with preparing marketing research, keeping results rational rather than reactionary.
Market Research Methods
All that is well and good, but if you're still wondering "how do you do market research?" we've got you covered.
The role of research in marketing is to derive marketing insights from real data. We love marketing and marketers—truly we do—but relying on marketers' good sense and one-off customer interactions is a reactionary, even dangerous, way to operate a business. It's much safer to operate with real market research data backing up your decisions.
You may also be wondering, what are the elements of marketing research? While the marketing research process will look a little different for every organization, there are some marketing research steps that are common in most scenarios. To build an effective marketing research study, most marketers will follow some combination of the following market research steps or categories: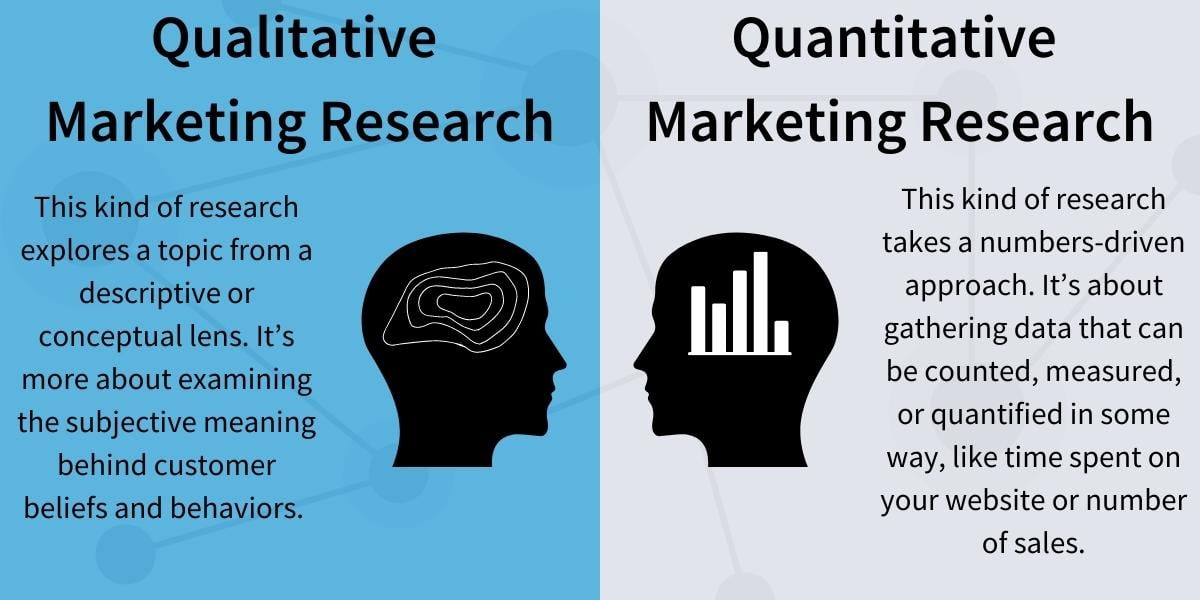 Qualitative marketing research explores a topic from a descriptive or conceptual lens. With this type of marketing research, participants describe from their perspective how something is or behaves, rather than putting numbers to it.
Quantitative marketing research is a purely numbers-driven approach. This type of research gathers data from responses that can be counted or quantified.
Ethnographic marketing research is any effort that attempts to gauge the marketing initiative or product in a natural environment or with anthropology as its basis.
Business to business (B2B) marketing research is any of the above or other methods or steps applied in a B2B context. This category has a new set of challenges: getting any responses at all can be difficult, and getting honest ones can in some situations be challenging.
Types of Marketing Research
So what is an example of marketing research? It depends on what type you're looking for. Within the broader category of marketing research, there are several different types. The following list is just a sampling:
Analysis of marketing performance
Brand awareness research
Brand association research
Demand estimation
Marketing effectiveness
Mystery shopping
Sales forecasting
Trendspotting
We'll look at a couple marketing research examples illustrating some of these types.
Successful market research examples are those that gather real customer data that's both representative and realistic and that result in improvements for the company. These improvements could be increased sales, increased profits, improved customer relationships or a host of other objectives.
For example, you might look at trends in search traffic to to understand how your competitors are bringing consumers to their websites over time, and therefore, what search terms consumers are using to find the products they like.
When analyzing this marketing data, you can find key insights to inform your own paid search marketing strategy - such as what keywords to bid on or how to structure your ad campaigns.
One easy way to conduct marketing research is to take a look into the analytics platforms your team may be using to track marketing performance. When you leverage cross-channel analytics, you are able to evaluate the customer journey holistically and understand how customers prefer to interact with your brand across their entire path to purchase.
You can also begin to estimate demand, discover consumer trends, and gather marketing ideas by following your competitors with market intelligence platforms. These platforms show you what types of marketing initiatives are working for others in your market, and based on this data, even show specific tactics you should use to bring in new customers.
To illustrate several of the above categories, consider the humble consumer survey. In today's internet economy, surveys are everywhere, both free and paid. Surveys can measure a number of these elements, including brand awareness research ("which of the following brands have you heard of?") and brand association research ("when you think of this topic, which brands come to mind?").
To some degree, surveys can cover other marketing research types like sales forecasting and demand estimation as well.
You've also likely seen marketing effectiveness research campaigns in progress. Have you ever gotten a survey-style ad on YouTube or Facebook asking which brands you recall seeing an advertisement for? If so, you've seen a marketing effectiveness campaign in the wild.
Create a Market Research Report Using DemandJump
If you want to do market research without some of the nitty gritty work, use DemandJump. We offer insight reports that tell you what your target audience cares about and what they're asking about. From there, we will give you a list of keywords and questions to use in your content. These keywords will help you increase your chances of landing a page-one spot on Google. Do that, and your prospective customers are more likely to find your content and visit your webpage. Save time by using our platform. If you have questions or could use help implementing a marketing strategy, get a demo to see how DemandJump can help your business.
Get Your Free Pillar Strategy Preview!