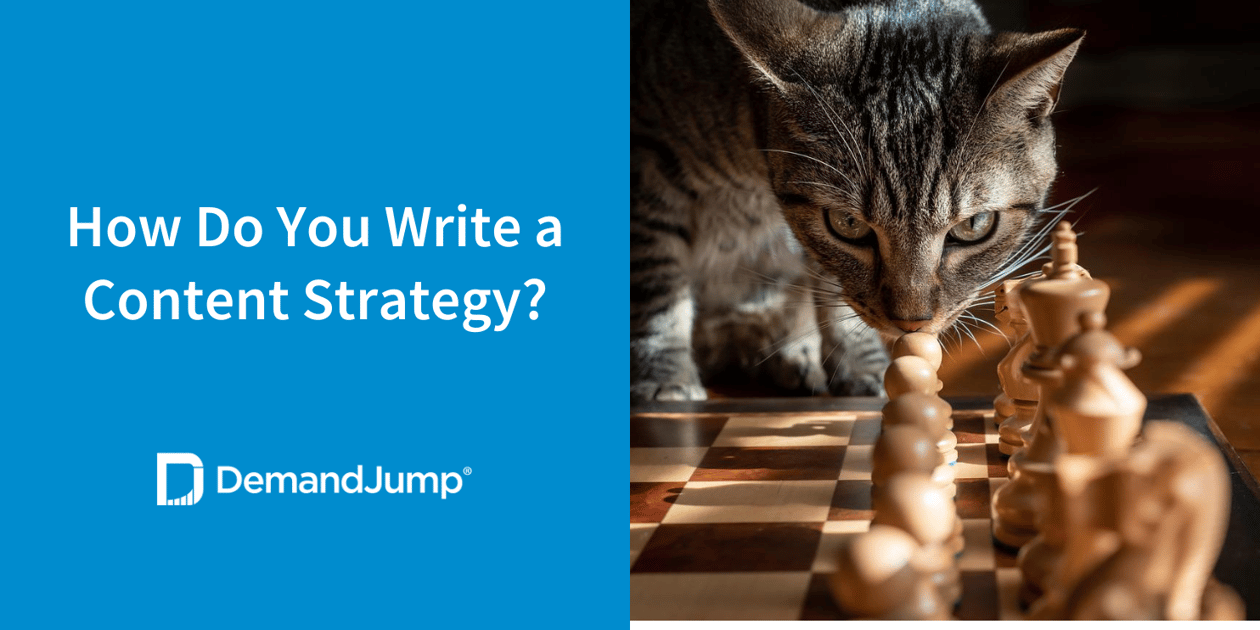 In case you haven't noticed yet, not all content marketing strategies are created equally. Even experienced content marketers will tell you that their processes for developing and executing effective content marketing strategies rely on a mixture of research and instinct. The modern internet is now home to an entire industry of keyword research and content development tools that promise results.
Unfortunately, many of their promises are vague. That's what happens when content marketers market to fellow content marketers. Reading through different content marketing tools' features and use cases can feel exhausting and confusing, leaving marketers asking themselves questions like:
What kind of content strategy will deliver the best outcomes for my business?
How do I know what to write about?
How do I write effective content that's likely to attract prospective customers and convert them into brand advocates?
How do I publish and promote content that will get us to page one of search results?
In this blog, we're going to answer these types of fundamental questions, so you can hit the ground running when it comes time to develop—and deliver—an effective content marketing strategy for your business goals. We'll also share a link to a webform where you can request a content strategy template for free.
What Is a Content Strategy, and What Should a Content Strategy Include?
In simple terms, a content strategy is a plan or framework that helps a company produce digital content. This content achieves goals like increased website traffic and resonating with prospective customers. When it's well-executed, a strong content marketing strategy will establish your brand as a credible authority around a given topic, increasing your opportunities to attract new customers who are motivated and ready to buy.
What Are the Components of Content Strategy?
The essential elements of an content strategy include:
Specific, well-defined objectives: What are your content strategy goals? Increasing market share and driving more traffic to your website? Overtaking a specific competitor? Promoting a specific product, service, or business unit? Setting specific, measurable goals is the best way to develop a purposeful strategy and know whether it ultimately moves the needle.
Keyword research and insights: Identify the topics and questions that their potential customers are searching for online, so you can write content that will resonate with them, answer their questions, and help them see you as a credible resource.
Effective, well-written content: Create a network of informative, engaging content around a specific topic. We consider "effective" content to be both understandable and high-value keyword-driven, providing a win-win scenario for potential customers (who find great answers to their questions) as well as the business (who sees their content break into page one of search results, driving website traffic to new heights).
Strategically-aligned calls to action (CTAs): Assume your ideal customer has gone to Google with a question, clicked on your content within the search rankings, and read the piece…what should happen next? Do you want them to check out another area of your website? Contact your business with further questions or to schedule a demo? For great results, every piece of written content should have a compelling CTA.
Promotion: Promote content in a way that increases visibility and website traffic. What social channels are your target customers using? We generally advise organizations to at least choose two or three social channels to promote your content. Most commonly, these include some combination of Facebook, Twitter, LinkedIn, and Instagram—but these are far from your only options!
How To Create a Content Strategy (One That Works!)
While there will be some variation based on factors like the specific industry your company operates in and their specific content marketing goals, we can still discuss a basic content strategy template that can be adapted to virtually any needs. So, what are the steps of content strategy?
Step #1: Define your objectives. What are you hoping to achieve? Where are your greatest strategic opportunities to overtake your competition on page one of the search results? Set specific, measurable goals whenever possible.
Step #2: Perform keyword research. For search engine optimization (SEO) purposes, keyword research forms the foundation of content strategy. What types of information are your prospective customers searching for right now? What pain points are they looking to solve? How, exactly, are they wording their Google searches? What specific keywords or questions will provide the best opportunities for you to beat your competitors?

DemandJump's content marketing platform

automates the keyword research process, essentially simulating thousands of Google searches in order to identify common keyword/question clusters you can focus your content around.
Step #3: Develop a content plan. Once you know what search terms you want to improve your rankings for, you can start developing your content plan. This is another key area where DemandJump sets itself apart from the competition. As the world's first and only Pillar-Based Marketing (PBM) platform, we empower users with thorough and up-to-date keyword research and competitive insights.
Step #4: Write! Next, you'll need to write the actual content that makes up your strategy. If you're opting for the PBM approach, we generally recommend that you write:

1 content pillar, a 3,000-word piece that explores a broad topic and uses around 20 high-value keywords.
3 sub-pillars, each of which is a 2,000-word piece exploring a specific sub-topic that uses around 15 keywords.
12 supporting blogs, each of which is 750-1,000 words and contains 7-8 keywords.

Step #5: Publish and promote. Once you have your content written, you can publish it to the web. This can be done in one big batch, or you might publish the longer pieces (the pillar and sub-pillars) first, and then the blogs separately (once the other pieces have been indexed). Finally, promote each piece of content on at least two or three different social media platforms.
For a deeper understanding of how these 5 steps can translate to real outcomes for diverse businesses, check out our Page One or Bust! Podcast.

How Does DemandJump Empower Content Marketers to Develop and Execute Effective Content Strategies?
As mentioned before, DemandJump is the world's first and only Pillar-Based Marketing platform. This approach is heavily informed by keyword research and a sophisticated understanding of the types of web searches your potential customers are searching for right now. From robust keyword research tools and in-depth competitor research and analysis to interactive strategy-development tools and one-click Content Briefs, we've built our platform to make success feel inevitable.
The best way to really understand the platform's power and possibilities is to give it a try yourself. And doing so couldn't be simpler! Simply click the button below to create your account and see for yourself how easy and intuitive content marketing can be!
Get Your Free Content Marketing Strategy Report