What Are the 4 Important Stages in SEO?
February 27, 2023 •DJ Team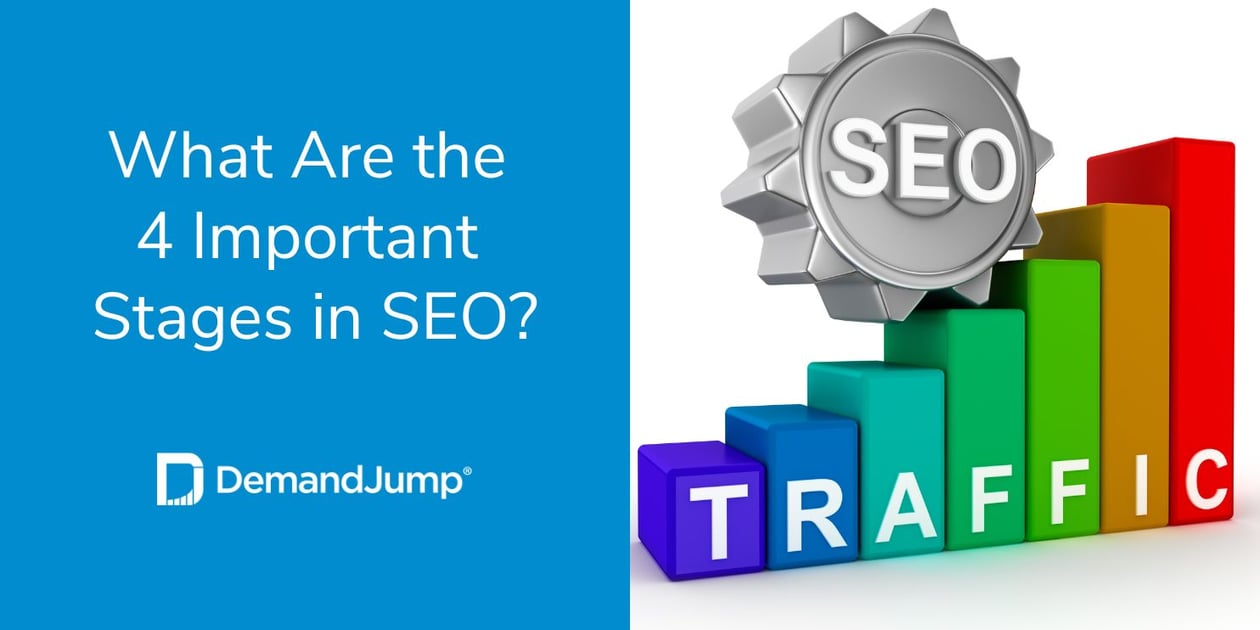 At times it can feel like there are too many components of search engine marketing you need to juggle in order to drive the traffic to your website that you want. Content optimization, backlinks, technical and on-page SEO–it's no wonder so many of us throw up our hands when we start to think about it. So we've broken down the basics of SEO to make it easier for you to successfully get your website to rank highly on search engines.
Here are the 4 stages of SEO that give you a roadmap on how to get started:
Create a strategy
Build your site
Create your content and launch it on the web
Promote your site and content via other channels
There are other ways to break down the search engine optimization process, like the different components of SEO that can also be a useful way of looking at things, but we'll start with the basics.
What Are the 4 Stages of SEO Broken Down?
The four stages of SEO are creating a strategy, building your site, creating and publishing content, and promoting your site on other channels. Let's break down each of these important stages to make it easier to get a handle on how to apply each of them to your own project.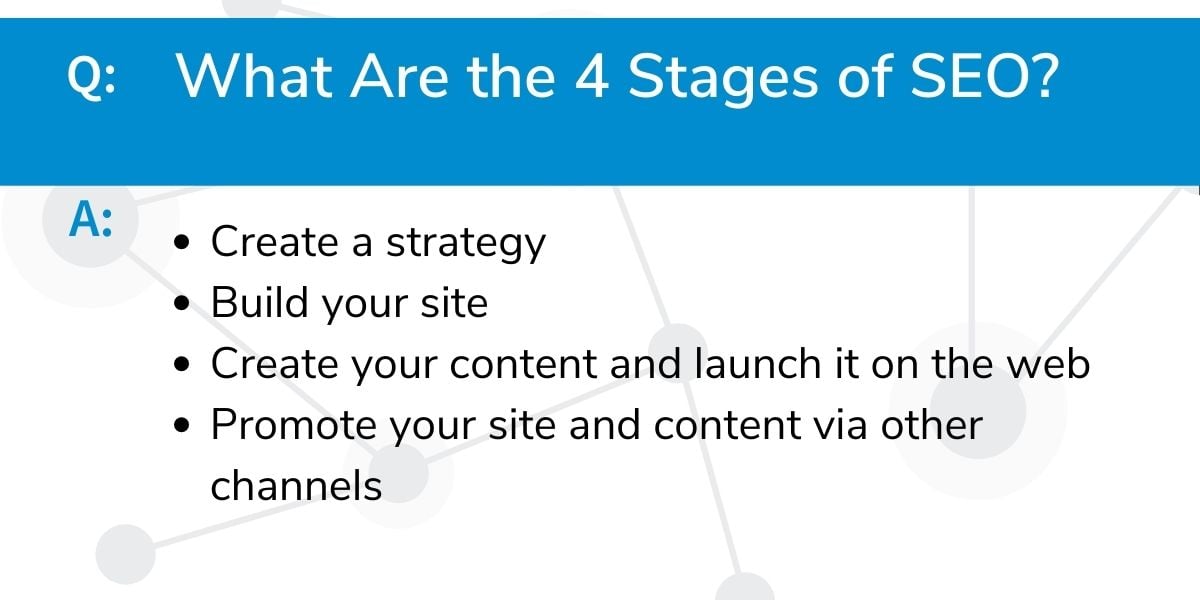 What Is an SEO Strategy?
At its core, an SEO strategy is just the plan you create for your website to make it more likely to rank higher in search engines. There are a bunch of lists out there of SEO best practices, your strategy involves choosing the ones you are able to implement and making a plan to actually get them done.
In general, a good SEO strategy will involve four main components:
Technical - Includes optimizing for mobile friendliness, faster load times, better usability, and without duplication
On-page - Includes using high-quality keywords to write strategic content that ranks, as well as descriptive metadata and meaningful image alt text
Off-page - Includes all the links and ads from outside your website that point people to your website, like press releases, guest blogs, and paid search engine ads
Local - Includes everything designed to make your website show up for local searchers, like Google My Business optimization
To put a good strategy in place, you need to create a specific plan for addressing each of these components, along with a content production calendar to ensure everything gets done on the necessary timeline.
What Is the SEO Process to Build Your Website?
Building (or optimizing) your website with SEO in mind means implementing your SEO strategy. Think about things like:
Optimizing your website for each of the main components in your strategy
Building the site map with places to house landing pages and content
Making sure that pages are being crawled and indexed correctly by search engines
Because search engine algorithms consider elements of the entire website when ranking search results, getting things right for the site overall and for each page individually really does matter. It can feel tedious or time consuming to pay attention to the small things on each page, but it can really pay off in the end.
Search Engine Optimization Techniques To Create and Launch Content
Content marketing as an SEO strategy is a huge topic that people have written entire books about. One very effective way to make sure the content you write actually shows up highly on search engines is to use a Pillar Based Marketing (PBM) approach. The basic idea is to choose one overall topic that's most relevant to your business. Then write many pieces of content that strategically link to each other to show search engines that your website is an authority on this topic.
To create content for a PBM strategy, plan the pieces you want to write and how they will link to each other. Then, choose different high value keywords for each piece to cover a wide network of search terms within the broad topic. To launch your content, you will write it all first, then publish it in one big push. That way the linking and topic authority can start to be established quickly.
Sharing and Cross Promotion
Now that you've done all the hard work to create the most optimized website with helpful content, it's time to tell the world about it. All the work so far has been to make sure your website organically ranks highly on search engines when people are looking for answers you can provide. Now it's time to use the other tools and platforms you have to help drive even more traffic to your masterpiece.

Some great ways to do this include:
Sharing each piece of content on your social media channels
Highlighting a useful tool on your website in your email newsletter
Promoting a high value page through paid search ads
Being a guest speaker on an industry podcast or webinar
DemandJump: Content SEO Simplified
At DemandJump we know how much work it is to make SEO happen for you. That's why we created a platform that shows you exactly what content you should write to make it to the top of search engine results and drive the traffic you want. Our insight reports and content briefs make it easy to see which keywords and topics make the most sense for your business to write about. And we have strategy tools to show you how it all links together to bring you results fast. Click the button below to get started for free today!