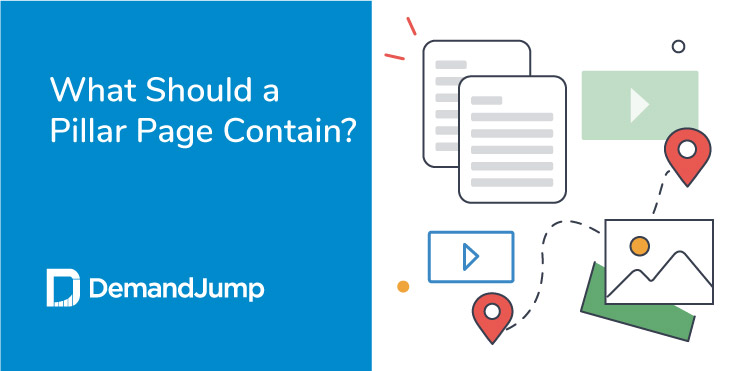 So you're ready to write your first SEO Pillar page. You've sat down to make a pillar page template, but suddenly realize, wait, what should I be including here? Don't fret! We've got you covered. Let's take a brief look at what a pillar page is to make sure all the bases are covered, and then we'll jump into what your pillar page should contain.
What Is a Pillar Page?
A pillar page is the longest piece within a content cluster. Typically around 3,000 words, the pillar functions as the most authoritative content around a particular topic. When creating a pillar strategy, your related supporting pillars and blog posts should all link back to the pillar to establish that authority. Within the greater pillar plan, the pillar usually contains the broadest topics and highlights the important concepts that the support pillars and blogs dig into.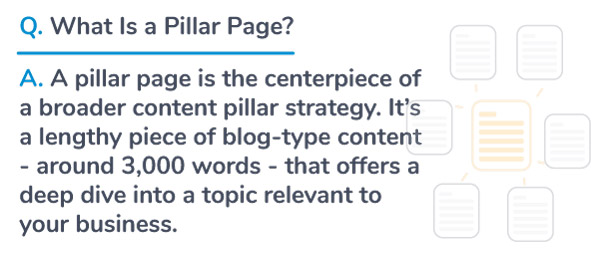 Is a Pillar Page a Blog Post?
A pillar could be considered a type of long-form blog post. Most blog posts are around 750 words, so the pillar clocking in at 3,000 makes it 4x as long. A pillar page follows a similar format to a blog post, but due to the length, you can cover more aspects of the topic you've chosen. Typically a pillar will be more general and a blog will be more specific, only discussing a couple aspects of a certain topic.
Is a Pillar Page a Landing Page?
No, a pillar page is not a landing page. The point of a landing page is to convert the reader into a customer. The point of a pillar page is to provide your reader with valuable information and attract them to your site. While there will be a call to action, pillars shouldn't just be a sales pitch. A pillar page is your chance to establish yourself as an authority on the subject, which makes your reader more likely to trust your company and turn into a lead. However, pillars can actually be a part of a landing page! Often they're included below the landing page info.
What Should a Pillar Page Contain?
When you sit down and try to figure out how to write a pillar page, the best place to start is by thinking about what it should contain. Your pillar page outline should have:
A data-driven, relevant topic.
There are a lot of things you could write about, but what should you wax poetic on? The best way to figure out your pillar topic is to look at the data. With DemandJump

, it's easy. We pride ourselves on being the #1 marketing strategy platform that shows you the exact content to create to increase first page rankings and drive outcomes.
Keywords, keywords, keywords!
We've said it once, and we'll say it a thousand more times: great keyword research is the best way for your content to rank fast. Including the keywords and questions that people are actually searching for makes your content JUMP (sorry, couldn't resist!) to the top of the search results. We've made keyword research a snap with our automated keyword and SEO research tools

that gives you the top keywords to include with the click of a button.
A skimmable structure.
Start with a pillar page outline and make sure to use H1s, H2s, and H3s in hierarchical order to make your pillar easily skimmable. That way readers can glance through and find the sections that they're looking for. After all, a recent study found

that users spend an average of just 54 seconds per page across all industries. You've got seconds to convince your reader that you've got the answers they're looking for, so make sure your pillar is optimized for skimming.
Clear, concise communication.
You don't want to lose your readers. Long, winding sentences and rambling tangents are great for staying in line with that average 54 second time on page! If you'd prefer that people stick around on your page, edit your pillar for clarity. Have several people proofread your content before publishing to make sure it is all buttoned up and ready to hook readers in.


Useful information.
Pillars are meant to teach your audience about a certain topic. Make sure to use information from reputable sources to best inform them. Using statistics and other related research you find online, as well as data gathered by your own business, will establish your pillar as a trustworthy source of information.
A call to action.
Okay, so we said your pillar shouldn't JUST be a sales pitch, but that doesn't mean you can't include a call to action! In fact, giving your reader an action to do at the end of your pillar is a great idea to keep them engaging with your business. You can give them a next step, suggest a product, or point them to other content that might be useful for them. A free trial opportunity of your services is a great call to action to include!
What Is a Pillar Page Example?
Funny you should ask! Did you notice that link to the SEO pillar in the introduction of this blog? That's a great example of a pillar page, if we do say so ourselves. In fact, go check it out and see what you think! You'll notice the elements that we've highlighted above. You'll also notice that some of the info we've shared in this short blog is expanded in the pillar, like the difference between a landing page and a pillar page.
This is because the blog you're currently reading is part of the content cluster that links up to that pillar. Your reading this is, right now, an example of why pillar pages are so important. Because the smaller pieces of content in the SEO pillar ecosystem point you towards the longer pillar that will turn you into an SEO rockstar!
What Makes a Good Pillar Page? Pillaring…er…Partnering With DemandJump!
So, you've got all the info and you're ready to get started. Awesome! We're here to help you come up with content pillar ideas. Our platform gives you the ability to quickly get the keywords and questions that will make your pillar page rank quickly. In fact, with DemandJump, you have the potential to increase your monthly search traffic by 14450 visitors and save $867,000 annually on paid search ads that would be required to generate the same traffic.
We're so excited about the results our partners have achieved with our platform and we can't wait to see what you can accomplish with DemandJump. Here's our CTA—get started for free today! (no credit card required!) to see just how easy it is to produce content that gets amazing results.
Get Your Free Pillar Strategy Report