Which Are The Best SEO Strategies?
February 22, 2023 •Amber Peckham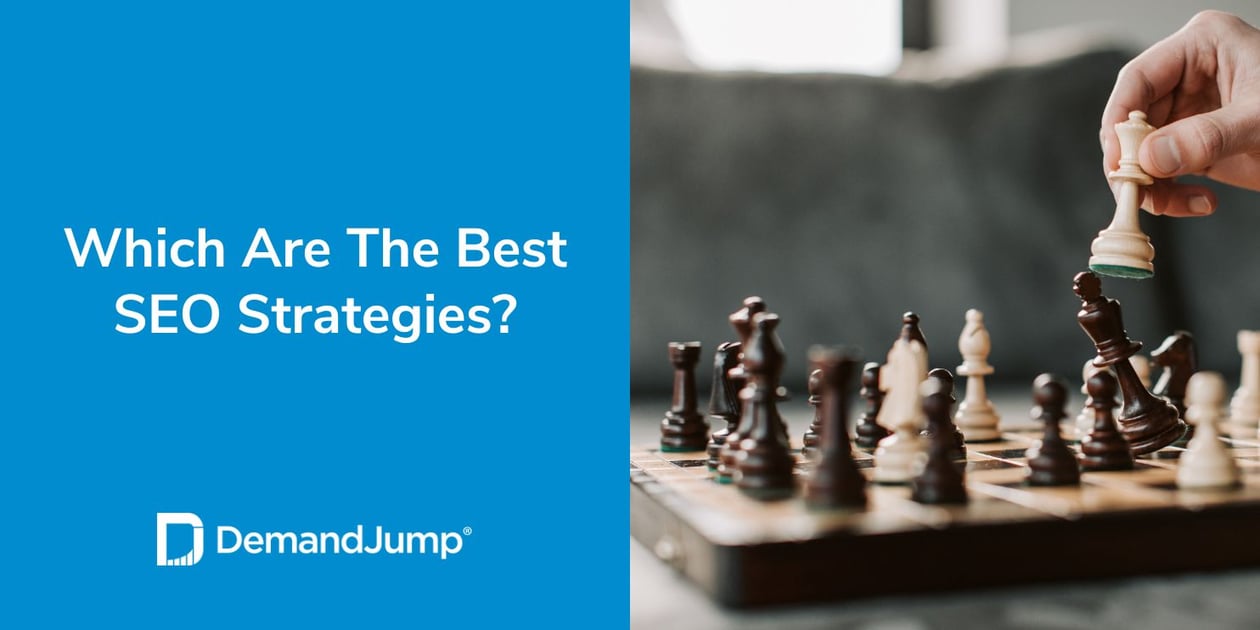 Which Are the Best SEO Strategies?
Every day, marketers wrestle with the question of how to develop and execute an effective search engine optimization (SEO) strategy. The benefits of an effective SEO strategy are wide-ranging and well-documented, but primarily center around increasing the amount of traffic your website receives. This, in turn, attracts and engages prospects—and can nurture those relationships into conversions.
SEO has been around since at least the 1990s, so we don't blame you for being a bit skeptical, or asking questions like, "Is SEO still a thing in 2023?" The short answer is a simple yes—and that rumors of SEO's demise have been greatly exaggerated. That does, however, come with the caveat that the types of SEO techniques that worked in the early days no longer work today. Consumers and search engines are both too smart for techniques like keyword stuffing to accomplish much of anything.
Instead, digital marketers need to equip themselves with modern tools and techniques if they want to compete and see their website rank well with Google and other search engines.
So, where do you start? What are the best SEO techniques in digital marketing, and how can you leverage them today? Keep reading for a brief overview, including simple SEO tips for better rankings.
What Makes a Good SEO Strategy?
The answer is simple: results. That's obviously a bit of an oversimplification, but that doesn't make it untrue. The fact is that you could spend endless money experimenting with different SEO techniques and tools, and you'd probably see some success. It wouldn't necessarily be consistent success, though, and it might not be a repeatable process.
Next, let's look at some of the best practices for SEO success in 2023 and beyond.
1. It's targeted.
Every success story, whether we're talking about SEO or something entirely unrelated, begins with a clear goal or target. With SEO, that means:
Defining your ideal customer profile, which means learning as much as possible about the pain points they might be experiencing and/or what their priorities are. With this information in tow, you can create website content and marketing campaigns that will resonate with your target audience—whether they're exploring their options or ready to make a purchasing decision.
For content creation, SEO keyword research empowers you to better understand what types of questions your audience is asking (including the actual language they use in their queries). With this information, you can build trust and authority with prospective customers by showing that you understand their needs—and have meaningful solutions to offer.
2. It's multifaceted.
When it comes to SEO, putting all of your proverbial eggs in one basket is not a wise move—even if it's a really great basket. What if the strategy doesn't resonate with your audience? What if your single strategy doesn't succeed? To avoid these predicaments, the best SEO strategies employ a multi-pronged approach that includes:
On-Page SEO techniques, like optimizing your website and producing high-quality website content. On-page SEO also includes technical SEO best practices for improving the overall website user experience and optimizing factors like how easy it is for search engines to crawl, understand, and index your content.
Off-Page SEO elements that can help build your authority, like strategic link building and backlinking. This also means promoting your brand via social media or elsewhere on the web.
3. It's measurable.
In order to succeed with SEO, you need to define exactly what that success will look like. How do you quantify and measure SEO outcomes? Selecting the right metrics to track isn't just important for gauging results, but it also enables you to understand exactly which techniques are working and which aren't. With those insights, you can further refine your techniques in subsequent campaigns.
What Are the Best Metrics for Measuring SEO?
In terms of performance and results, the best SEO metrics to track include things like:
Average Click-Through Rate (CTR)
Backlinks
Bounce Rate
Conversion Rate
Domain Authority
Keyword Rankings
Organic Traffic
4. It's timely and relevant.
In the world of modern SEO, building authority is the name of the game. In other words, a digital marketer's job is to leverage various SEO practices in a way that signals to search engines—as well as prospective customers—that your business is an authority in the industry. To elaborate further, there are two sides to this point:
To improve search rankings and increase traffic: Produce, publish, and optimize content in a way that search engine algorithms can understand and reward. This is the point of the on-page and off-page SEO techniques we covered earlier. To learn more about exactly what Google looks for when evaluating a website, you can refer to resources like the recent helpful content update. The basic purpose of this update is to reward companies and websites that produce informative and engaging content that is written by humans, for humans. Which brings up the second point…
In order to effectively attract, engage, and convert prospects into customers: Focus on your customers and their needs. What are they looking for? What is important to them? What are their pain points? What factors inform their buying decisions? Keyword research can help illuminate these points. From there, you can earn customers' trust by demonstrating that you do, in fact, understand and empathize with them, which ultimately builds authority.
What Is the 1 SEO Technique That Is Currently Getting the Best Results?
If an effective SEO strategy is one that's targeted, multifaceted, measurable, and timely/relevant, then there's one strategy in particular that checks off each of these boxes—Pillar-Based Marketing (PBM).

What Is Pillar-Based Marketing?
In basic terms, Pillar-Based Marketing is an SEO strategy that prioritizes driving content performance and organic traffic by writing the right content, for the right customer profile, at the right time. PBM is all about producing, publishing, and promoting website content that is keyword-driven but also genuinely valuable, helpful content.
DemandJump, the world's first and only PBM platform, removes much of the mystery around developing an effective SEO strategy. It involves writing a network of interconnected, informative content that prospective customers will find when they're searching for the type of thing your business is there to help them with.

How Do I Get Started with Pillar-Based Marketing?
Getting started with PBM—and on your way to page one—is easy:
First, you can use the DemandJump platform to perform keyword research, so you'll know exactly what to write about. If you're curious about what keywords your customers are searching for, you can click the button at the end of this post to try it for free.
Then, you can use DemandJump's content planning tools to organize and prioritize the most important topics your customers care about.
The PBM methodology outlines exactly how much content you should produce in order to drive results, with a typical Pillar Plan consisting of:

One 3,000-word Pillar Page, which offers a comprehensive overview of a specific topic.
Three 2,000-word Sub-Pillars, each of which takes a more focused look at a sub-topic of the Pillar Topic.
Twelve 750 to 1000-word Supporting Blogs, each answering a specific question people are searching for, questions (like "Which are the best SEO strategies?").

Once the writing is complete, we recommend a specific linking strategy that has proven to work exceptionally well within Google and other search engines' algorithms. The goal is to create an intentional network of interconnected content in order to build authority and improve results.
DemandJump: The World's First (and Only) PBM Platform
Despite what you may have been told, getting SEO right doesn't have to be a maddening process driven by guesswork or trial-and-error processes. When you use the right tools in the right ways, you can stop spinning your wheels, demystify SEO, and write your own success story.