Content Review Checklist: What to Look For When Reviewing Content
October 1, 2021 •DJ Team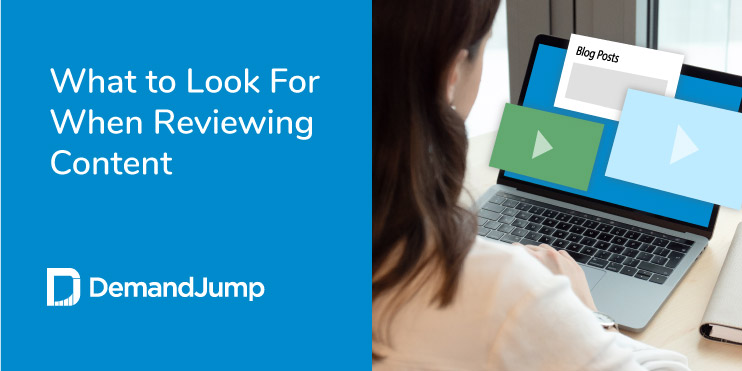 Creating good content can be a challenging task.
You have to juggle what seems like a million things—from the writers, editors, and SEO experts to the graphic designers and website developers.
How do you ensure you're writing content that converts? And how do you get all the details right the first time, without having to go back and edit it several times?
That's why you need the right process for reviewing your content before you publish it.
In this post, we outline the necessary steps to nail your content, every time.
Let's dive in.
What Makes Good Content?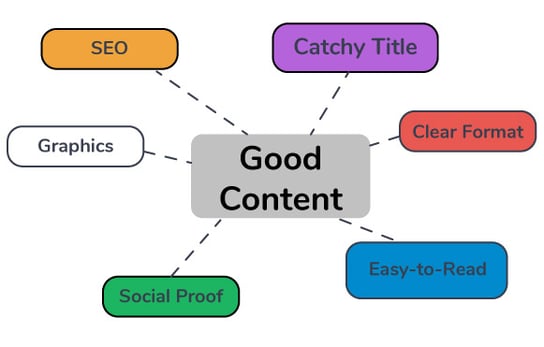 First, let's talk about your goal. Your goal is to create really good website content.
The definition of good content is content that attracts and converts your visitors, as well as delights your existing customers. There are several elements that make the perfect piece of content.
Catchy Title
The headline needs to grab people's attention and make them click.
Easy-to-Read Writing
The writing needs to be short, simple, and conversational (depending on the type of business you have). Focus on active voice, short sentences, and concise ideas.
Clear Formatting
Format your text in a way that makes it easy to read. Limit your paragraphs to four or five lines, use bullets or numbered lists, and add H2s and H3s for better transitions between paragraphs.
Social Proof
This is the human element of your content. It can include quotes from famous influencers. tweets (B2B), or product reviews (B2C).
Branded Graphics
Don't use stock photos. Create illustrations or branded graphics using your brand's colors, fonts, and logos.
SEO Optimization
Really good content needs to be optimized for SEO. It's not enough to have a catchy title or a fascinating story. Each post needs to have the right keywords and all the necessary elements that will help search engines properly categorize it and display it at the top of the search results.
How do you check that all these elements are in place?
You conduct a content audit.
How to Conduct a Content Audit
There are two vital parts to a content audit: SEO optimization and the content itself.
First, start with the SEO part. Use a free SEO tool to run a quick audit of the entire website. This will show you which keywords your pages rank for, which pages are optimized, and all the other SEO metrics you need to properly evaluate the health of your website content.
Next, use Google Search Console to see if there are any technical errors with the site, such as broken pages, site map errors, or indexing issues.
Finally, look at each blog post and evaluate the content quality, the design, and how easy everything is to find and read.
Speaking of content quality, one of the most important ways to ensure your content meets your standards is to create a content review process.
Set Up a Content Review Process
One secret to successful content management is to put in place a thorough content review process. That way, nothing falls through the cracks, and you save time on making changes later in the process. Here's an example of a great review process.
The writer double- and triple-checks the first draft before passing it to the editor.
Editor reviews the first draft, makes comments, and sends it back to the writer.
The writer makes final changes and sends it back to the editor.
Editor sends the final draft to the graphic designer.
Final assets are put together (content + graphics) and sent to the content manager.
SEO manager reviews the article and optimizes the content.
The article is published and sent to the social media manager for promotion and distribution.
The list will vary depending on your team size. In smaller teams, content managers may do the editing and publishing, and sometimes, they may even do the writing themselves. Regardless of the team size, every team needs a structured way to review its content. The best way to keep things organized is by creating a content review template.
Create a Content Review Template
This is like a content review checklist that you share with the entire team. The advantage of using a template is that everyone can see which stage each piece of content is in. The most basic way to do this is through Google Sheets, but that's usually best for smaller teams.
If your content team is large and includes writers, editors, SEO managers, and graphic designers, then we recommend a tool like Asana, Notion, or CoSchedule. These tools display all tasks on a board or a calendar, can alert team members when something is due, and provide the most transparency to manage the whole process.
Create a Content Review Checklist
Now that you have a review process in place and an easier way to keep track of everyone's tasks, it's time to create a content review checklist. A content checklist should have a list of all the boxes that each team member needs to check before submitting their content. It's like a written-out process doc.
Create your website content checklist and send it to every team member. That way, next time they're unsure about something or feel stuck, they can refer to the list and quickly get back on track.
Create the Perfect Content Every Time
With all of these things in place, you're on your way to creating the perfect piece of content for your audience. DemandJump is here to help you get started - from ideation to creation to publishing.
With one-click SEO content briefs for new content, recommendations for updating current content, and linking content to revenue generated with marketing attribution you are sure to see results.
Work smarter with automation tools designed to make content marketers look like rockstars.
Write content that ranks fast, and save time doing it - get started today!
Get Your Free Pillar Strategy Report