Digital Transformation Success Stories
May 21, 2020 •DJ Team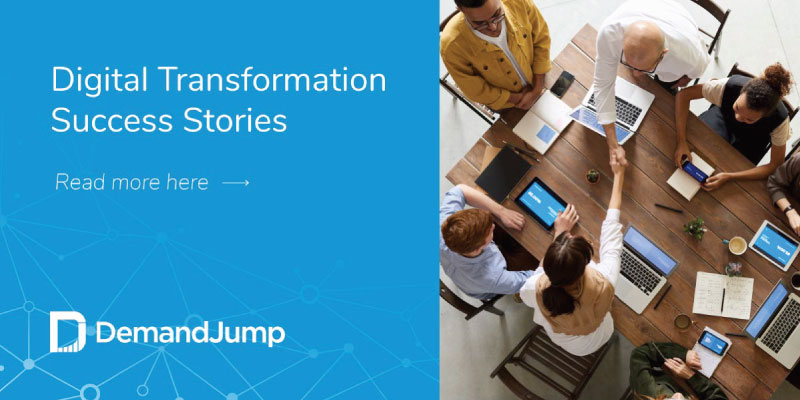 With the digital transformation failure rate reportedly as high as 70%, many businesses may wonder if a digital transformation is worth it. However, as MarTech tools become more accessible to businesses, consumer data and machine learning can help inform DX strategies in all verticals.
"If you aren't aware of how your competitors are using this technology, you're already falling behind," according to Forbes columnist Daniel Newman. "Being digital is no longer enough. You need to be digitally leading within your market."
Learn from the following digital transformation case studies to build a digital transformation strategy that works.
Why Digital Transformation Fails
Companies often invest heavily in digital transformation as if it's a quarterly project with an end date. But enterprise digital transformation requires an ongoing commitment to monitoring technology and industry changes, and adjusting business practices if and when needed. Building a strong partnership with a digital marketing data firm helps businesses stay ahead of the competition and atop of emerging consumer trends.
Culture, one of the four pillars of digital transformation, also plays a critical role in digital transformation success, and it starts from the top down. In a Deloitte & MIT study on how culture drives digital transformation, 68% of respondents said they needed new company leadership to succeed in the digital era. When C-suite executives recognize the importance of digital transformation, their employees follow suit.

Successful Digital Transformation Case Studies
It's important to understand that many digital transformation fails only represent a first iteration. As Forbes reports, major companies like GE, Ford, and Procter & Gamble adjusted strategies after an initial digital transformation failure to later find success. Take notes from the following success stories to guide your digital transformation.
DX Case Study: Cummins Lets Consumer Insight Inform Content
As Cummins Digital Marketing Leader Nicholas Wojdyla recently mentioned at Digital Transformation Conference, the corporation used consumer insights to guide the company's content and competitive analysis for a specific segment of their business — home generators.
Initially targeting audience personas for people they thought would be interested or in market for home generators resulted in wasted ad spend, according to Wojdyla. By using DemandJump's consumer insights, Cummins understood consumer behavior before a hurricane hits, and identified all the other related topics consumers care about and questions they're asking. Using these insights, Cummins created content that was helpful and drove better engagement, and optimized their paid advertising efforts because they were aligned to consumer preferences and behavior.
They also analyzed what questions led consumers to their competitors and created their own branded content so they could win those search queries in the future. Using this tailored data-driven approach, Wojdyla says Cummins realized a significant increase in organic traffic to their website, plus a higher return on ad spend and significantly lower cost-per-lead acquisition. By testing this approach on a small segment of their business — home generators — and seeing quick success, they scaled the same process to guide digital transformation throughout the company.
DX Case Study: ePlanters Launches Profitable DTC Segment
ePlanters provides homes and offices with indoor and outdoor flower pots, along with plant maintenance tools. Primarily selling to landscapers, interior designers and commercial buyers, ePlanters saw a segment with opportunity when they studied relevant online data — selling direct to consumers.
DemandJump helped the eCommerce company create a digital marketing strategy that used search and shopping campaigns to capture leads near the bottom of the marketing funnel. They structured and launched campaigns focused on high-opportunity search terms, which signaled immediate purchase intent.
By targeting keywords and phrases which showed high purchase intent, ePlanters experienced a 72% increase in online conversions. With the help of DemandJump, ePlanters also launched an affiliate marketing program along with competitive display and retargeting campaigns. Those digital transformations resulted in 84% more website traffic, triple the web conversions and a 170% increase in revenue.
Building a Digital Transformation Strategy
In both success cases, our customers let the data guide their DX strategies and saw dramatic results.
DemandJump's Co-Founder and Chief Strategy Officer Shawn Schwegman notes the top three challenges digital marketers faced in 2020 as:
Inconsistent cross-channel analytics and attribution
Fragmented view of customer interactions
Reaching target customers when it matters most
By effectively utilizing consumer insights, market intelligence, and cross-channel measurements, marketers can jump all three hurdles when building a digital transformation strategy. Ready to let the data work for your business?
Get Your Free Pillar Strategy Preview!