How Is Data Used in Marketing?
April 16, 2020 •DJ Team
Growing revenue is important to organizations throughout the world, yet there are infinite ways to achieve this elusive goal. Whether you're focused on attracting more customers or increasing the lifetime value of your customers, marketing is a vital component of your business operations - while also being one of the most contentious.
Executive leadership may look to marketing as one of the first places to cut in difficult times, while other technology leaders may not fully understand the value that marketing brings to the organization. With data-driven marketing campaigns, you are able to more effectively communicate the importance of marketing to the company by tying specific campaigns to tangible business results.
Data can, and should be, incorporated into all aspects of the marketing organization. This data can be collected from almost all your online marketing initiatives if you're using the right tools to track online activity and engagement. Some of these activities and campaigns include: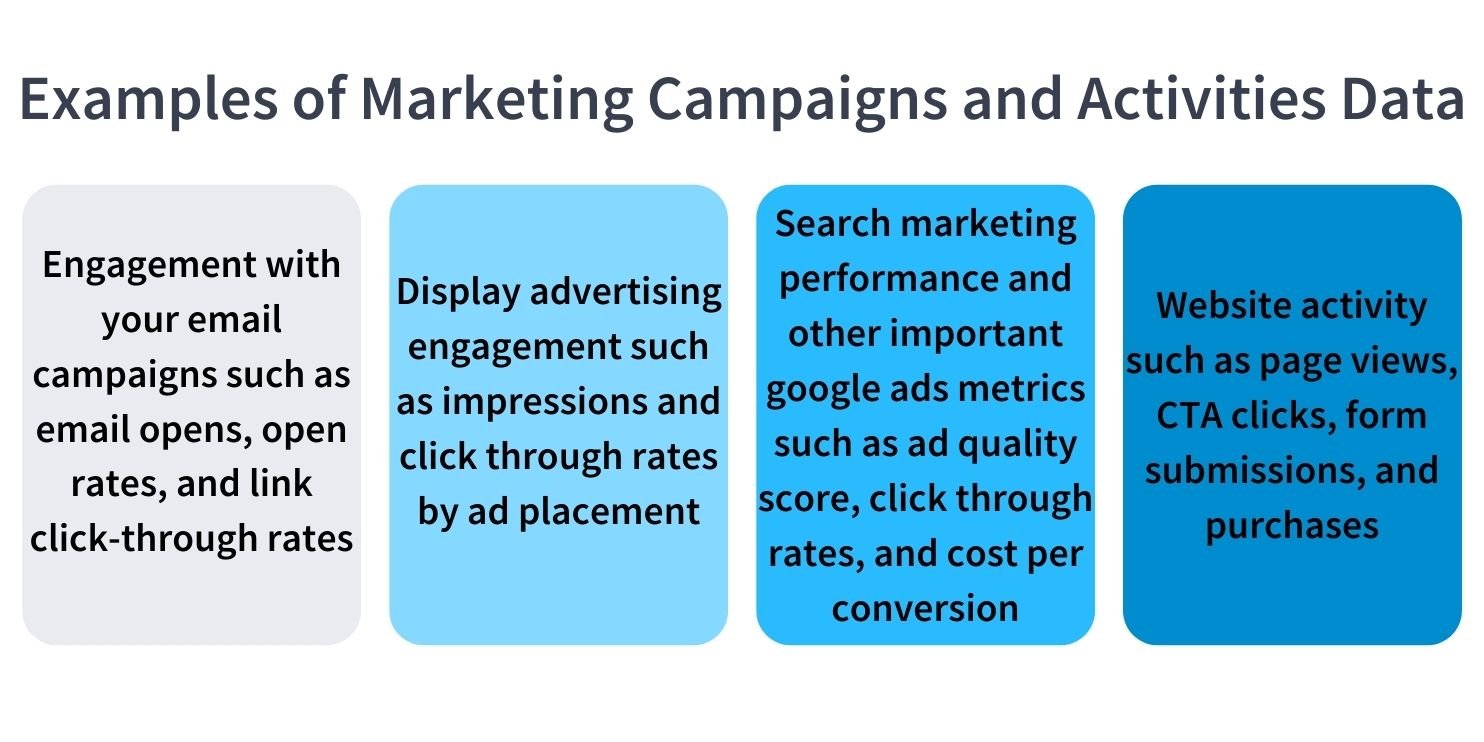 Engagement with your email campaigns such as email opens, open rates, and link click-through rates
Display advertising engagement such as impressions and click through rates by ad placement
Search marketing performance and other important google ads metrics such as ad quality score, click through rates, and cost per conversion
Website activity such as page views, CTA clicks, form submissions, and purchases
The list goes on. You can track and collect on anything on the internet, but it's what you do with this data that matters.
(Click here to get free data-driven insights to improve the performance of your marketing content.)
How Is Data Used in Marketing?
Placing an advertisement in a newspaper or magazine may be a great way to raise awareness of your brand, but can you prove the effectiveness of that advertising spend? In the past, very few marketers have been able to tie offline activities to revenue, but with developments in data-driven marketing attribution, they're making vast leaps forward. This means that decisions no longer have to be guided by speculation and assumptions, but rather by hard facts - highlighting the importance of big data in marketing.
As touched on above, digital marketing encompasses a range of activities, including:
Website messaging and landing page offers
Email marketing
Digital advertising on search engine results pages and web banners
Search engine optimization of content on your website
eCommerce platforms, including upselling and cross-selling
Affiliate marketing
Social media marketing - and so much more
Employing these tactics allows your team to understand how your customers think and behave online. Another significant benefit of data-driven marketing is the ability to improve your campaigns over time based on the feedback that you receive from analyzing prior results, providing a new level of predictability that can help inform marketing and sales decisions in the future.
The Role of Data in Marketing
Having access to the right data at the right time is essential for today's data-driven marketers, but having too much data can be almost as bad as missing data. It's all too easy to become overwhelmed when faced with all of the data points that are available in data-driven analytics platforms: social media likes, shares and actions, website visits and extensive metrics from Google Analytics, the activity on specific emails, and more.
When you create a marketing data case study, marketers generally like to pick a limited number of metrics to focus their attention on and how these metrics align to business goals such as revenue growth or audience building. Collecting, analyzing and interpreting this data often requires a broad spectrum of tools, many of which are complex and require additional training time to ensure you are making full use of the information that is available.
Benefits of Data-Driven Marketing
While it can be a challenge to find and organize the data, marketers that are able to harness this information are in an extremely powerful position. Data-driven marketing campaigns have clear metrics associated with success - often using marketing attribution tie marketing activity back to revenue. With this information in hand, marketers can make better-informed decisions about which tactics to continue and which are not delivering the results that were expected. Pulling these insights together into a cohesive picture that can be shared with others is often a challenge, with marketers employing support from technology teams, outside vendors, data scientists and others to ensure they are drawing accurate conclusions from the data.
The Future of Data-Driven Marketing
The future of data-driven marketing is only expected to incorporate more sophisticated forms of data analysis and artificial intelligence. The application of this intelligence is expected to come in the form of self-optimizing marketing campaigns that automatically adjust display placements or keyword recommendations for increased performance. With advancements in technology DemandJump is already developing, marketing attribution is only expected to get more and more accurate through the application of advanced statistical modeling and the incorporation of offline marketing data into the analysis.
Looking for some big data marketing examples where success was easily measurable? Here are a few companies whose data-driven marketing campaigns paid off extremely well in terms of conversions and new customers.
By implementing a fully data-driven strategy, Calcutta Outdoors (outdoor online retailer) increased paid search advertising revenue by 500% in 6 months. They did this through incorporating consumer behavior data from DemandJump's Consumer Insights product - which showed them the true search behavior of their target audience.
Cummins (Fortune 500 power generation manufacturer) used internet behavior data to identify the optimal websites for display advertising. And in doing so, they saw a decrease in cost per conversions of 62% in just one week.
It's easy to see how having context-sensitive information allows marketers to make better decisions about their marketing and advertising dollars, creating a positive effect on overall sales and revenue for the organization.
True data-driven marketing campaigns can help your organization make good decisions about how to spend your marketing dollars and where to focus your efforts to gain the greatest benefit from the assets that you have available. When you gain a clearer understanding of your activities and that of your customers and competitors, you can confidently lead in the future of data-driven marketing. Don't take our word for it, try it yourself - for free! See just how simple it can be.