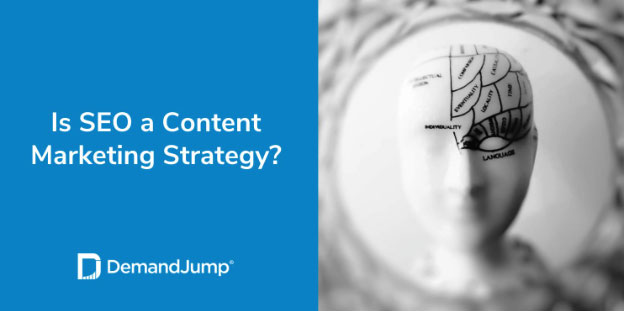 More than just buzzwords or marketing-speak, the concepts of SEO and content marketing are closely intertwined. When properly implemented, SEO best practices can enhance and amplify content marketing strategies, and vice versa. In fact, the right SEO content tool can deliver exceptional results—like getting your brand on Page 1 of search engine results pages (SERPs).
So, can content marketing and SEO be considered the same thing? Not quite, but they're often worth discussing in tandem with each other, as they form a "dynamic duo" for modern marketers looking for new ways to attract and engage prospective customers with high-value content.
In this blog we're going to explore SEO and content marketing best practices—and how Pillar-Based Marketing (PBM) provides an effective framework for a content SEO strategy that drives real results.
How Are Content Marketing and SEO Connected?
Content marketing and SEO are connected by their shared objective: to increase brand awareness by creating and publishing highly informative content. The quality of this content is at the heart of whether SEO and content marketing campaigns succeed in attracting new business.
What Is the Difference between SEO and Content Creation?
Together, the practices of SEO and content marketing involve both an art and a science:
Effective content creation is an art, one that is closely related to creativity and thought leadership. When marketers produce credible, engaging content they're able to influence their prospects' purchase decisions. Not only that, but content marketing helps with brand building in a powerful way, as well. The more frequently you're able to understand—and answer—prospective customers' questions, the better positioned you are to create content that really resonates.
SEO best practices represent a sort of science, informed by research into users' real-world search behavior. At DemandJump, we believe that nothing is truly random—behind every great piece of content, there is a content marketer equipped with actionable insights gained through the kinds of

keyword

research

and

content strategy

tools enabled by the DemandJump platform.
Pillar-Based Marketing (PBM) is a unique methodology that unites the art of content creation with the science of SEO—and DemandJump is the first and only platform that was built to empower content writers with the tools they need to develop and deploy a successful PBM campaign.
You can learn more about PBM in our Ultimate Guide to Pillar-Based Marketing.
What Are Some SEO Content Development Best Practices?
It can be difficult to know exactly where to start with SEO-driven content development, especially if you're just learning about PBM. Fortunately, you don't necessarily have to be an expert to get started—in fact, most "evergreen" recommendations center around creating helpful content, first and foremost.
The content you produce should also be written by humans, and for humans. You might think this goes without saying, but it's certainly worth emphasizing here, especially now that Google's updated algorithms prioritize content that it deems to be organic and helpful. Creating uniquely human content—as opposed to content written more for search engines or, arguably worse, developed by AI or other dubious means—is the key to results.
So, how do you develop the kind of content that readers will find informative and Google will deem to be "helpful"? By following these 5 best practices: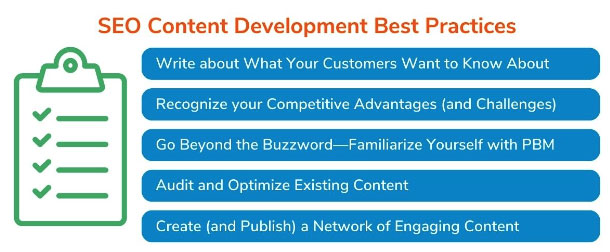 Let's take a closer look at each of these recommendations and why they are so important.
Write about What Your Customers Want to Know About
The last thing you want to do is write a ton of content only to find that it's among the roughly 90% of website content that is never actually seen by searchers. The best way to ensure positive results is to develop a content marketing and SEO strategy based on actual user/searcher insights.
DemandJump's keyword research tools empower marketers with current data that provides invaluable context into not only what your customers are searching for, but the exact language they're using as well.
Recognize Your Competitive Advantages (and Challenges)
SEO-driven content marketing efforts are all about making your brand stand out among the rest of the noise. Savvy content marketers don't just think in terms of what kinds of information their customers are looking for—they also think about how to use their competitive advantages to their benefit.
When you create a content pillar strategy in DemandJump, you can be confident in your approach and create an informative content network that will set you apart from your key competitors.
Go Beyond the Buzzword—Familiarize Yourself with Pillar-Based Marketing
If you're just learning about PBM for the first time, no worries! After all, it's a relatively new methodology—but one that's been around long enough that many of our clients are seeing excellent results (tune into our podcast to hear real customer stories).
In addition to reading our Ultimate Guide to PBM, we also recommend learning more by completing DemandJump University's Pillar-Based Marketing Writer or Pillar-Based Marketing Strategist certifications.
Audit and Optimize Existing Content
Developing a PBM strategy doesn't always have to mean starting from square one. It's often possible to adapt existing content pieces into a new pillar strategy.
Start by

auditing

your existing website content. Focus on which pieces offer the most value and align best with your proposed pillar strategy, and identify the biggest content gaps you can address.
You can—and should—also think about

optimizing

existing content pieces by integrating additional keywords, for example, or better-aligning them with the overall pillar strategy and focus.
Create (and Publish) a Network of Engaging Content
One of the most important aspects of PBM's success is the creation of a network, or web, of interconnected content. A full PBM strategy includes three types of interlinked, SEO-driven content: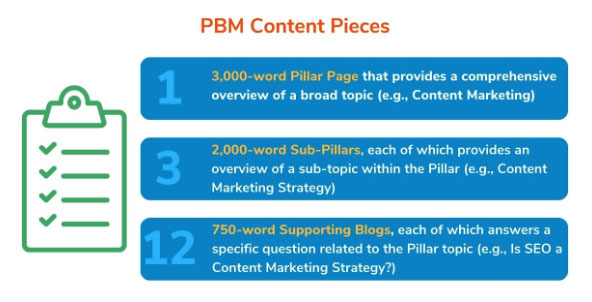 Once your content has been written and carefully edited, it's best to publish it all at once. It's best to use a specific, proven linking strategy (a component of PBM), to connect the pieces together in a way that signals to Google that your brand should be considered an authority on the topic. For the most part, every piece of content should link to pieces above it within the strategy diagram, meaning that:
The Pillar Page itself should stand as the single, comprehensive "source of truth" at the top of your strategy. Every piece of content within the strategy should contain a link to it—but it should not link to any of the Sub-Pillars or Supporting Blogs beneath it.
Each Sub-Pillar should contain a link to the Pillar Page.
Each Supporting Blog should contain links to the Pillar and, in most cases, the relevant Sub-Pillars.
With DemandJump, More Effective SEO and Content Marketing Practices Are Within Reach
DemandJump provides content marketers with a one-of-a-kind, comprehensive platform for keyword research and content strategy development. There's no time like the present to develop a deeper understanding of your customers, or to develop the kind of impactful and influential content that can draw new customers to your brand.
Did we mention that you can dive into the platform today, for free? It's true! Just click the button below to get started.
Get Your Free Pillar Strategy Preview!